A 17-year-old boy has been convicted of attempting to murder a woman he raped and bludgeoned with a paving slab.
The teenager, who was out celebrating his birthday, left the woman with horrific head injuries at Leicester's Victoria Park after dragging her into undergrowth, where she was found by a passing cyclist almost an hour later.
At Leicester Crown Court, the boy admitted causing grievous bodily harm, two counts of rape, and stealing the victim's handbag, but denied attempting to murder her on the night of July 3, the Daily Mail reports.
But today, the attacker was convicted of the most serious charge of attempted murder. In a highly unusual step, the judge ruled that he can be named as Charlie John Pearce.
CCTV footage shows Pearce, in a grey top and black trousers, running with a paving slab under his arm just moments he struck.
This clip, which was released to the media, led to Pearce's parents giving his name to the police.
Video from a resident's home security camera shows him hiding from police behind a car in the driveway, shortly after the attack.
Jurors took just over three hours to convict the youth after hearing how he had searched for internet videos depicting the rape of 'helpless' women in the weeks leading up to the attack.
While claiming through lawyers that he struck the victim to render her unconscious rather then kill, Pearce refused to go into the witness box during his defence case.
At the start of trial, prosecutor Gordon Aspden said Pearce was caught on CCTV as he tracked the victim carrying a slab or stone - before again being filmed by a security camera as he fled.
Footage filmed from a property nearby showed the teenager calmly stepping into a driveway to avoid a police patrol answering a 999 call from witnesses who heard "thudding" noises as the woman was attacked at about 11.35pm on July 3.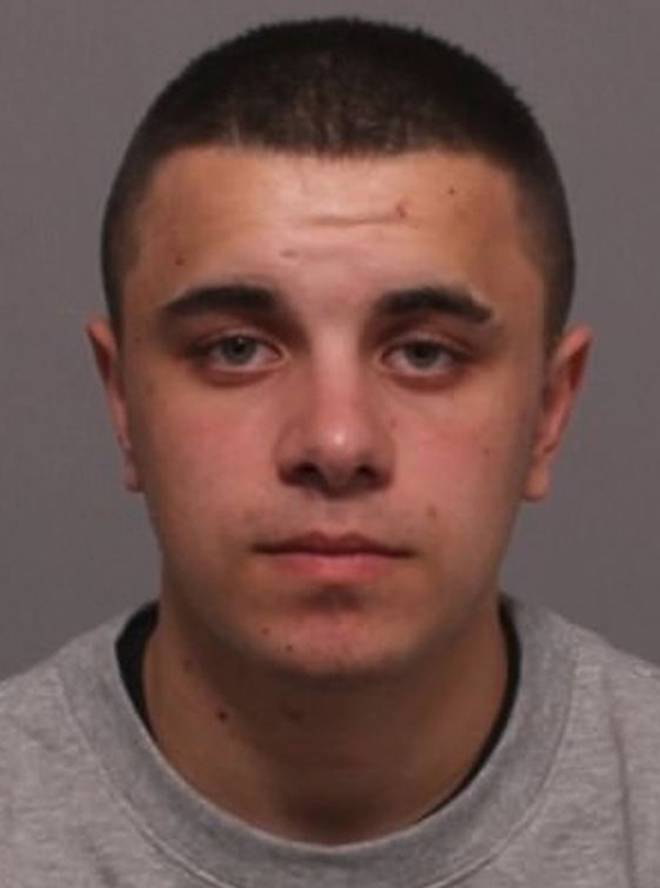 The court heard that Pearce, who will be 18 in seven months' time, 'came within a hair's breadth' of killing the victim, who he dragged into undergrowth.
The woman was taken to hospital for life-saving treatment after being found by a female passer-by around an hour later.
In her testimony to the jury, the witness said she found the victim - who had "truly dreadful" head wounds - after hearing movement in the bushes near a "bright" patch of blood.
Pearce, who had been drinking in a pub, was linked to the attack by "one-in-a-billion" DNA matches after his parents contacted the police following a media appeal.
In a statement read to the court by Mr Aspden, the victim said she could remember nothing of the attack.
"I have no recollection of being assaulted or sexually assaulted, nor can I remember who the person was that did that to me," the woman said.
In his closing speech to the jury, Mr Aspden said the attack was an attempt to "silence" the victim.
The prosecutor told the jury: "An attack of this type was clearly something that had been festering at the back of his mind in the weeks and days leading up to its commission.
"The ugly truth here is that this dangerous young man, for his own selfish reasons, chose to carry out an attack of quite desolating wickedness on a complete stranger and his intention was to rape and kill her.
"He must have believed that she was very, very seriously injured, if not dying. She lay there for the best part of an hour, exposed, badly injured and abandoned. That speaks volumes about his mindset and selfishness."
Adjourning sentence on Pearce until a later date, Mr Justice Haddon-Cave said: "You have been found guilty of attempted murder by the jury on overwhelming evidence.
"I am going to adjourn sentence on you in order to obtain reports - it would be in your interests to co-operate with the preparation of those reports.
"In view of the gravity of your crimes, you can expect a lengthy sentence."
Detective Chief Inspector Rob Widdowson, of Leicestershire Police, who led the investigation, said: "The attack he carried out on this young woman on the night of July 3 was barbaric and wicked beyond belief.
"The horror that he brought to this young woman on that summer evening, and the controlled and deliberate attempts he made to dispose of the evidence, all but defy description.
"Had his victim not been found when she was, and were it not for the skills of the many specialists who treated her, I believe she would have died that night.
"Whilst she has little if any recollection of the events of that night, she has shown a level of courage and fortitude that has at times left me and the many officers who worked on this investigation speechless.
"Her determination not just to recover medically, but to regain her life and refuse to be defined by this attack is humbling.
"That she felt able to attend court, and see the person who so savagely attacked her, is a testament to this remarkable young woman.
"There are many people who played a vital role in not only saving her life, but in ensuring a powerful body of evidence could be presented to the jury, from those who reported the attack to the woman who found her, from the paramedics and specialists who saved her life to the officers who sacrificed personal commitments to remain at work and who were determined to catch the offender.
"A dangerous individual who is not yet an adult faces many years in prison for what he did.
"I only hope that he will come to terms with the entirety of his actions that night and turn his life around."
To get the day's top stories in your inbox, sign up to our newsletter here.