United States: President Donald Trump says he should have left three UCLA basketball players accused of shoplifting in China in jail. Trump's tweet came after the father of player LiAngelo Ball minimised Trump's involvement in winning the players' release in comments to ESPN. "Who?" LaVar Ball told ESPN on Saturday, when asked about Trump's involvement in the matter. "What was he over there for? Don't tell me nothing. Everybody wants to make it seem like he helped me out." Trump has said he raised the players' detention with Chinese President Xi Jinping during the leaders' recent meeting in Beijing. The players returned to the US last week. They have been indefinitely suspended from the team. "Now that the three basketball players are out of China and saved from years in jail, LaVar Ball, the father of LiAngelo, is unaccepting of what I did for his son and that shoplifting is no big deal. I should have left them in jail!" Trump said.
Morocco: Fifteen people have been killed and five were injured when a stampede broke out in a southwestern Moroccan town as food aid was being distributed in a market. A hospital source put the death toll at 18, adding that most victims were women who had been scrambling for food handed out by a rich man in the small coastal town of Sidi Boulaalam. A local journalist said the donor had organised similar handouts before, but this year some 1000 people arrived, storming an iron barrier under which several women were crushed. A drought has greatly hurt agricultural output in Morocco recently, contributing to the high cost of basic food items.
Argentina: US planes carrying subsurface search specialists have arrived in Argentina to help hunt for the ARA San Juan submarine, which was 432 km off Argentina's coast last week when its location was last known, said navy Admiral Gabriel Gonzalez. The missing Argentine navy submarine has 44 crew members. Authorities have mainly been scanning the sea from above as waves of up to 8m and winds of up to 40 knots made the search difficult for boats, Gonzalez told reporters. "Unfortunately these conditions are expected to remain for the next 48 hours," Gonzalez said from the Mar del Plata naval base, about 420 km south of Buenos Aires where the submarine had been heading toward before vanishing. The crew should have ample supplies of food and oxygen, an official said.
Britain: The latest group of US Rhodes scholars includes 10 African Americans - the most ever in a single Rhodes class - as well as a transgender man and four students from colleges that had never had received the honour before. The Rhodes Trust on Sunday announced the 32 men and women chosen for post-graduate studies at Oxford University in Britain. Among them: the first black woman to lead the Corps of Cadets at West Point; a wrestler at the Massachusetts Institute of Technology who's helping develop a prosthetic knee for use in the developing world; and a Portland, Oregon, man who has studied gaps in his hometown's "sanctuary city" policy protecting immigrants in the country illegally from deportation.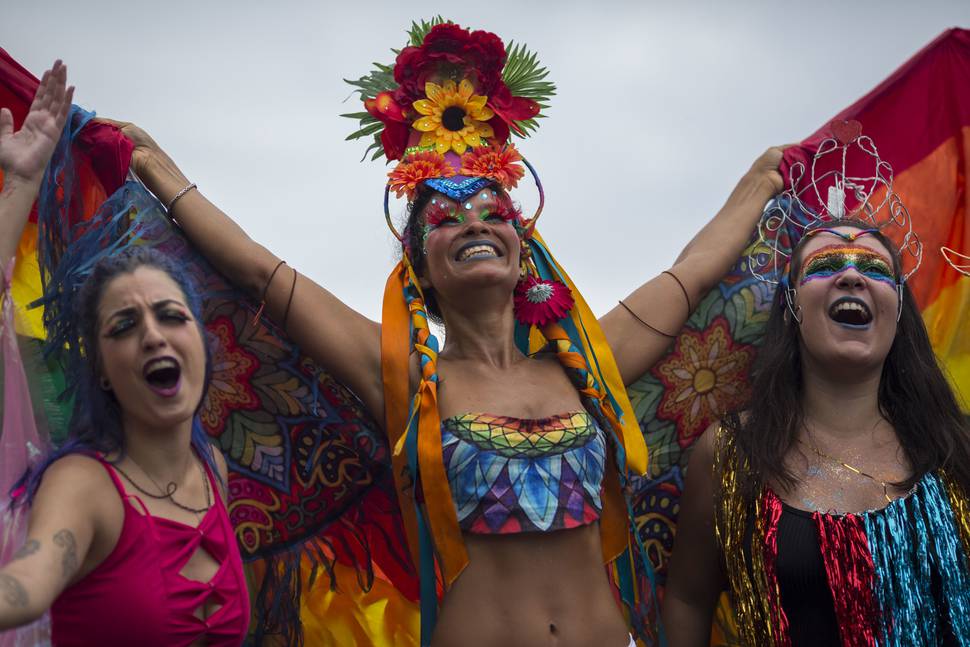 Brazil: Thousands of revellers have danced on Copacabana Beach to celebrate Rio de Janeiro's annual gay pride parade despite deep funding cuts by the city. Mayor Marcelo Crivella offered no city funding this year, but organisers said they were able to finance festivities with the support of private businesses and organisations. In 2016, the city funded 50 per cent of the parade, which costs around US$200,000 to put on.
Australia: Two collectible limited-edition 50 cent coins have been released in Australia to celebrate the 70th wedding anniversary of the Queen and Prince Philip. The Royal Australian Mint has produced 5000 silver coins and another 30,000 made from cupro nickel featuring the royal couple's monogram EP, floral wreaths, myrtle blossoms, and sprays of wattle. The Queen and Prince Philip plan to celebrate their platinum wedding anniversary tomorrow with a private dinner among family and friends at Windsor Castle. They are the first royal couple to achieve the marital milestone.
United States: Model Keri Claussen Khalighi has come forward to accuse Def Jam Records mogul Russell Simmons of sexual misconduct in 1991 when she was 17. In a report in the Los Angeles Times, Khalighi says that Simmons coerced her to perform a sex act and later penetrated her without her consent in his New York apartment. She said the film producer and director Brett Ratner, who has also been accused by multiple women of sexual harassment, was present. Khalighi said she asked Ratner, then a music video director and Simmons protege, for help. "I'll never forget the look on his face," she told the Times. "In that moment, the realisation fell on me that they were in it together." Simmons, now 60, has denied the allegations. He says everything that occurred between himself and Khalighi was completely consensual and with her "full participation". He also detailed his own support of the #MeToo movement and the "brave men and women who have spoken out over the past month."
- agencies