The storm-stricken Caribbean took on the feel of a sprawling disaster zone yesterday, with Cuban first responders using inflatable rafts to navigate flooded streets as panicked families sent up social-media pleas in search of loved ones on hard-hit islands farther east.
On St John in the US Virgin Islands, "people there are roaming like zombies", said Stacey Alvarado, a bar owner who managed to leave for the mainland. Her husband, who is still there, told her that residents and tourists are in shock. "They don't know what to do. The island was wiped out. It's like The Walking Dead down there."
Other islanders sent social media messages pleading for help, decrying looting and a series of armed burglaries.
"We need help," wrote St John blogger Jenn Manes. "We need the United States Government to step up. We need military. We need security."
In Cuba, where the Government said it had evacuated one million residents, Hurricane Irma's driving winds and pelting rains sent roofs flying, knocked over trees, wrecked buildings and caused large-scale flooding along the northern coast. Officials in Havana warned of flooding that would last through until today. Many buildings have collapsed.
As streets turned into rivers, authorities took to inflatable rafts to access coastal neighbourhoods. Some Cubans had even sought shelter in caves.
The brutal storm struck Cuba along a coast studded with resorts that are among the pillars of the island's economy. Authorities warned of heavy damage from the storm, which has killed at least 25 people across the Caribbean.
Richard Paterson, the CARE organisation's representative in Cuba, said power had been turned off throughout the country.
European governments came under fire as critics accused them of being slow to respond to crises in their Caribbean territories, where massive damage left thousands homeless as looting broke out in the streets.
The French Government announced that President Emmanuel Macron would travel to St Martin, an island split between France and the Netherlands, tomorrow. The French have already deployed more than 1000 personnel to the Caribbean region in an aid-and-relief effort.
The evacuation of US citizens from the Dutch side resumed yesterday, according to the State Department, after being suspended in anticipation of Hurricane Jose, which later veered off to the north.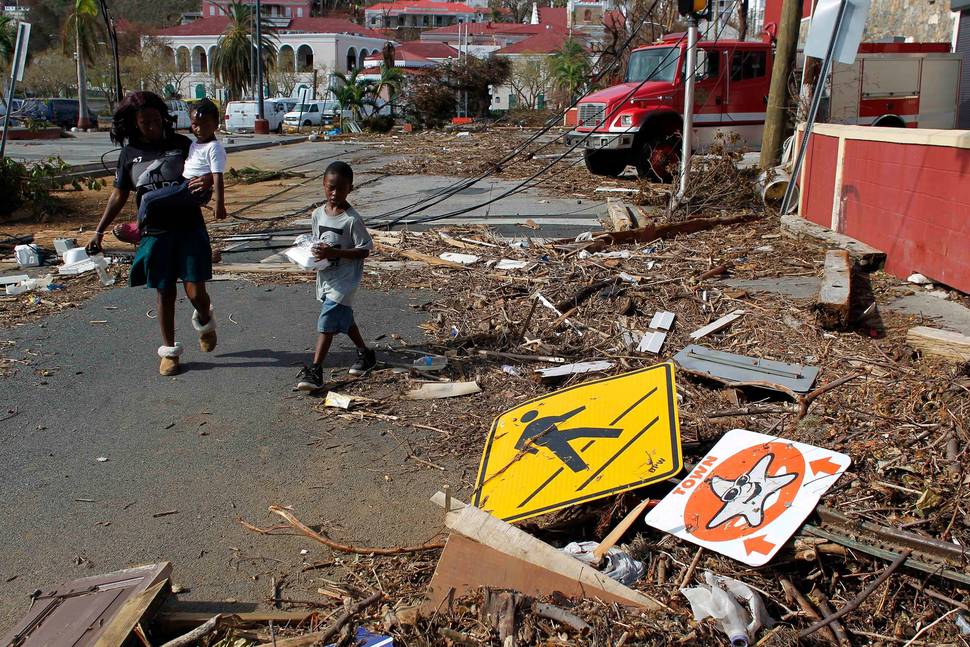 Residents in the devastated British Virgin Islands used Facebook in frantic calls for help. One user, Lanein Blanchette, echoed many others still looking for word from relatives and friends. "There is absolutely no news about East End on any of these pages," she wrote. "I've posted over ten times asking for assistance as to whether anyone has seen my uncle Kingston 'Iman' Eddy and not one person has replied."
At the same time, dramatic tales of escape began to emerge.
Lauren Boquette, a 48-year-old restaurant manager on St John, said his family had barricaded themselves in the bathroom of their home. When they emerged, he said, they saw a scene of total destruction. "It was beyond rough times, it was end-of-the-world times. Everything normal to us has been destroyed."
Authorities in the devastated island nation of Antigua and Barbuda faced a historic effort ahead to rebuild. The island of Barbuda suffered damage to almost 100 per cent of its structures.
"In Barbuda, where they evacuated everybody, now they have to figure out where to start, how to construct basic need services, how to figure out what to do with families that lost their homes," said Jan Gelfland of the International Federation of the Red Cross.