Pictured edging out of her dry dock at Barrow-in-Furness, today preparations began to get the Royal Navy's latest submarine water-ready ahead of its first trip in the sea.
She has been ten years in the making but now the 318ft long, 7,400 tonne nuclear-powered HMS Audacious will take her first trip in water for the first time tomorrow during a floating out ceremony in Cumbria, the Daily Mail reports.
A part of a £1 billion (NZ$1.8b) project, HMS Audacious is the fourth out of ten submarine commissioned by the Government to set a new standard in weapons.
When armed with Tomahawk cruise missiles, she will be capable of striking targets up to 745 miles from the coast with pinpoint accuracy.
Despite global tensions and displays of military prowess, a spokesman for manufactures BAE Systems' Submarines said tomorrow's exercise was a planned procedure.
A spokesman said: "This is just a part of its schedule and isn't reactionary. It takes nearly ten years to build so it's flouting out is just a very gradual launch but has been planned for some time."
The floating out stage is described as a huge milestone in the submarine's timeline as the ship has just finished her manufacturing stage.
The spokesman said: "First she will go in the water for the first time, then she will take her first dive. The Royal Navy will take her on some trials and will decide where she will be moved to or stationed next."
"The next big milestone will be when she leaves Barrow which we expect will be in around a year."
A spokesman for the Military of Defence told MailOnline he couldn't comment on the ship's activities.
HMS Audacious is the fourth submarine in the Astute class of ten warships.
She was officially named during a ceremony at BAE Systems' Submarines site in Cumbria, back in December.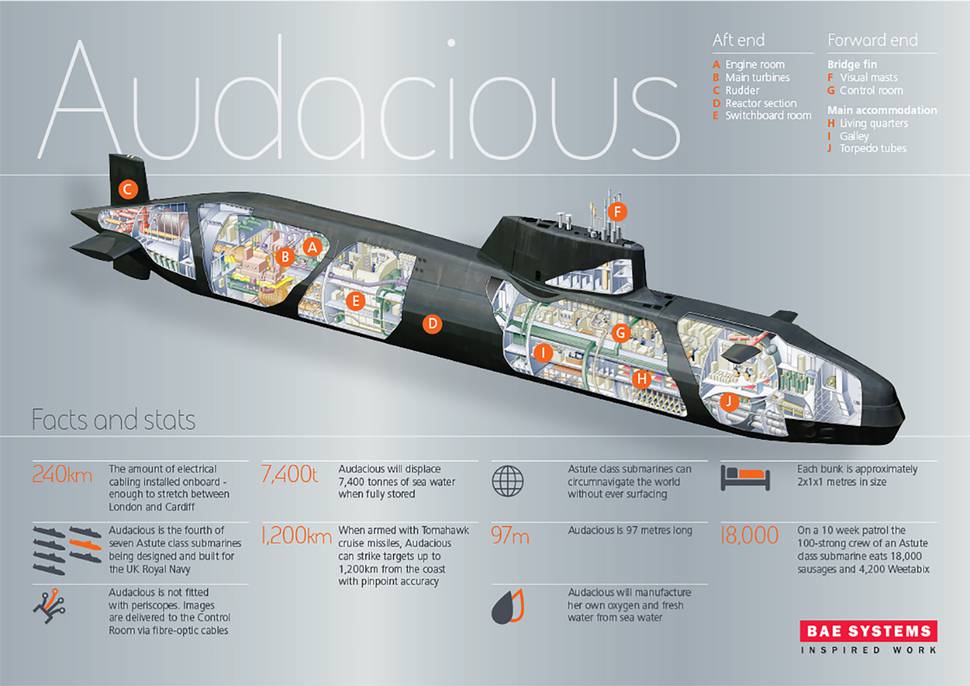 Lady Jones, Audacious' sponsor and wife of Admiral Sir Phillip Jones, the First Sea Lord and Chief of Naval Staff, chose the name.
In keeping with tradition, Lady Jones then smashed a bottle of locally brewed beer against her hull.
HMS Audacious is the fourth submarine in Astute Class fleet, as well as the largest and most advanced attack submarine in service with the Royal Navy.
And her sister Artful, who was completed in May 2014, got her toes wet for the first time almost exactly three years ago to the date at the same dock.
Artful emerged from the Devonshire Dock Hall in Barrow-in-Furness, Cumbria, after almost a decade in the making.
She was officially named by Amanda, Lady Zambellas, wife of the Royal Navy's First Sea Lord, Admiral Sir George Zambellas.
The Tomahawk cruise missiles she carries are claimed to have an accuracy of just a few metres over a range of within 1,240 miles, giving Artful the ability to support ground forces anywhere in the world.
More than 39,000 acoustic tiles mask the vessel's sonar signature, meaning she slips through the seas with less noise than a baby dolphin.
Yet her sonar is said to be so powerful it can detect ships leaving harbour in New York City from a listening point below the waters of the English Channel, 3,000 nautical miles away.