At least 30 people have been injured, five critically after an explosion rocked a busy French carnival.
The incident happened when a "Bengal Fire" display exploded into the crowd at the carnival near Paris.
Screaming spectators were thrown to the ground as the blasts shook the ground at the popular event, about 20km from the centre, close to Charles De Gaulle airport.
The horrific accident in Villepinte, in the French capital's northern suburbs, saw at least one child suffering horrific injuries when a wooden guy-style figure dubbed Mr Carnival went up in smoke.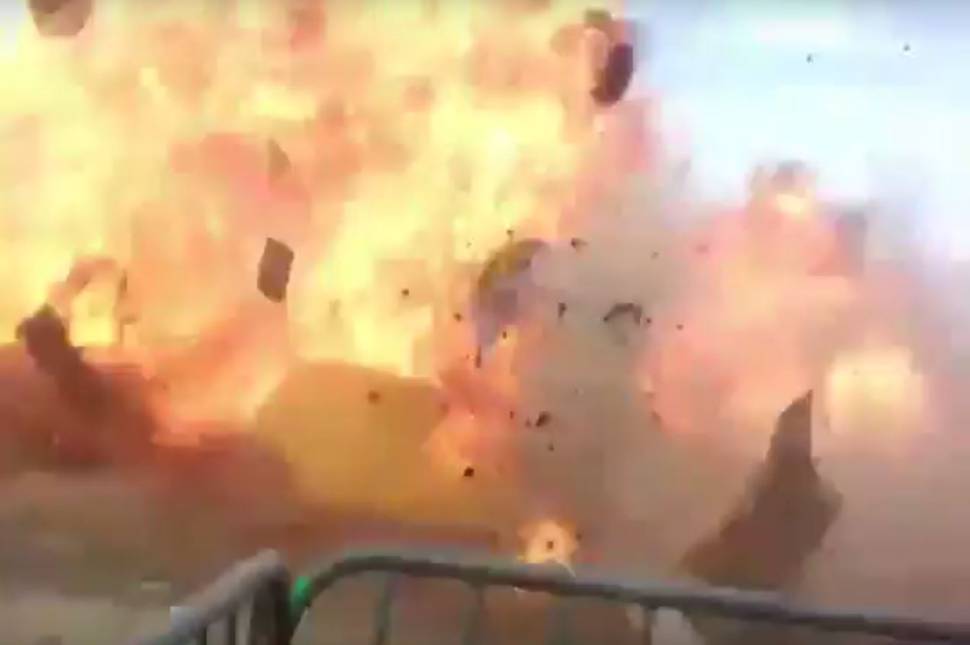 The blasts sparked panic among the crowds as several people were harmed by flying debris.
Witnesses described scenes of horror and panicked crowds and reported seeing "a man with a broken arm" and "a child with blood on his face".
Others talked of "people running around to find their children" in the wake of the explosions.
The children injured ranged in age from two to 14, said Nathalie Crespin, spokeswoman for the Paris fire brigade.
"Many are injured in the face, and all are in hospital in Villepinte," saidCrespin.
She said the total number of those badly hurt was now 18, with five "in a very bad way".

A few hundred people, including local families, the mayor and other officials, had gathered for the annual carnival in Villepinte and were getting ready to watch its climactic event - the lighting of a traditional bonfire, Crispin said.
The gasoline used to light the fire was apparently mishandled, prompting the explosion, she said.
Onlookers were hit by chunks of burning wood and suffered primarily from burns.
Crispin and officials from local police and the prosecutor's office of the Seine-Saint-Denis region said the explosion was found to be accidental.
France is in a state of emergency after Islamic extremist attacks in recent years but authorities said there were no signs of arson or terrorism in yesterday's explosion.
The Mr Carnival effigy was almost 6m high, and had erupted in flames when the fire was lit, she said.
Among those hurt was Martine Valleton, the Mayor of Villepinte, who was hit in the right leg.
"The accident was completely unpredictable,"said a spokesman for Valleton. "She is being treated along with the others injured."
A 'Bengal Fire" is meant to involve lots of well-controlled flares lighting up a building or - in this case - the guy.
They can last for up to five minutes, but are banned in many countries because of the dangers involved.