Sadiq Khan, the mayor of a bustling city that on Thursday was hit by a deadly attack, came yesterday to a public square that commemorates a British naval triumph, the Battle of Trafalgar. But his visit had little to do with celebration. Instead, he was there to reassure his fellow Londoners.
With the Acting Police Commissioner and the Home Secretary at his side, Khan told the crowd that London was strong.
"Those evil and twisted individuals who try to destroy our shared way of life will never succeed, and we condemn them," he said to applause. "This is a time to express our gratitude to the heroism of our police officers and emergency services, who ran towards danger to help at the same time that they encouraged others to run for safety."
A minute of silence followed his address, and then Khan spoke to a scrum of British and European journalists, repeatedly emphasising that British defences were robust and advanced.
"Over the last four years, more than a dozen terrorist attacks have been thwarted because of the excellence of the police, the security services, and because of the intelligence we receive from members of the public," he said. "Over the last few months, I've seen how we plan and we prepare for these sorts of incidents."
But many Londoners at the event, a sprawling candlelight vigil for the victims of Thursday's violence, said they did not need to be reassured. They were not afraid, they said defiantly - a day after a 52-year-old man ploughed through pedestrians on Westminster Bridge before fatally stabbing a police officer at the gates to Parliament. The militant group Isis (Islamic State) has asserted responsibility for the attack, which killed four people. The attacker was also killed at the scene.
Why are they not afraid?
"Because I'm a Londoner. This is my city," said Geraldine Cook, who was born in London but lives in the suburbs. "How can we be afraid?"
She drew a comparison to her parents' generation, which came of age during World War II.
"We're talking about bombs going off in the city as they were growing up," said Cook, who works in publishing. "I've been thinking over the past day about what that must have been like."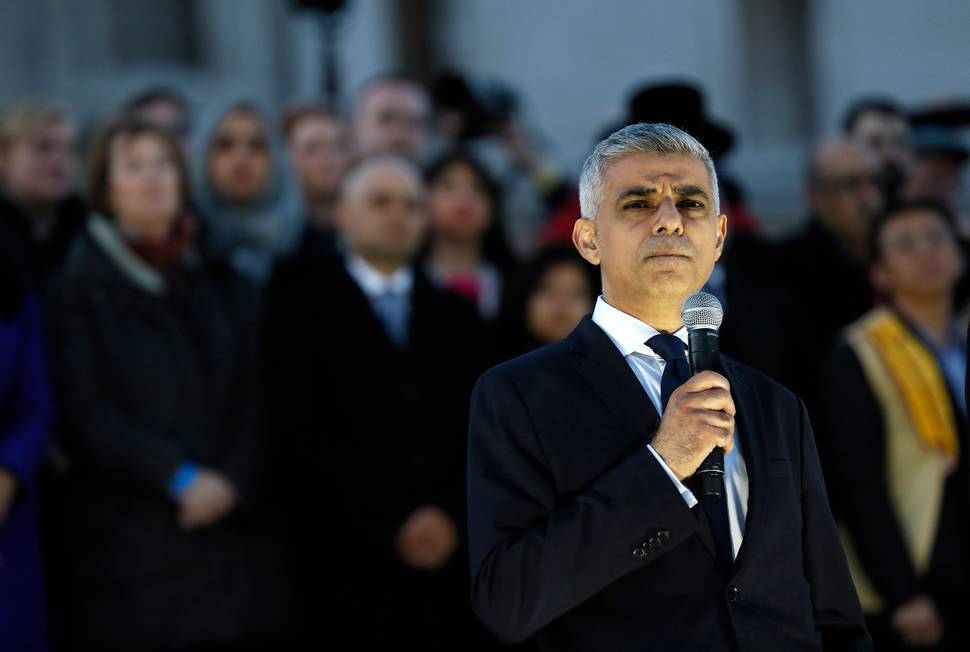 Thursday's attack, London's deadliest since a set of subway bombings in 2005, has drawn international attention to Khan, who was elected last year to the mayor's office. In the hours after the attack, he drew the ire of Donald Trump jnr, who posted on Twitter a link to a story from last year misconstruing Khan's declaration that terror preparedness had to become customary in major cities. "You have to be kidding me?!" the United States President's son wrote, suggesting that Khan was saying that terror itself was normal.
British lawmakers swiftly rebuked Trump.
Khan is the first Muslim mayor of a major Western capital. That made him an effective spokesman for the city as it faced down an attack inspired by Islamist extremism, said two imams at the vigil, Tahin Khalid and Musharaf Ahmed, both 25.
"He's a really good role model," Khalid said. "He has credibility when he stands up and says that extremism has no religion and that religion is something that should put peace into people's heart."
Ahmed said Khan's position of influence and the decency he brought to it offered a clear counterpoint for young people who might be tempted to radicalise.
Others said the mayor was making a wise decision to reinforce police presence in the city.
"It's the uncertainty," said Tyler Dudman, 19, referring to the random nature of such attacks. "I'm not necessarily afraid, but it's the way they're going about it - it's so difficult to predict."
He said the mayor's message to those gathered in the square amounted to a "show of strength".
For Sonia Sangra, 24, the show was poignant but not necessary.
"I'm not scared by this," she said. "That would be giving the terrorists what they want. Instead, we have to make clear that their message isn't getting across. I mean, what religion would justify this? None."