A lesbian Columbia student is suing the university claiming it did nothing to protect her from a rapist who penetrated her with scissors and asked "still a d*ke?" while she was tied up with an iPhone charger in her dorm room.
Amelia Roskin-Frazee agreed to be identified on Tuesday after filing a lawsuit against the university at Manhattan's Federal Court.
The 20-year-old claims to have been raped twice by the same man while living in Hartley Hall dormitory - once in October 2015, when he attacked her in her bed, and again in December 2015, when she says he raped her with a pair of scissors.
She is suing the university which she said knew about the first attack but did nothing to prevent the second.
She has since reported both alleged incidents to the NYPD and is in contact with its Special Victims Unit which would not discuss her case on Tuesday.
The first alleged attack took place on October 5, 2015. The creative writing student says she was asleep in her room when she woke up to the man, who she has still not been able to identify, raping her in her bed.
She said she passed out from the pain during the attack and fell unconscious again after he left.
The second took place on December 14, 2015, after she allegedly informed university officials about the first rape and was turned down when she requested to change rooms because she felt unsafe.
This time, she said the man was waiting for her when she returned home at night.
"As soon as she opened the door, she was pushed in to her room from behind. The room was completely dark and (she) turned to run out but her assailant pushed her to the ground."
"Her assailant pulled off her shorts and underwear, tied her hands above her head to her desk chair with her underwear and an iPhone charging chord, and shoved her shorts into her mouth," the lawsuit reads.
The man then penetrated her with 'several foreign objects including a hairbrush, a pair of scissors and a razor."
"(She) screamed as her assailant cut her thighs with the razor blade....plaintiff's assailant whispered into her ear "Still a d*ke?" as he penetrated her with a pair of scissors."
He left her tied up and naked, it continued.
The next day, Amelia claimed to have received treatment in hospital for vaginal tearing, cuts to her wrists and thighs and several bruises on her legs.
The lawsuit states that she chose not to report the first incident to police immediately because she did not want it to become public information.
She however contacted the university's medical services to seek treatment for injuries but claims she struggled to get an appointment. When she was eventually seen, she said medical staff told her not to have "such rough sex".
The student then said she contacted the university's sexual violence hotline where she says a worker told her that even though she was a lesbian, she "should be on birth control."
After requesting to change rooms because she no longer felt safe in hers, she said she was bounced between university workers who told her she would have to pay to be moved and that her parents would have to be involved.
The first time she was contacted by Columbia staff about either incident was on January 19, 2016, when she said a worker from the Student Conduct and Community Standards office honed in on her from an anonymous survey.
She told them she did not wish to notify police, given her past experience with the university's handling of the first alleged rape.
The assailant, still unbeknownst to her at the time, then began harassing her in the shared dorm, the suit claims.
She believes he was the author of a note on a public bulletin board which read "Isn't it fun to wake up to someone f****** you?" and that in another, he offered to replace the iPhone charger she said he tied her up with.
Amelia formally reported both incidents to Student Conduct and Community Standards office on August 5, 2016 but claims she was told three days later that it would not investigate unless she could name her attacker.
She responded in an angry email and the university opened an investigation on September 8, the suit claims.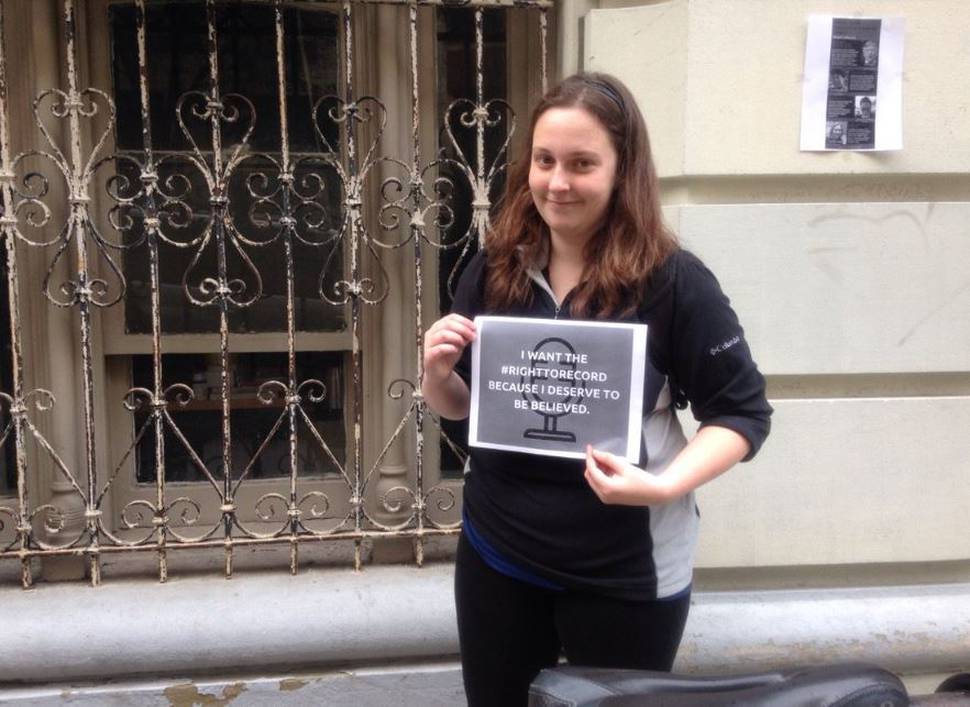 It closed its investigation on October 7 after failing to interview a single student, she said, and without reviewing any surveillance footage which had all been deleted.
Amelia claims she was told that it would have been able to investigate the tapes had she reported it sooner.
She told DailyMail.com on Tuesday that she reported both incidents to police on January 19 this year.
Detectives were unable to find a record of the report but the student insists the investigation is ongoing.
She is suing the university claiming it breached Title IX, which prohibits gender discrimination across educational institutions, by not providing her alternative accommodation or investigating her allegations.
Columbia declined to comment on the allegations on Tuesday, citing its policy not to issue statements during active litigation.
"None of this diminishes the deep concern we feel about any allegation of assault on our campuses," spokesman Robert Hornsby said of it.
Amelia is still a student at the university and is due to graduate in 2019. She now lives in an off-campus apartment.