President Donald Trump is stuck in a time warp. As he seeks to steer his young Administration through what is shaping up to be a test of his capacity to govern, he seems unable to put 2016 behind him.
Urgency is mounting about Russia's brazenness in breaching US security, and new questions are being raised about Trump aides' dealings with Moscow during the campaign and transition.
But to the President, it's still all about the election.
"The Democrats had to come up with a story as to why they lost the election, and so badly (306), so they made up a story - RUSSIA. Fake news!" Trump tweeted yesterday, noting in parentheses the number of electoral votes he received in November.
The President brought up his electoral vote total again later in the day at a combative news conference, where he claimed - falsely - that his was "the biggest electoral college win since Ronald Reagan". In fact, of the presidents since Reagan, only George W Bush won fewer electoral votes than Trump did last year. Trump also made 12 references to Hillary Clinton during the one-hour-and-17-minute news conference.
Trump shows little interest in a growing pile of evidence that Russia attempted to influence the outcome of the election. And he doesn't seem curious about whether those who worked for him had improper contact with Russian agents.
Instead, he is accusing the intelligence community of disclosing information without authorisation, and blaming the news media for harping on about it.
His priorities worry those who see in Russia's behaviour a real threat to US security - not only last year, but also going forward.
"The focus can't be on leaks. The focus can't be on Hillary [Clinton]. The focus has to be on what happened," said Richard Haass, the president of the Council on Foreign Relations, who served in senior positions under the past three Republican presidents. "He's got to use this to clean house, and to essentially reboot his Administration." The chaos, Haass added, "is both a cause and a symptom of a governing crisis".
The turmoil over Russia speaks to a larger lack of focus in the Trump White House.
With mixed signals coming from the Administration, there has been scant progress on key parts of the Republicans' agenda - most notably, the repeal and replacement of the Affordable Care Act that Trump promised would be under way in the early weeks of his presidency.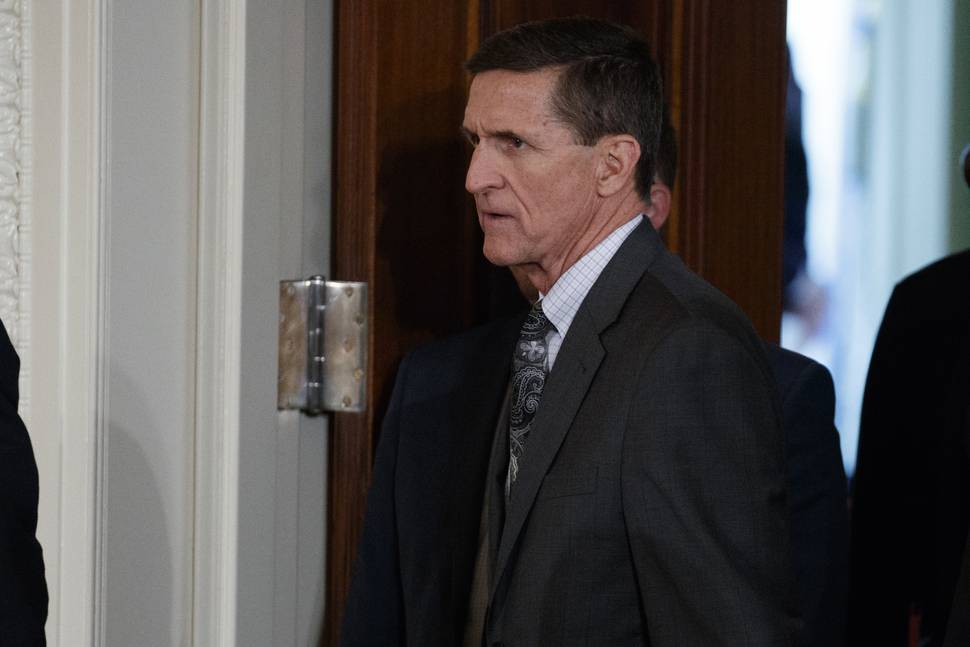 And Trump's most dramatic initiative to date, his order banning citizens of seven Muslim-majority countries as well as refugees from entering the US, was clumsily executed and has been blocked at least temporarily by the court system.
Yet the President's touchstones, his points of reference for nearly every question of substance, are the triumphs and lingering grievances of his campaign.
"This Russian connection nonsense is merely an attempt to cover up the many mistakes made in Hillary Clinton's losing campaign," he tweeted on Thursday.
Hours later, at a news conference with Israeli Prime Minister Benjamin Netanyahu, Trump said that Michael Flynn - who resigned as national security adviser two days earlier amid revelations that he had given misleading accounts of his contacts with the Russian ambassador to the US - was actually the victim of forces "trying to cover up for a terrible loss that the Democrats had under Hillary Clinton". Asked about anti-Semitism during that same appearance alongside Netanyahu, Trump's first response was to boast about his electoral vote total.
At a White House luncheon last week to discuss his Supreme Court nominee, Neil Gorsuch, with a bipartisan group of senators, Trump once again made his baseless claim that millions of votes were cast illegally.
The campaign environment remains his comfort zone.
So eager is he to return that tomorrow, he will hold a rally in Florida that White House press secretary Sean Spicer described as "a campaign event".
In the meantime, however, calls are growing for a thorough and wide-ranging investigation of the questions surrounding Russia's efforts to influence the election and its interactions with those close to Trump.
"The accusations regarding the Trump campaign's ties to Russia are creating a cloud over the White House. They should be fairly investigated by the Congress in a bipartisan manner. It would serve the President's interests to get to the bottom of this so he can move forward with his agenda," said Republican Senator Lindsey Graham.
Republican Senator Roy Blunt, a member of the Senate Intelligence Committee, said in an interview with St Louis radio station KTRS: "I think everybody needs that investigation to happen."
In earlier situations, presidents have sought to get ahead of a brewing controversy by calling for an investigation themselves.
President Ronald Reagan, for instance, appointed a bipartisan commission to look into the Iran-contra affair just days after it became public in 1986 that money from secret arms sales to Iran had been used to support rebels in Nicaragua, despite a legal prohibition on using government money to aid a right-wing group known as the contras.
In 2002, President George W Bush appointed an independent commission to investigate the circumstances surrounding the attacks of September 11, 2001 - including the question of why the Government had not adequately prepared to prevent it.
Former Democratic Congressman Lee Hamilton, who was vice chairman of the 9/11 Commission, said a similar approach is warranted now with respect to Russia. "Very aggressive leadership is necessary," Hamilton said. "There's just an awful lot out there that needs to be clarified and investigated independently by people who do not have an interest in the outcome of the investigation." He added: "I am doubtful that the Congress can put together a very robust investigation. Their performance on oversight in recent years has been deplorable - timid and not robust enough."
Former New Jersey Governor Thomas Kean, who chaired the 9/11 Commission, agreed that the issue "deserves further investigation", but said that lawmakers should be given the first opportunity to conduct any probe. "If Congress can do it, Congress ought to do it."
However it is conducted, a substantive investigation would pose a reckoning for Trump and his Administration - one in which every question could not be answered by reprising a campaign attack line.