Kellyanne Conway has been banned from one of Donald Trump's favourite shows.
The hosts of MSNBC's news programme Morning Joe said the senior adviser to the President is no longer welcome on their programme.
The show is said to be part of Trump's daily viewing, with Politico reporting it's a regular part of his morning routine.
But co-host Mika Bzrezinski announced Conway is no longer welcome, saying she is "not credible anymore".
"At times in recent days, Kellyanne Conway has struggled to be on the same page, to say the least, as the rest of the staff in the White House," the co-host said.
It came shortly after Conway made contradictory remarks on The Today Show about Michael Flynn's resignation.
Bzrezinski said Conway regularly attempts to book herself airtime, but concluded the show will no longer be handing that to her.
"We know for a fact that she tries to book herself on this show. I won't do it because I don't believe in fake news, or information that is not true," Bzrezinski continued. "Every time I've ever seen her on television, something's askew, off or incorrect."
Co-host Joe Scarborough said: "She's out of the loop. She's in none of the key meetings.
It's bad that a spokesperson in the White House actually goes out and makes things up."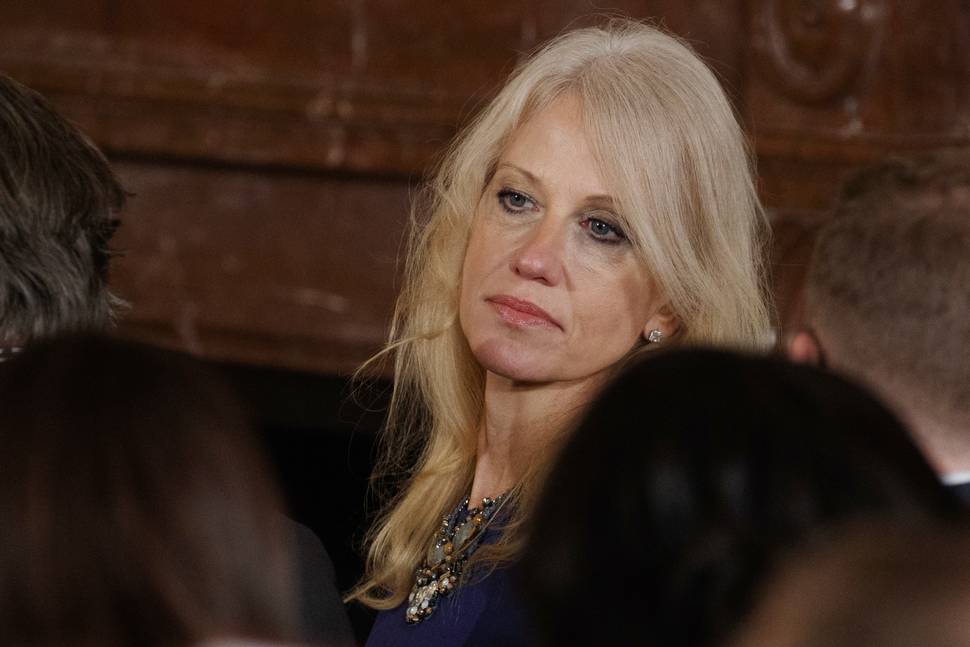 CONWAY'S WORST INTERVIEW GAFFES
Conway's ability to sidestep certain questions has been well-documented, but it's landed her in trouble a number of times since the election.
Last month, she coined the now-infamous term "alternative facts" while defending White House Press Secretary Sean Spicer on NBC's Meet The Press.
Spicer accused the media of manipulating the photographs at Trump's inauguration to show smaller crowds, saying "this was the largest audience to ever witness an inauguration - period".
Conway responded to the criticism over the figures question by saying: "We feel compelled to go out and clear the air and put alternative facts out there."
Within minutes, the term was trending globally.
Earlier this month, she again came under ridicule after she invented a fake terror massacre.
Speaking on MSNBC, Conway defended the President's travel ban on seven Muslim-majority countries, citing two Iraqis who she said came to the US and were "the masterminds behind the Bowling Green massacre".
"I bet it's brand new information to people that President Obama had a six-month ban on the Iraqi refugee programme after two Iraqis came here to this country, were radicalised and they were the masterminds behind the Bowling Green massacre," Conway told MSNBC.
"It didn't get covered."
The reason it didn't get covered? It never happened. While the Iraqi refugees lived in Bowling Green, Kentucky, they were never accused of carrying out or plotting any attacks on US soil.
Earlier this week, Conway again came under fire after she spruiked Ivanka Trump's fashion line during a live interview on Fox News.
She said Trump had "developed another fully, unbelievably, entrepreneurial, wildly successful business that bears her name" and urged viewers to buy her products.
"(Nordstrom) are using her, who's been a champion for women's empowerment and women in the workplace, to get to him. So I think people can see through that," Ms Conway told the morning show Fox & Friends.
"Go buy Ivanka's stuff, is what I'd say. I hate shopping, I'm going to get some myself today," she said. "It's a wonderful line. I own some of it. I'm going to just, I'm going to give a free commercial here. Go buy it today everybody. You can find it online."
Her words were slammed universally, with legal experts saying she violated ethics of serving in public office.
HOW CONWAY MASTERED THE ART OF SPIN
Earlier this week, Vox ran an explainer video detailing how Ms Conway gets away with avoiding reporters' questions so effectively.
It noted that - regardless of whether her answers drive journalists crazy - she's "ridiculously good" at what she does.
Former debating champion Seth Gannon, who was featured in the video, described three key ways in which the adviser efficiently deflects a question during an interview.
With any question posed to her, Conway is looking for an opportunity to take it somewhere else.
One of her best tactics is to take a trivial word or phrase from the question, and repeat that while responding to give the impression of a direct answer.
For example, shortly after President Trump's inauguration in January, Conway was asked to address her "alternative facts" gaffe.
"Look, alternative facts are not facts," said MSNBC host Chuck Todd.
Conway's response? "Chuck, do you think it's a fact or not that millions of people have lost their plans or health insurance and their doctors under President Obama?"
She's taken the word "fact" from the question, reiterated it as if to acknowledge it, but then spun it in a completely different direction - speaking about healthcare rather than the size of Mr Trump's inauguration crowd.
We've witnessed this tactic on Twitter as well. Following Conway's "Bowling Green" massacre gaffe, Hillary Clinton's daughter Chelsea indirectly tweeted at her to stop inventing attacks.
Conway addressed the tweet, but she changed its subject in her response, using the concept of "inventing" to make it look like a valid retort.
Secondly, Gannon also says Conway takes advantage of the interview's natural impulse to be polite.
"For the interviewer to insist again and again on the original question and to ignore 90 per cent of what she's said in the meantime is rude," he told Vox. "She trusts that they are going to move on to their next topic rather than ask the same question over and over."
Finally, she uses the fact that she's not technically a politician in the Trump administration to sidestep questions she doesn't want to answer.
She can say "I'm not in on those briefings" or "You're going to have to discuss that with him" when she doesn't wish to respond.
These repeated interview patterns could explain why MSNBC has axed Conway from appearing on her show again.