A "British Josef Fritzl" who built a secret den behind his fridge to hide a 14-year-old girl he was sexually abusing could have been stopped by police 24 years ago, it emerged yesterday.
Violent paedophile Michael Dunn, 57, was found guilty of raping and molesting four women over five decades, imprisoning two of them as sex slaves, the Daily Mail reported.
He knocked down a wall to create what he called the "hidey hole", into which the 14-year-old was hurriedly bundled on nine occasions when police came to look for her.
A court heard officers missed a further opportunity to save his victims - none of whom can be identified - after another 14-year-old accused Dunn of assaulting her in 1993, only for them to take no action.
Last night police and social services were facing questions about their failure to prevent Dunn from carrying out a further two decades of sexual abuse.
There are also fears he may have had other victims, as he lived in multiple locations in both the North and South of England.
One relative recalled that he dug a hole beneath the living room floor of one property, telling them it was a "bomb shelter".
A source who worked on the case described it as 'reminiscent in many ways of Josef Fritzl' - the Austrian monster who kept his daughter as a sex slave in a secret basement for 24 years.
Dunn, a hard-drinking bully who apparently lived on benefits in recent years, used a sledgehammer to smash out the bricks to create a cavity large enough for the girl at his home in Mottram, Greater Manchester.
He then covered it over with plasterboard and kept a bucket of dust nearby to camouflage the false wall. As an extra precaution, he trained his alsatians to stand guard over the spot where she cowered.
Teesside Crown Court heard the 14-year-old who was hidden in the "hidey hole" was a runaway from local authority care in 1993, who sought refuge in Dunn's home. Police visited the house on "eight or nine' occasions without finding her, the jury heard.
Another of his victims, also 14 at the time, reported the same year that she had been raped at the Mottram house, but the court was told Greater Manchester Police did not take the case further.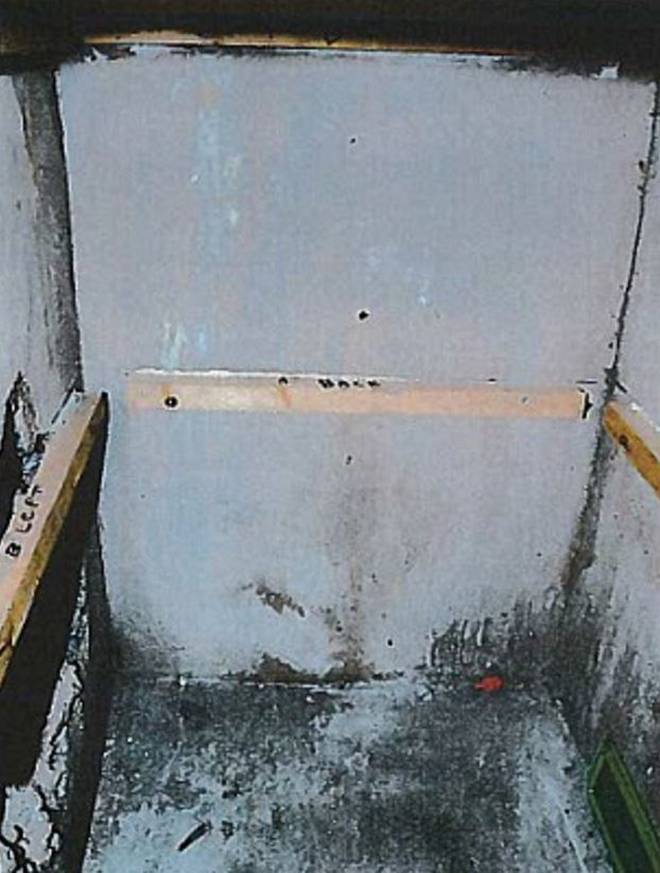 His crimes finally came to light in 2014, when the girl he imprisoned in the hole went to police as an adult.
Yesterday, she said: "They are memories I don't want, and I'm having nightmares for God knows how long and I don't want any more. I just don't want to talk about it."
Dunn, who later moved to Redcar, North Yorkshire, now faces a potential life sentence after being found guilty of 16 charges on Wednesday. The other woman he imprisoned said: "We've all suffered through this and it's been over a long time. I'm glad it's over but that's all I want to say."
Dunn was described by prosecutor Richard Bennett as "a violent, controlling and sexually abusive man" who "had sex when he wanted". The girl hidden behind the fridge had already been the victim of abuse, having been raped and beaten by another man.
"The Crown say he took advantage of that situation for his own sexual gratification," Mr Bennett told jurors.
He described how Dunn appeared protective and caring at first, but started making sexual advances on the girl. She told him to stop but he persisted and assaulted her.
"She secretly moved into his address when she was still subject to care," he said. "Because she was such a frequent visitor to the Dunn house, and because he wanted to continue abusing her, Michael Dunn knocked through a wall in the house and created a 'hidey hole'.
"This was a cavity with a false wall which allowed her to hide from the police.
"It appears the police attended on a number of occasions to look for her as there were suspicions she was at the address.
"Michael Dunn would have a bag of dust and a panel to camouflage the 'hidey hole' with a false wall."
The other woman he imprisoned, who was in her 20s when the abuse started, was beaten to the point where she had black eyes. She submitted to sex in fear after Dunn threatened to hit her if she did not.
The court heard he padlocked doors from the outside to keep the two victims locked in rooms at his home, giving them walkie-talkies so they could communicate. The house was monitored by a "ramshackle" array of CCTV cameras, alarms and sensors to enable him to spy on their movements, Mr Bennett said.
He told the court that Dunn "took advantage for his own gratification", adding: "Both women were his possessions to do with what he wanted."
After his crimes came to light, it emerged that Dunn had groomed another vulnerable underage girl in 1993, giving her alcohol and cigarettes before sexually abusing her.
She swore at him and ran to tell her mother, the court heard. Mr Bennett said: "The police were called and she believes they went to talk to Dunn. She was told it was being taken no further."
It was also revealed that around 15 years earlier in the late 1970s he had raped a girl of ten or 11, telling her afterwards: "It's what boyfriends and girlfriends do."
She tried to put her experiences to the back of her mind, but challenged Dunn when she encountered him years later. The court heard he then threatened to "have you done for slander".
During his evidence, Dunn insisted that none of the claims made by his victims, now all adults, were true. He showed no remorse as the verdicts were announced, simply shaking his head as he was found guilty.
Dunn was convicted of ten rapes, three charges of false imprisonment and three of sexual assault. He was cleared of one charge of rape and making threats to kill.
Last night an unnamed relative described him as "strange" and said he once dug a hole beneath the living room floor of a house he owned near Redcar.
"He said at the time it was a bomb shelter which seemed bizarre," they said.
"But in the light of this you have to wonder whether it had some other purpose."
Former neighbours claimed Dunn was "best friends" with another paedophile, saying he "seemed dangerous".
"Dunn just seemed creepy - you would cringe when he stood next to you," one said. "He always hung around with young people."
Another neighbour, who described Dunn as a "strange, strange individual", said he was an unemployed drunk who "wobbled" around.
A spokesman for Greater Manchester Police said: "We are aware of today's conviction and issues raised during the case. We are currently looking into the matter."
Judge Tony Briggs remanded Dunn in custody ahead of his sentencing.