Turkey was rocked by a second attack within a week on Thursday as suspected Kurdish militants killed two people with a car bomb outside a courthouse and then engaged police in a firefight in the street.
With police still hunting an Islamic State (Isis) gunman who massacred 39 people at an Istanbul nightclub on New Year's Day, an explosion went off in the western city of Izmir on Thursday afternoon.
Two militants were killed in a gun fight with police but a third suspect escaped. The man was described as wearing as black coat and a white beret and authorities said they suspected the attackers were members of the outlawed Kurdistan Workers' Party (PKK).
One police officer and a court employee were killed by the blast and 10 others were injured.
The group was heavily armed with Kalashnikov rifles and grenades and authorities said they believed the men had planned to carry out a much deadlier attack but had been forced into action prematurely after being stopped at a checkpoint.
"Based on the preparation, the weapons, bombs and ammunition seized, it is understood that a big atrocity was being planned," said Veysi Kaynak, the deputy prime minister.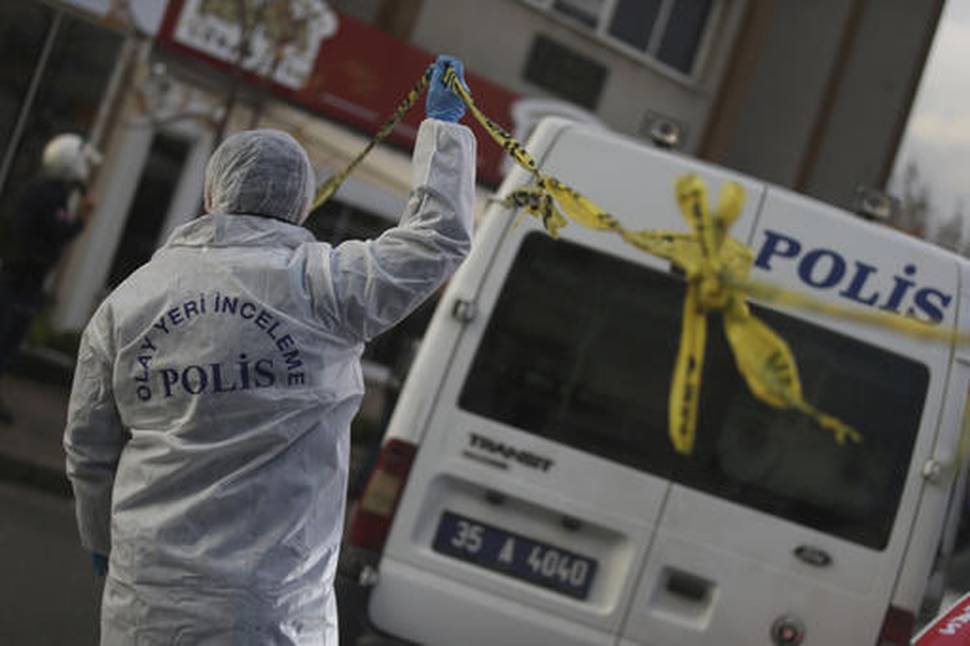 The PKK has been blamed for a string of recent attacks in Turkey and an offshoot of the group claimed responsibility for two attacks in Istanbul last month which killed more than 40 people.
No group has yet claimed responsibility for the Izmir bombing on Thursday. The PKK usually strikes in southeast Turkey, where most of the country's Kurds live, and would be unusual for the group to attack deep in the west.
The bombing and the news that yet another armed man was on the run added to a sense of perpetual danger in Turkey and is likely to further erode confidence in the ability of security services to protect the public.
Kaynak insisted, as public officials have after all recent attacks, that the violence would not deter Turkey from its military operations in northern Syria, which are aimed at both Isil and at Kurdish groups.
Meanwhile, police continued to hunt for the culprit behind the January 1 attack, who escaped the scene after shooting dead 39 people as they rang in the New Year.
Kaynak said the culprit was probably a Uighur, part of a Muslim ethnic minority that lives mainly in western China, central Asia and Turkey. He insisted that police were closing in on the suspect but admitted it was possible that he may have already fled outside of Turkey.
Even as Turkey reeled from the latest in a seemingly endless string of attacks, its government continued a public feud with the US over a Turkish airbase used by the American-led coalition fighting against Isil.
Turkey feels that the US has failed to provide air support to its troops fighting in northern Syria and mused publicly about shutting down the Incirlik air base in southern Turkey in response.
"Their presence [in Incirlik] is being questioned by our people and nation, and this issue is on the agenda of the government," Mr Kaynak said.
Closing the base would limit US operations against Isil and Washington scrambled to say that it was in talks about increasing its level of support for Turkish troops.
The rift comes as relations continue to sour between the US and Turkey, with Turkish president Recep Tayyip Erdogan publicly accusing America of providing support for Isil.
Turkey has moved closer to Russia as it drifts further from the US and Ankara and Moscow jointly brokered a shaky ceasefire in Syria. The detente between the two sides was not hindered by the assassination of Russia's ambassador to Turkey by a Turkish police officer in December.
- Originally published in Telegraph UK