Hillary Clinton is at risk of losing ground in the dying days of the US election, prompting her campaign to go to war with the FBI a day after authorities revealed a fresh probe on her emails.
Donald Trump - gaining again in the polls - told a swing state rally in Colorado yesterday Ms Clinton's emails were "the biggest political scandal since Watergate".
"It's everybody's deepest hope that justice, at last, can be properly delivered," Trump yesterday said after supporters chanted "lock her up, lock her up".
Clinton declared the timing of FBI director James Comey's decision to write to congress about possibly uncovering new emails was "deeply troubling" and "unprecedented".
"It's pretty strange to put something like that out with such little information right before an election," Clinton said campaigning in the crucial swing state of Florida.
"In fact, it's not just strange, it's unprecedented and it's deeply troubling because voters deserve to get full and complete facts."
The emails were found on aid Huma Abedin's computer after the FBI began looking at it because of her estranged husband was under investigation on the separate matter of sexting an underaged teen.
The last minute campaign twist hurts Clinton at her weakest point - trustworthiness. She last dipped dramatically in the polls last month when it emerged she had kept a pneumonia diagnosis hidden and issues relating to her private email server have dogged her entire election bid since last year.
A national tracking poll released yesterday showed Trump already gaining ground, even before the latest twist on the Clinton emails.
A week ago, Trump was behind Clinton by 12 points in the ABC/Washington Post poll. Yesterday, he was just trailing by two points.
It also emerged yesterday that US Attorney General Loretta Lynch disagreed with FBI director Comey's decision to notify congress of the probe, saying it was at odds with department policy not to comment on investigations so near election day.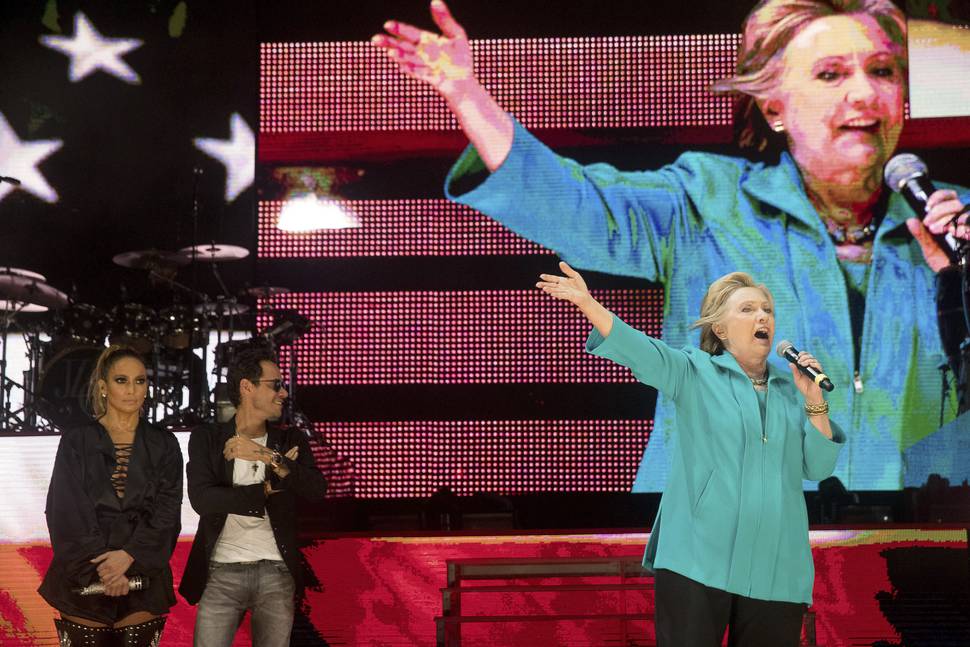 Clinton campaign manager Robby Mook said the team was "upset and concerned".
"The situation has created an urgency, an intensity among our volunteers..and they're as upset and concerned as we are here," he said. Clinton campaign chair John Podesta criticised FBI Director Comey's in revealing the probe 11 days before the election without sufficient detail.
He said the FBI's announcement of the probe was full of innuendo and short on facts.
"By providing selective information he has allowed partisans to distort and exaggerate in order to inflict maximum political damage," he said.
He said many of the emails were "likely duplicates of ones that have already been turned over".
He went on: "it is in fact entirely possible all the emails in question are just that, duplicates".
"there's no evidence of wrongdoing, no charge of wrongdoing, no indication that this is even about Hillary," Podesta said.
Democratic National Committee chair Donna Brazile described the events as an "18-wheeler smacking into us".
In comments to the New York Times, she said: "This is like an 18-wheeler smacking into us, and it just becomes a huge distraction at the worst possible time. The campaign is trying to cut through the noise as best it can. We don't want it to knock us off our game. But on the second to last weekend of the race we find ourselves having to tell voters, keep your focus keep your eyes on the prize'.
Clinton will campaign in Florida again today and Ohio tomorrow- key swing states that will help decide the election.