The resident of the apartment under Gable Tostee's told of hearing a woman's panicked cries of, "No, no, no" shortly before Warriena Wright fell to her death from his 14th floor balcony.
Tostee, 30, is on trial for the murder of the New Zealand tourist in August, 2014.
He has pleaded not guilty.
Gabriella Collyer, a resident of the Gold Coast's Avalon Apartments, told the Brisbane Supreme Court she heard noises she likened to furniture being thrown around in the apartment above her about 2am on August 8, 2014.
The noise, and the woman's cries, woke her and she went to her balcony to investigate.
"She was just screaming no, no, no," Collyer told the court.
"I opened the door and looked up and these legs were in the air and I froze and the body fell onto the railing of my balcony."
Collyer was giving evidence on the first day of the trial of Gable Tostee, who has pleaded not guilty to the murder of Wright.
The 26-year-old New Zealander plunged to her death from his 14th storey apartment, while she was in Australia on holiday.
She had spent the evening drinking with Tostee in his Surfers Paradise apartment after they matched on dating app Tinder.
Collyer testified that prior to the fall, she could hear what sounded like a man and woman fighting in the apartment above.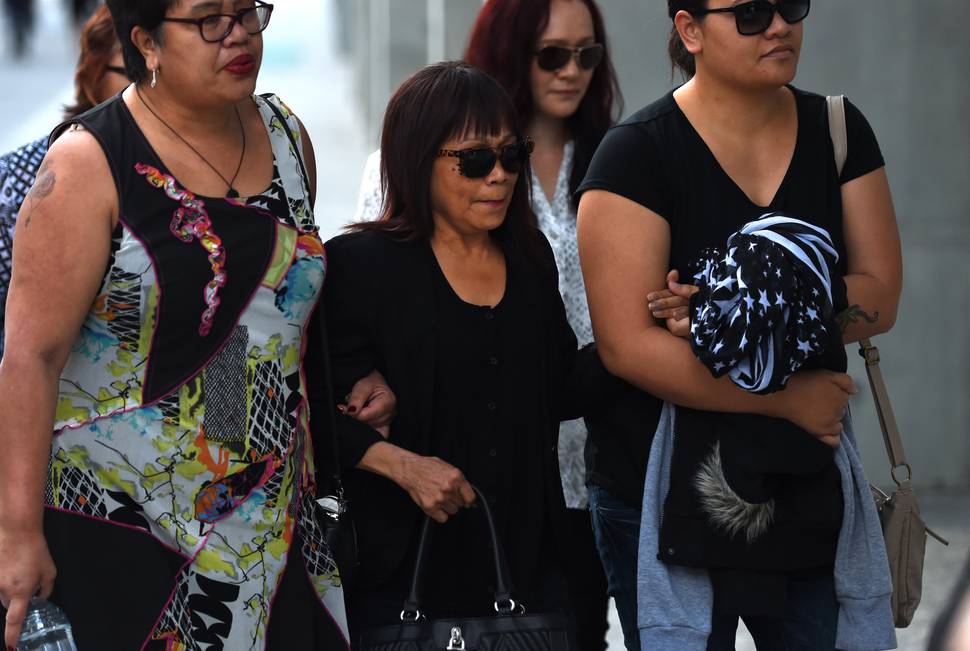 She could hear Wright's voice as she pleaded with Tostee but could only hear his muffled replies.
"I was woken around 2am ... It was a noise like furniture banging then another loud noise, something falling down to the ground, then I heard a female voice screaming, 'No,' in panic," she said.
"Then I heard a male noise but I couldn't understand."
When she went to investigate, she opened her balcony door to see Wright's legs dangling over from the balcony above.
She soon lost her grip.
"The person fell ... I screamed and somebody else screamed," she said.
"I rang Triple-0 and stepped forward (to look over) and she was laying on the ground."
When a police officer in safety harness reconstructed the scene the following day, Collyer said she found it too distressing.
"A female police officer positioned herself with her legs hanging down and I screamed and ran away," she said.
The court heard Tostee was acting in self-defence when he locked Wright on his Gold Coast balcony, moments before she plunged to her death.
The pair met on dating app Tinder just hours before Wright died. Tinder conversations between the pair have been tendered in evidence on the first day of the trial.
In opening submission today, Crown Prosecutor Glenn Cash said it was not alleged that Tostee pushed or threw Wright to her death in the early hours of August 8 but that he had locked her out on his balcony after a fight between the pair.
He said it was the Crown's contention that he had threatened and intimidated the 26-year-old to the point that she felt she had no other choice but to escape his apartment by climbing over the balcony to another floor.
He told the court women in the two apartments below Tostee's had both been drawn out onto their own balconies by the loud fighting between the pair, and watched in horror as Ms Wright fell past them and to her death on the ground below.
The woman in the apartment directly beneath Tostee's said the young New Zealander clipped her own balcony as she fell.
"She was locked on the balcony with no other means of escape," Cash said. "Warriena thought her only means of escape was by attempting to climb down.
"It doesn't matter he was inside ... he bears responsibility for causing her death as much as if he had pushed or thrown her off the balcony.
"He has, by threat and intimidation ... caused her death."
But Tostee's lawyer, high profile barrister Saul Holt, QC, told the court his client had asked Wright to leave and locked her out on his balcony in self-defence.
"What occurred in this place is nothing like murder or manslaughter, it just doesn't fit," Holt said. "These charges just don't make sense.
"We're allowed to use reasonable force to protect our home and protect our lives and it will be our ultimate submission that's what happened here."
Cash said an audio recording Tostee secretly made inside the apartment in the three hours leading up to Wright's death, in which the pair can be heard arguing and physically fighting, will be a key piece of evidence.
Tostee's phone was still recording when he left the apartment after Ms Wright's fatal fall and called his father, Cash told the court.
In it, he admitted the pair had fought physically and that she had fallen over his balcony.
"I was all right at first, we, you know, had sex in bed and after that she kept drinking ... She kept beating me up ... I forced her out onto the balcony and I think she might have jumped off," Tostee allegedly told his father.
"She was saying, 'I know Muay Thai, I'll beat you up for fun'.
"I tried to hold her down and she ran out onto my balcony and the last thing I remember was she kept hitting me for some reason and I just like tackled her down on the ground inside the apartment."
He is then alleged to have locked her outside.
The explosive audio recording is also alleged to have captured Tostee threatening Wright, and restraining her, evidenced by her muffled voice.
He is alleged to have said to her at some point, "You're lucky I haven't chucked you off my balcony you ... Psycho little bitch", however, that it is not contended that constitutes some intent to kill her, Cash said.
In other parts of the recording, the prosecutor said he is heard to tell his Tinder date,
"You're going to leave ... I'm going to slam the door on you.
"If you try to pull anything I'll knock you out, I'll knock you the f*** out. Do you understand? Do you understand?"
The court heard Ms Wright saying she wanted to leave Tostee's apartment a number of times but the two continued to talk and drink.
"Are you going to f***ing untie me because I will f***ing destroy your jaw," Ms Wright says.
"I should have never given you so much to drink," Tostee says later.
Ms Wright threatened to call the police while Tostee accused her of beating him up for no reason.
The remainder of the recording will be played to the jury on Tuesday and includes Ms Wright's final moments before she died.
The trial, before Justice John Byrne, continues.