On an August weekday evening in east London, the 67-year-old man in beige chinos and open-neck blue shirt looks out over the glasses balanced on the end of his nose to his adoring audience.
Appearing more like an awkward college lecturer than a celebrity, he steps down from the stage into a mob of fans seeking selfies and handshakes. "And they say he's unelectable," one woman exclaims, gesturing at the eager crowd.
It's another moment in the world of Jeremy Corbyn, the leader of Britain's main Opposition Labour Party. His support is so fervent, it's preventing attempts by his colleagues in Parliament to get rid of him.
Polls show Labour under Corbyn has little or no chance of returning to power in Britain, and yet the 116-year-old party's grassroots members overwhelmingly look set to stick with him in a leadership election for the second time in a year.
"He's not the best public speaker, but his charisma comes from his sincerity," said Maria Ellis, 51, an English teacher who was among the 700 or so people who attended the rally in the Victorian-style hall. She was hoping to get a photo with him. "I joined the Labour Party because of him. I wasn't interested at all in politics until he came along."
Corbyn's staying power is emblematic of how populist figures have become entrenched in Western democracies - think Donald Trump in the US, Italian comedian-turned-politician Beppe Grillo and Greek Prime Minister Alexis Tsipras.
It's a shift in the landscape that now looks more fixed than fleeting, like the economic and social divisions that nourished it, and makes electorates tougher than ever to read from the centres of political and financial power.
"There is a sense that old politics has failed," said Steven Fielding, a professor of political history at the University of Nottingham. "Something really radically has to change before people decide protest is not really necessary. The economy has to deliver in a more egalitarian manner and there's no sign of that happening any time soon."
What's striking is how Corbyn's loyalists have effectively commandeered one of Britain's mainstream parties and cemented the Conservatives in government for the foreseeable future regardless of the turmoil following the UK's vote to leave the European Union in June.
Like supporters of Trump at the other end of the political spectrum, many consider him a saviour. Any missteps, damning poll numbers and relentless ridicule in British newspapers are dismissed as falsehoods or conspiracy. They include blaming him for failing to stop Labour people from voting for Brexit and a spat last month with train operator Virgin over whether he could get a seat on its London to Newcastle service.
The gathering in London's Newham district was his 26th in two weeks as he counters the challenge to his leadership by the slicker, younger Owen Smith, 46.
A combined 65,000 supporters came out to hear Corbyn's anti-austerity, anti-capitalist message. A YouGov poll published today put Corbyn ahead by 62 per cent to 38 per cent, while bookmakers give Smith less than a 20 per cent chance of wresting control of a party that won three back-to-back elections before losing power in 2010.
Corbyn "is almost good by being bad," said Tim Bale, professor of politics at Queen Mary University of London. "He has cast a spell over large numbers of people. He seems to exert an almost cult-like attraction to many of his followers. That's quite unusual in British politics."
Corbyn's closest parallel is Bernie Sanders, the socialist Vermont senator who ran closer than expected to Hillary Clinton in the race for the US Democratic Party nomination, according to Bale.
Both men were in politics for decades before rising to prominence by appealing to younger voters. His campaign has Skyped Sanders's team and is trying to persuade the senator to come over to the UK to support him, Corbyn spokesman Sam Tarry said.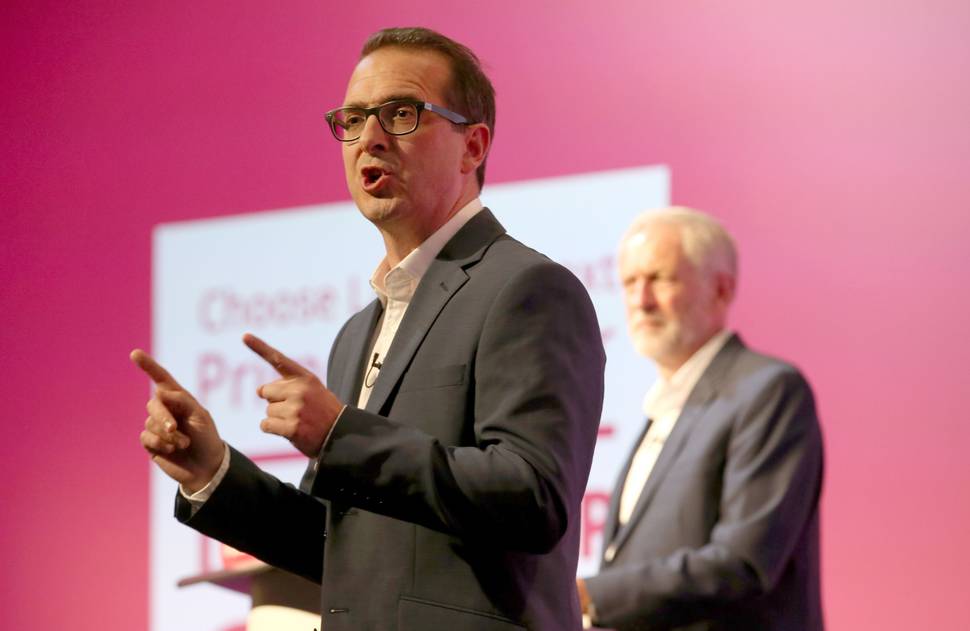 Corbyn is no stranger to the ways of modern politics and how to engage with the electorate. His campaign has an app to manage volunteers who make calls from their homes and supporters can make donations by text message. But, like Trump and Sanders in the US, it's the perception that he's telling it how it is that resonates with supporters.
"In this age of vacuous sound-bites, it's refreshing to hear someone who's given thought to what he's saying, and it's backed up by strongly-held views," said Alicia Francis, 51, who runs a community development agency and also attended the rally at the Royal Regency in Newham.
Corbyn entered Parliament in 1983 when Labour resembled more of an old-fashioned socialist party. He has held his district in north London ever since. Among his policies, Corbyn wants to raise income tax for the highest earners, spend hundreds of millions of pounds on infrastructure, put the railways back into government control and scrap Britain's nuclear weapons.
His appeal helped Labour double in size since the May 2015 general election to more than 640,000 registered members and affiliates. The worry for the party is that polls show that enthusiasm isn't replicated across the wider British public.
A BMG Research survey for the Independent found that 60 per cent of 1668 adults surveyed expect Corbyn to retain the Labour leadership when the contest concludes next month. It also found that 71 per cent preferred Prime Minister Theresa May to lead the country over Corbyn. The next election is due in 2020.
"The Labour Party has got a real problem," John Mills, one of the party's largest donors, told reporters. "A lot of its values and aspirations just aren't chiming with a lot of its voters."
Labour paved the way for the rise of Corbyn and a more radical vision by changing the way it elects leaders to give equal weight to every vote. Having never held a major Labour post, Corbyn made it onto last year's leadership ballot because MPs lent him their nominations so he could meet the required threshold and widen the debate. They didn't expect him to win.
After June's Brexit referendum on EU membership stunned the political establishment, many tried to oust him, saying his failure to rally Labour supporters around the "Remain" campaign showed he couldn't win a general election. Smith launched his leadership bid because Corbyn refused to step down after dozens of his team quit and he lost a confidence vote among Labour MPs by 172-40.
Last week, Smith voiced concerns about what he called "entryism," the infiltration of the party by new members signing up just to support their idol.
At the event in Newham, there was evidence of it happening. Pauline Rowe, 72, said she was a member of a Trotskyist group until the 1990s and paid £25 to become a registered supporter to vote for Corbyn. Outside the hall, the Socialist Party handed out leaflets from a stall.
"We want to see Jeremy Corbyn win," said Sarah Sachs-Eldridge, 38, a Socialist Party organiser. "Because we want to see an anti-austerity Labour Party reborn."