The mystery of what happened on Kuta Beach when a Bali policeman was killed is deepening as differing versions emerge.
As the veteran officer, Wayan Sudarsa, was cremated in a Hindu ceremony - with full police honours and his coffin draped in the Indonesian flag - Byron Bay woman Sara Connor and Brit David Taylor remained locked up at Denpasar police station.
It is understood Mr Taylor left Britain a few years ago before moving to New Zealand and then Australia.
The couple has been named as suspects in the murder and bashing of the officer but under Indonesian law are not formally charged. Police now have 120 days to build their case before prosecutors decide what charges to pursue, if any.
Police claim they have two witnesses who saw Taylor and the policeman fighting, on the beach and at the street. They also say that blood - since identified as belonging to both suspects - has been found at the murder scene. There are also claims of a bite mark on the thigh of Connor.
Police say a broken bottle found at the scene may be the murder weapon.
Taylor - a British DJ who had been living in Byron Bay and who is said to have been Connor's boyfriend of three months - has told police that he and Connor were on the beach when Connor's handbag went missing.
Members of his legal team spoke to the media at Denpasar police station, clarifying and correcting their earlier statements. They said that contrary to earlier reports, at no time had Taylor suggested the dead police officer had sexually assaulted Connor.
Lawyer Yan Erick Sihombing said that the couple was on Kuta Beach cuddling when Connor's handbag went missing and the couple separated to search for the bag and that she was attacked by a police officer.
"Sara told David the police attacked her on that night, the police pushed her and then they went down. A few people, three or four guys, came to pull this police that already been on top of her. Sara can slip away from this police that attacked her," Mr Sihombing said.
When she met up with Taylor she told him "the police is not good" and Taylor then went back to the beach to continue searching for the bag. He found binoculars, a mobile phone and a man lying facedown.
"To check whether he is still alive David tried to check the mouth by putting his finger into the mouth. The victim suddenly bit his finger. He said 'f--k' and left the victim."
Taylor again met up with Connor and several other locals were around. They went back to their hotel and checked out the next day, as per their original plan and moved to a hotel at Jimbaran. On Friday Connor was called by a friend in Australia, alerting her to the fact that she was wanted and so they decided to go to the Australian Consulate.
Fellow lawyer Haposan Sihombing visited Taylor in jail last night and said he told him to be honest and co-operative with police.
"David ... promised that he will tell everything about what happened that night," Mr Sihombing said.
Before attending Mr Sudarsa's cremation, the Denpasar Police Chief, Sr Comr Hadi Purnomo, said police were confident in naming the pair as suspects because they had witnesses who saw a fight between the police office and Taylor.
"One of them saw (the fight) inside the beach, the other saw outside. We have no doubt," Mr Purnomo said.
"There was a fight, a physical clash between them, David and the victim," he claimed, adding that so far the reason for the fight had not been revealed but alcoholic beverages appeared to be involved.
"The evidence that made us name them as suspects is blood, wounds in the victim's body, the suspect's identity card (at the scene), bottle fragments and also blood found at their homestay (hotel)," he said.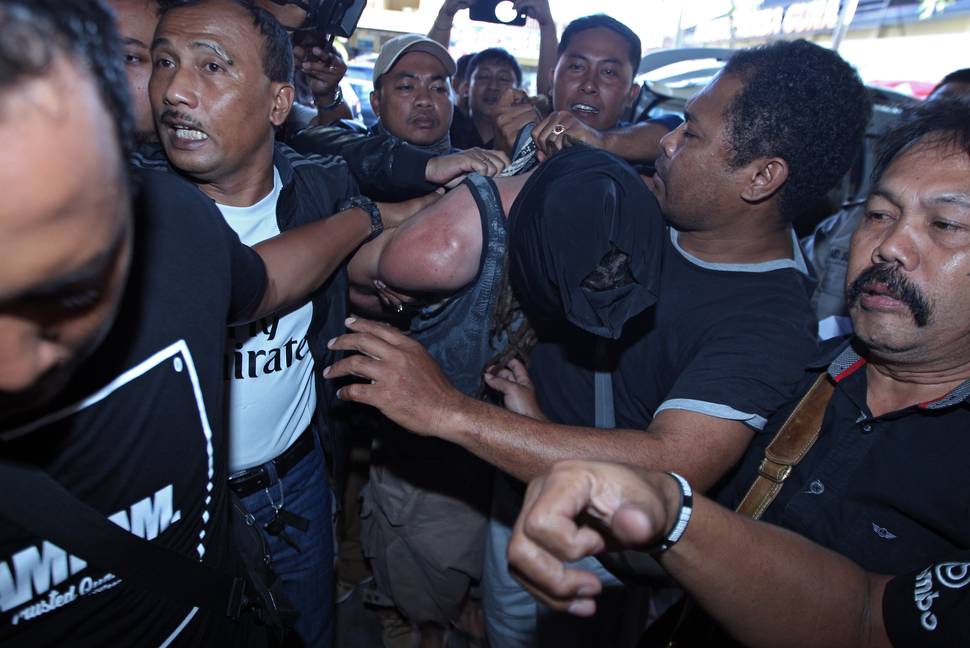 Wounds on Taylor and on Connor's hands and body were examined in hospital on Saturday and Mr Purnomo said police were awaiting the results of those tests.
Mr Purnomo said no drugs had been found at the scene. And he said rumours that the police officer had been spying on the couple as they were intimate on the beach, which caused the fight, was not true.
So far nine witnesses have been questioned, including staff at the Kubu Kauh Beach Inn, where the couple stayed, a motorbike taxi driver who is said to have refused to give a man a lift because he had blood on his shirt and security from a nearby hotel who saw a couple matching Connor and Taylor's description on the beach.
And police say blood was found inside the room at the hotel where Taylor and Connor were staying.
Connor, a mother of two boys aged nine and 11 years, is a much-loved member of the Byron Bay community which has rallied around her and voiced support in public statements. Her two boys are in Byron Bay with their father, Connor's ex-husband.