A female drummer who penned a letter of support for Stanford University rapist Brock Turner has been branded a "rape apologist".
Leslie Rasmussen, from family girl band Good English, wrote a letter to Santa Clara Superior Court Judge Aaron Persky championing Turner, the swimmer who sexually assaulted an unconscious woman behind a dumpster last year.
READ MORE: Victim's powerful message to rapist
"I don't think it's fair to base the fate of the next ten + years of his life on the decision of a girl who doesn't remember anything but the amount she drank to press charges against him," Rasmussen, a childhood friend of 20-year-old Turner, wrote.
"I am not blaming her directly for this, because that isn't right. But where do we draw the line and stop worrying about being politically correct every second of the day and see that rape on campuses isn't always because people are rapists."
Like Turner's father, who argued his son was paying too steep a price for "20 minutes of action," Rasmussen chalked up the case to a "huge misunderstanding."
"This is completely different from a woman getting kidnapped and raped as she is walking to her car in a parking lot. That is a rapist. These are not rapists. These are idiot boys and girls having too much to drink and not being aware of their surroundings and having clouded judgment," she wrote.
The 20-year-old drummer's letter sparked outrage after it was published online, prompting multiple New York venues to spike her band's upcoming shows.
Gothamist reported Bar Matchless, The Rock Shop, Industry City Distillery and Gold Sounds canned the band, while the Northside Festival dropped Good English from its line-up.
Industry City Distillery sales and operations manager Ronak Parikh said: "We got notifications on our page about the band, which is when I first heard about the story, and it kind of hit us all at once. We have zero tolerance for the act itself, for anyone that would seek to defend that act, and certainly for the sentencing, which seems incredibly light."
Bar Matchless said in a statement: "Good English will not be playing Matchless. We do not support victim blaming or rape apologists of any kind."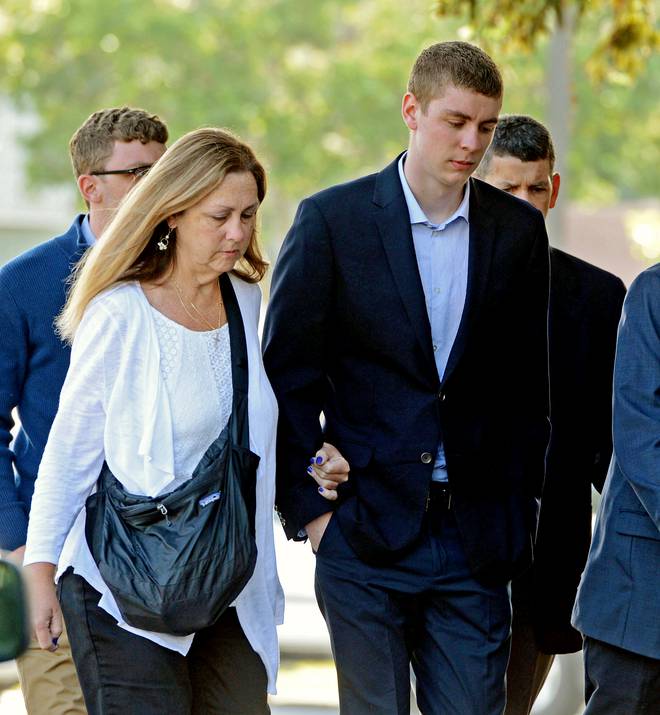 Northside Festival posted on its Facebook page on Tuesday that the Ohio-based band is "no longer playing" the multi-day music festival "due to recent information brought to our attention."
New Yorker Danielle Guercio, who led the social media campaign against the band, applauded the black-listing.
"I'm just really happy that instead of it being about censorship or protest, it's more about having real life consequences for your actions," she said.
"It's about sending a message that if you're a woman, we protect you. Especially in New York and in the music scene in Brooklyn, you can't just come here with this kind of s**t ... you're coming to New York! People with that kind of small-town sexism have no place trying to make money off or our independent infrastructure."
Rumba Cafe in Ohio also announced that they would be cancelling Good English's June 17 show.
Turner, a former Stanford University swimmer, was found guilty in March of three counts of sexual assault for the 2015 attack. He faced a maximum of 14 years in state prison, but on Thursday was sentenced to just six months in jail and probation.
Judge Aaron Persky has come under fire for the lenient sentence, with more than 603,000 people signing a petition calling for him to "be removed from his judicial position."
However, the controversial judge has just received a new six-year term. USA Today reported Persky would have faced voters on Tuesday, but his election was cancelled because there were no challengers.
But Stanford law professor Michele Dauber told the publication Persky won't complete his term.
"His victory will be short-lived," she said. "I am 100 per cent confident we will recall him. His decision hit every woman in the state of California in the gut."