Americans arrested and sentenced by regime face hard labour, poor health and possibly torture.
North Korea sees foreign prisoners as a valuable tool to exert pressure on its enemies - and none are more valuable than Americans.
Most foreigners detained in North Korea since the 1990s have been US citizens, while a handful have been American-South Korean nationals.
They are usually accused of grandiose crimes such as "plotting to overthrow the state" and handed out harsh sentences in the regime's notorious labour camps. In total, 13 Americans have been detained in North Korea since 1995.
In most cases they are subjected to show trials shortly after their arrest, where they make confessions apparently under duress.
The detainees often say they visited the country for religious reasons. Some claim to have been on a mission from God to proselytise and alleviate suffering among the country's impoverished citizens.
As Otto Warmbier, the regime's latest detainee, begins his 15-year sentence for allegedly stealing a sign from a North Korean hotel, the Telegraph looks back on what happened to the others.
The 'drunk missionary' who swam in from China
Evan Hunziker was the first American citizen to be arrested on espionage charges in North Korea. The 26-year-old had swum from China across the Yalu River, reportedly as a drunken dare.
He was found by farmers who immediately turned him over to the police. They accused him of spying for South Korea, a charge he and the US State Department strongly denied.
Hunziker initially said he had travelled to Asia to be a missionary, but his parents claimed he had fled several arrest warrants in the US and what they described as a "troubled past".
A letter supposedly from Hunziker to his parents sent during his detention suggests he was treated humanely, with three meals a day.
After three months of negotiations between the US and North Korea, Hunziker was released. Less than a month after returning to the US he committed suicide, having returned to a life of petty crime and drug addiction, according to his father. In a 1996 New York Times article, his family said it was "easier to bring two nations back from a diplomatic standoff than it is to save a single life from a path of self-destruction".
Journalists jailed for filming North Korean refugees
In March 2009, North Korea announced that two reporters had been arrested and were to stand trial for entering the country illegally. The regime said the reporters, Euna Lee and Laura Ling, had been caught filming refugees on the Chinese border and were sentenced to 12 years' hard labour. They were eventually pardoned and freed following a visit from former US President Bill Clinton.
The pair were criticised at the time by South Korean human rights workers, who accused them of putting refugees and would-be defectors in danger by failing to conceal their notebooks when they were captured.
Minister 'tortured' for daring to protest genocide
Robert Park, a minister at the Members of Christ in Life church in the US, headed to North Korea in 2010 to protest its human rights abuses.
He began by walking across the frozen Tumen River from China, towards North Korea, yelling "South Korea and America love you".
Details of his protests are sketchy, but he appears to have been arrested almost immediately, having smashed a picture of Kim Jong Il.
Park says he was held in three camps and was tortured and sexually abused by his captors. He described his imprisonment as "humiliating" and "worse than death". After six weeks, North Korean officials said they had decided to "forgive and release" their prisoner.
In 2012 he announced plans to sue the North Korean government.
The teacher rescued by Jimmy Carter
Aijalon Gomes, a Christian missionary, was arrested in 2010 for illegal entry, fined 70 million North Korean won and sentenced to eight years hard labour. The Boston-born US citizen had previously worked as an English teacher in South Korea.
His colleague, Marius van Broekhuizen, offered some insight into why Gomes entered North Korea in an interview with NPR in 2010. "As an outsider, it seems incredibly stupid what he did ... if you know him, you would understand that everything that he did was to benefit the people around him," he said.
In August 2010, former US President Jimmy Carter flew to North Korea to negotiate Gomes' release. Gomes was freed on August 26.
His relatives said Gomes looked "well, really well" upon his return and that he did not appear to have been treated harshly while detained.
The tour operator accused of plotting to overthrow the Government
Kenneth Bae, a South Korean-American tour operator, was accused in 2013 of a plot to topple Kim Jong Un and sentenced to 15 years in jail.
US officials struggled to pin down exactly why Bae incurred the wrath of the North Korean authorities.
The regime convicted him on a string of charges, including attempting to "topple the state" and conducting a "smear campaign."
For six months, Bae planned a coup d'tat codenamed "Operation Jericho", the North's state broadcaster claimed.
Bae was put to work at an unknown camp. Relatives say his health deteriorated rapidly and he was hospitalised because of severe weight loss, diabetes and liver problems part of the way through the sentence.
Despite this, the 45-year-old was moved back into the labour camp once his symptoms had abated.
After two years of hard labour he was released with US citizen Matthew Miller, who had been convicted on similar charges.
The devout Christian imprisoned for leaving a Bible in a nightclub
In May 2014, Jeffrey Fowle left a Bible in a North Korean nightclub, apparently on purpose. This was seen by the authorities as proselytising, which is strictly forbidden in North Korea and harshly punished.
Police confirmed his arrest in a brief dispatch which merely said he was detained for breaking the law.
He was released in October and said the whole experience was "worth it" in an interview with USA Today.
He said he was never physically harmed and believed God was protecting him.
The "American spy" accused of stealing nuclear secrets
Kim Dong Chul is a businessman born in South Korea. He is being held by the North Korean regime on charges of espionage.
The 62-year-old issued a video confession last month in which he admitted stealing North Korean secrets, though this was speculated to have been made under duress.
Korean Central News Agency claims he was arrested carrying a USB stick with "nuclear and military secrets". North Korea insists it is holding an American citizen, but the US State Department says it cannot confirm Kim's identity.
The student given 15 years' hard labour for stealing propaganda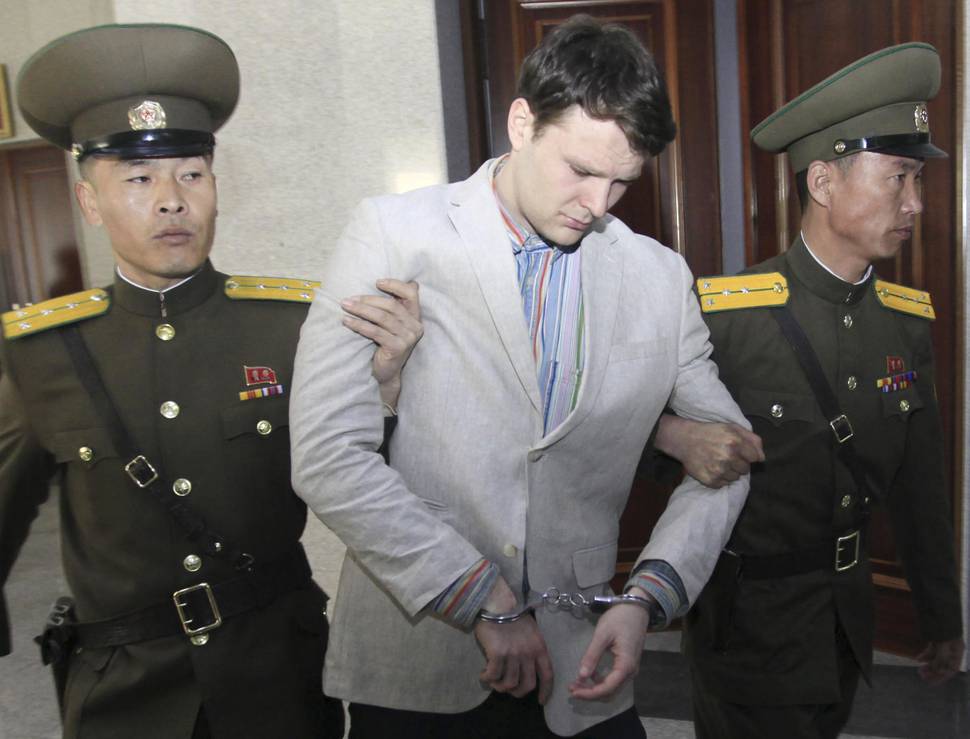 Frederick Otto Warmbier, a 21-year-old student, was arrested in January after committing a "hostile act" against the North Korean regime.
He issued a tearful apology and admitted stealing a propaganda sign from his hotel, possibly under duress.
The University of Virginia student has been sentenced to 15 years' hard labour.
How many days are they held
95
- Evan Hunziker
140 - Euna Lee and Laura Ling
43 - Robert Park
233 - Aijalon Gomes
735 - Kenneth Bae
170 - Jeffrey Fowle
191 - Kim Dong-Chul
100 - Otto Warmbier