Tara Brown, her 60 Minutes colleagues and Brisbane mum Sally Faulkner will spend at least another two nights behind bars in Beirut after Monday's hearing was unexpectedly postponed.
Ms Brown, along with producer Stephen Rice, cameraman Ben Williamson and sound recordist David Ballment, were preparing to learn their fate before a judge at Baabda court on Monday afternoon local time. The hearing never eventuated and judge Rami Abdullah told reporters the matter would be adjourned until noon on Wednesday. He also had a warning for the defendants, emphasising the seriousness of the situation.
"This is not a custody case," Judge Abdullah said. "They are charged with kidnapping two kids."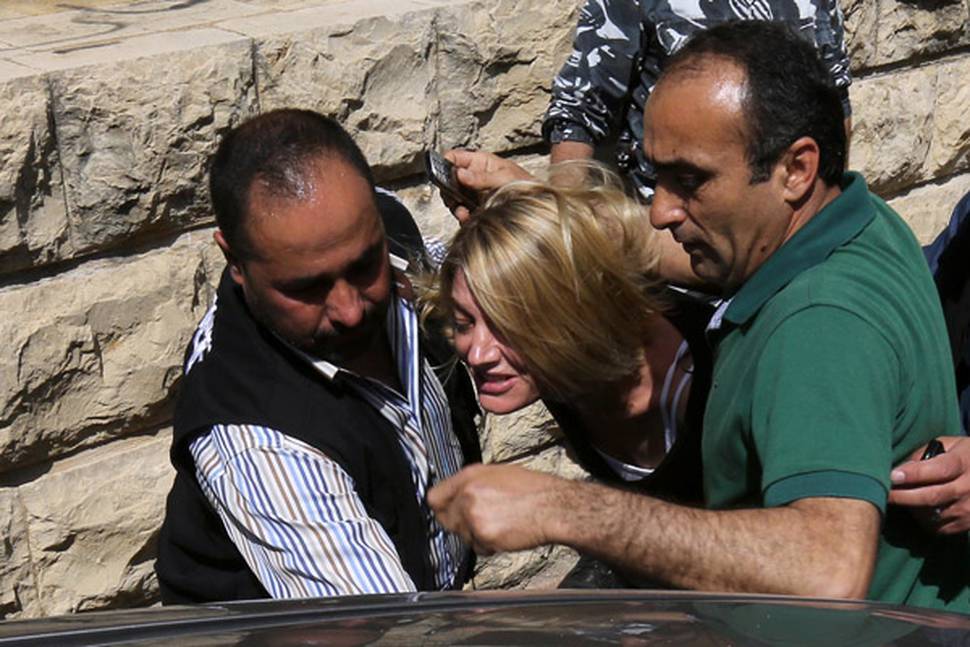 The group is facing charges including kidnapping, physical assault, hiding information and criminal conspiracy.
They were detained on April 7 along with Ms Faulkner and members of a child abduction team over a kidnapping attempt involving Ms Faulkner's two children.
The children were living in Lebanon with their father, Ali Elamine, when agents from Child Abduction Recovery International, including founder Adam Whittington, attempted a daylight abduction that went horribly wrong.
Earlier on Monday, Mr Elamine insisted he will go ahead with charges against his ex-wife and all others involved. He refused a request to drop the charges, saying he could not risk allowing the 60 Minutes crew to escape punishment by letting Ms Faulkner off the hook.
"I said I will charge everyone involved," the 32-year-old told reporters outside the court.
"The way they are trying to push for this is that if Sally goes out on bail, they all get out. That is how I am seeing it as an outsider. ... They are pushing for Sal's release and everyone else gets a green card. (Nine) dropped the ball by getting involved in family matters (and now) everyone is blaming the other for what happened."
Mr Elamine did, however, admit that his children want to live in Australia with their mum.
"They're kids, they always want what they don't have," he told Fairfax.
"When you take kids to a toy store they want the whole store. Am I open (to letting the children travel to Australia?) I'm not 100 per cent sure about that."
Mr Whittington was expected to present documents in court on Monday showing Channel Nine paid him directly to get Ms Faulkner's children back.
He says he received two internet transfers of funds from the Nine Network - the first for 40 per cent of the agreed fee of more than $115,000, and then a second for the remaining 60 per cent several months ago.
Channel Nine's director of news, Darren Wick, responded by saying he was "expecting there to be some attacks on [the] network".
Australian Foreign Minister Julie Bishop spoke to The Project about the 60 Minutes saga on Monday night. She said the Australians detained were being treated well.
"I am in constant communications with my counterpart in Lebanon, to seek updates and make suggestions but there are legal proceedings under way, so I have to be careful about any public statements I make," she said.
"This is what I do, I try to make representations in the interests of Australian citizens with authorities in the country they're being detained ... What I seek to do is assist people who need help. Clearly, that's the situation here."
The families of the jailed 60 Minutes crew released a statement on Sunday.
In the joint statement provided to news.com.au, partners of those detained said they were comforted by the knowledge their loved ones were in "good health" and "being well looked after" by Lebanese authorities.
"This is a living nightmare. It's hard to imagine it could be any tougher," the statement read.
Donald Rothwell, professor of International Law at the Australian National University, told news.com.au those involved should acknowledge wrongdoing if they wish to escape prison time.
"What I'd say is that a distinction is likely to be made between Sally Faulkner and the other parties involved, including the child recovery team," Prof Rothwell said.
"There's some prospect that Sally might have her charges downgraded to a misdemeanour but the people from 60 Minutes and the child recovery service at face value seem to have been engaged in a commercial operation to abduct children and there appears to have been some act of violence involved.
"The Lebanese authorities would take a dim view of foreigners seeking to take Lebanese nationals in the way that apparently has occurred. Any effort to acknowledge they were in the wrong would be beneficial."