An unmanned rocket launched by Nasa has exploded just seconds after lift-off.
The Antares, an unmanned Orbital-3 Cygnus spacecraft, was meant to deliver supplies to the International Space Station - including science experiments, experiment hardware, spare parts, and crew provisions - as part of a US$1.9billion deal with Nasa.
"A mishap has occurred. we have lost the vehicle," Nasa said. "It is believed the damage has been contained to the facility."
There were no casualties and initial reports said the damage was limited to the launchpad at Wallops Island, Virginia.

The accident occurred six seconds after lift-off, with the ground team saying there had been "no issues" before launch.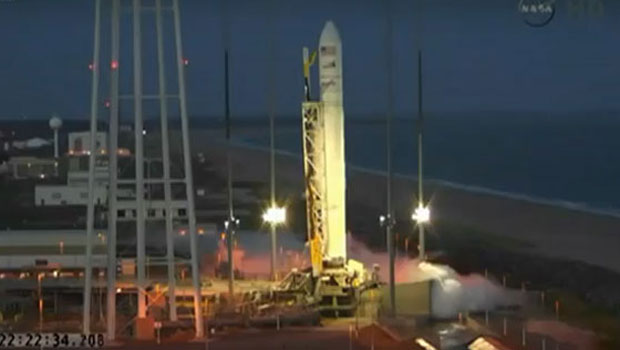 The rocket just before lift-off. Photo / Nasa
The Orbital Sciences Corp had scheduled the launch of its Antares rocket for 6.22pm Eastern time on October 27.
Conditions for the launch were perfect - but as it left the launchpad, the rocket appeared to explode.
Officials said there appeared to be no casualties from the explosion -and the damage was contained to the launch facility. It was the second attempt to launch the craft.
Flames could be seen shooting into the sky as the sun set.
The Cygnus cargo ship was loaded with 5000 pounds of gear for the six people living on the space station. It was the fourth Cygnus bound for the orbiting lab; the first flew just over a year ago.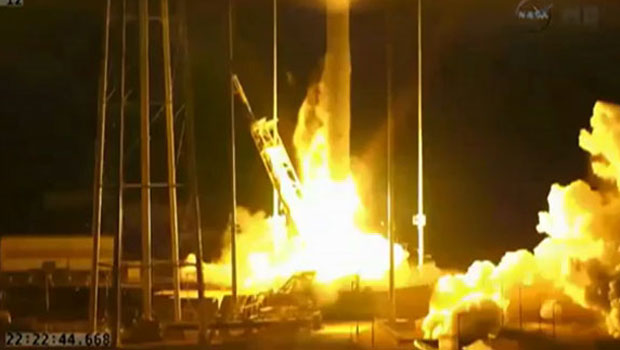 The rocket explodes during lift-off. Photo / Nasa
Operators were forced to abandon the first attempt at a launch last night (local time), despite perfect weather conditions, because a boat appeared in a "hazard area" nearby.
"We're aborting today's launch attempt due to a boat downrange in the hazard area," the space agency said.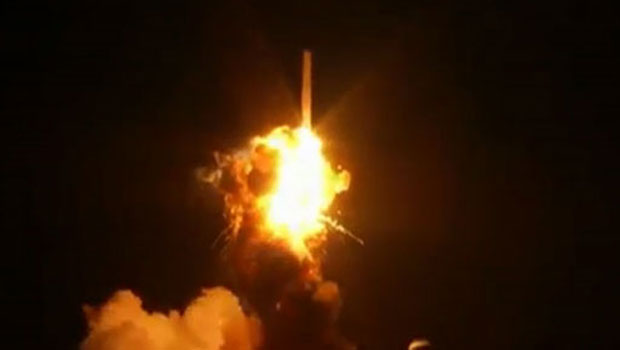 The rocket burns midair. Photo / Nasa
"We will make another #Antares launch attempt tomorrow, Tuesday, October 28 at 619 pm EDT," Orbital tweeted soon after.
Nasa is paying the Virginia-based Orbital Sciences and the California-based SpaceX company to keep the space station stocked in the post-shuttle era. This is the first disaster in that effort, but not the first in Nasa's history.
The explosion, and its capture on video, will cast minds immediately back to previous disasters involving Nasa.
The most recent is the Space Shuttle Columbia, which exploded on re-entry in February 2003, killing all seven astronauts on board.
Nasa was blamed for failing to heed warnings that insulation had broken away, damaging one of the shuttle's wings shortly after take-off.
Here's how the Herald reported the disaster:
Perhaps the most defining tragic moment in Nasa's recent history is the Challenger disaster, in which seven astronauts also died.
The Space Shuttle Challenger broke apart 73 seconds into its flight on January 28, 1986. The flight and explosion was televised, and it had a damaging effect on the psyche of Nasa and the US's commitment to its space program.
Here's how the Herald reported the disaster (the following photo is of a clipping file and contains pen marks that were used for filing purposes):

- Daily Mail, AFP, AP