Fears that the Ebola virus has reached Australian shores appear to be unfounded, with doctors saying they do not believe that the seriously ill man admitted to a Gold Coast hospital this morning has the virus.
According to Channel Seven News, staff at Gold Coast University Hospital said it was "exceedingly unlikely" the man was at risk from the virus, which has ravaged west Africa.
Dr John Gerrard, the Director of Infectious Diseases, said: "The chances that he would have the Ebola virus are extremely small."
He said the blood test results should be back this evening.
The patient, named as Michael Walsh, 27, who had returned from the Democratic Republic of Congo two days ago, was rushed to hospital this morning and isolated.
The Gold Coast Bulletin reports that paramedics had been to told wear protective clothing before treating him.
A hospital spokeswoman told the paper this morning: "We already have processes in place to manage these types of infections. We have an area within the hospital where the patient can be isolated."
Read more:
• What's scary about Ebola and reasons not to fear it
Dr Gerrard said that the Mr Walsh showed symptoms that suggested malaria.
He praised paramedics for handling the case the way they did and the hospital for following national guidelines and isolating Mr Walsh.
Channel Seven said that Mr Walsh had been arrested this morning for trespassing in Chevron Renaissance, a upmarket apartment and retail complex in Surfers Paradise.
A tweet from Channel Seven this morning showed Mr Walsh being taken into hospital on a stretcher by staff wearing protective clothing.
The virus, which has ravaged west Africa and killed more than 2000 people since the latest outbreak, has been described by health experts as "painful, dreadful and merciless".
The World Health Organisation has declared the outbreak in West Africa an international emergency.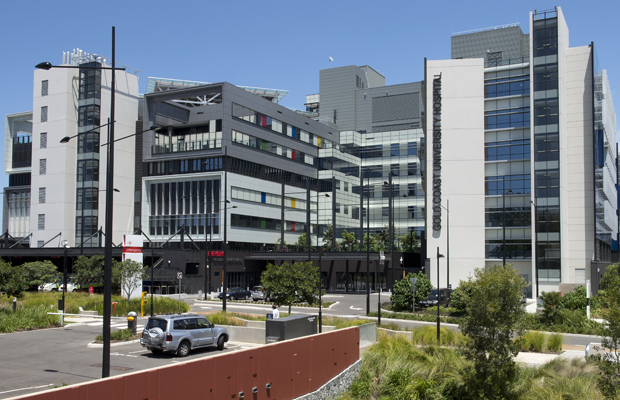 Gold Coast University Hospital. Photo / AAP
There is no cure for Ebola hemorrhagic fever.
More than half of people infected in this outbreak have died. Death rates in some past outbreaks reached 90 percent.
It's a cruel end that comes within days. Patients grow feverish and weak, suffering through body aches, vomiting, diarrhoea and internal bleeding, sometimes bleeding from the nose and ears.
The damage can spiral far beyond the patients themselves.
Because it's spread through direct contact with the bodily fluids of sick patients, Ebola takes an especially harsh toll on doctors and nurses, already in short supply in areas of Africa hit by the disease.
Next article: Explainer: What is the Ebola virus?