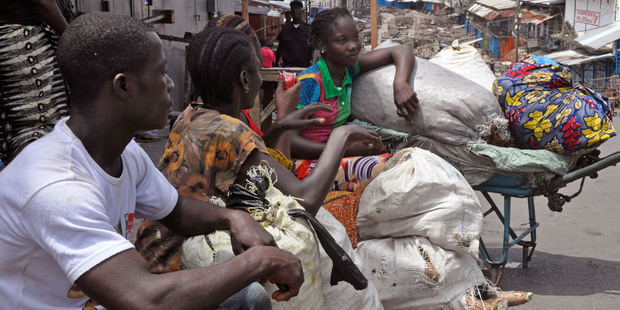 The largest-ever outbreak of Ebola was triggered by a toddler's chance contact with a single infected bat, a team of international researchers have concluded after a major investigation of the origins of the deadly disease now ravaging Guinea, Liberia, Ivory Coast and Nigeria.
A group of 17 European and African tropical disease researchers, ecologists and anthropologists spent three weeks talking to people and capturing bats and other animals near the village of Meliandoua in remote eastern Guinea, where the present epidemic surfaced in December 2013.
They discovered that the disease was passed from colony to colony of migratory fruit bats until it reached Guinea. Their research is expected to be published in a major journal in the next few weeks.
Early studies suggested that a new strain of Ebola had emerged in west Africa but, according to epidemiologist Fabian Leendertz, it is likely the virus in Guinea is closely related to the one known as Zaire ebolavirus, identified more than 10 years ago in the Democratic Republic of the Congo.
Leendertz said the likelihood was that the virus had arrived in west Africa via an infected straw-coloured fruit bat. These bats migrate across long distances and are commonly found in giant colonies near cities and in forests.
The outbreak has killed more than 1300 people in west Africa so far. Within a week of a two-year-old boy catching the disease in Meliandoua, both he and his mother had died and it was spread to nearby communities and urban areas by mourners at the funeral of one of the victim's relatives.
Scientists have suspected for several years that bats are the wild "reservoirs" of the disease, but direct transmission of Ebola between bats and humans is extremely rare, despite communities hunting them for food.
Nearly all previous epidemics had been linked to the bushmeat trade, with hunters picking up dead infected animals and people eating them.
Previous outbreaks have hit gorilla and chimpanzee populations with catastrophic death rates, leading some scientists to think they may be responsible for the disease spreading.
Chimps, gorillas, some antelopes and even pigs which may eat fruit dropped by infected bats have all been linked to the spread of the disease by the World Health Organisation.
But the researchers are confident bats are responsible as no evidence has been found of other animals being infected.
Primatologists and conservationists in the region who were contacted by the Observer all confirmed that the particularly vulnerable chimpanzee colonies had so far escaped.
Fruit bats are widely eaten in rural west Africa - smoked, grilled or made into a spicy soup.
"We spent eight days in Meliandoua itself. They told us they regularly catch bats, like every other village in Guinea, Sierra Leone and Liberia. The evidence is not 100 per cent and we can only say that it is possible," said Leendertz.
Meanwhile, a British national in Sierra Leone has tested positive for Ebola, the Department of Health in London says.
- Observer, additional reporting AFP