Northern parts of the country could be hammered by heavy rain next week, while the south could get snow, in what one forecaster has described as a battle of weather systems.
A low pressure system was expected to approach the Far North from the north Tasman Sea early next week, bringing periods of rain and strong northeasterly winds to northern areas.
For Northland, especially about the eastern hills, MetService reported a "low confidence of warnable amounts" of rain on Tuesday, with a slightly higher chance of heavy rain on Wednesday and Thursday.
Niwa was forecasting 62mm and 60.8mm of rain for Whangarei and Kaitaia respectively on Thursday, along with 21.8mm for Auckland.
There was also moderate chance of northeast gales becoming severe in exposed parts of Northland on Wednesday and Thursday.
For Auckland, Great Barrier Island and Coromandel Peninsula, there was a low chance of heavy rain on Wednesday and Thursday, along with northeast gales in exposed areas across those regions and Waikato.
"For Waikato, Bay of Plenty and the ranges of Gisborne, there is low confidence a heavy rain warning will be required on Thursday," MetService reported.
But that low would come up against a ridge of high pressure that was expected to remain over central and southern New Zealand for much of next week.
MetService meteorologist April Clark said the combination of the two systems could create "undercutting or overcutting situations".
"It essentially means we could get snow in the South Island as well, because you've got that moist air coming over creating rain, but also cool temperatures with a front in the lower south which can cause snow, and that would be on Thursday and early Friday as well.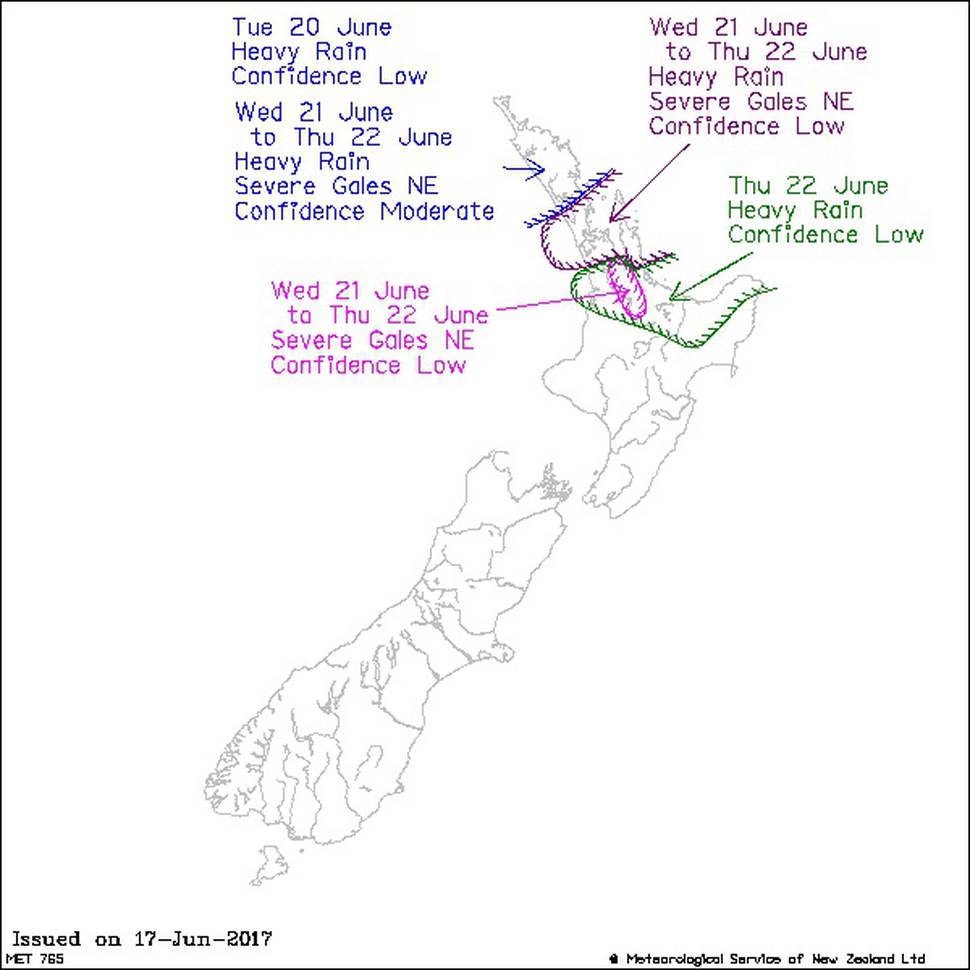 "That's why we call these things complex lows, which sounds like a cop-out, but it's actually not, because its two systems coming together and they interact and that's what causes these situations."
WeatherWatch forecaster Philip Duncan said it was unclear which of incoming low or high pressure ridge would prevail.
"The high and the low are going to fight it out a little bit - it's a battle of two air pressure systems - but one will win, and whether it's the high that pushes back and says you are going to stay mostly in the north, or whether it's the low that finally puts the puncture into the high and brings three or four gloomy days, I think we are going to see a mixture of rain, drizzle and dry spells."
Duncan said what was particularly notable about the low was that it would likely be hovering around New Zealand for a week - and that some regions could see several days of rain.
But WeatherWatch was currently predicting just a 20 per cent chance of snow for Queenstown later in the week.
"It's not exactly a storm, but it taps into subtropical air, and therefore there could be some heavy rain, but there's a really fine line between rain, drizzle and being completely dry - so it's going to be a frustrating week for forecasting."