If it feels like it's been the most rain-soaked April ever, the weather books have the proof.
Even with two weeks left, April has already proven one of the wettest on record for many locations - and a rainfall record-breaker for several.
A climate scientist says it's also been the rainiest year to date for plenty of places - mainly due to what are called "atmospheric rivers" that have carried moisture down from the tropics and dumped it on New Zealand.
Figures showed that Warkworth, Whangaparaoa, Te Puke, Taupo and the Lower Retaruke Valley, along the Whanganui River, have already had their wettest April.
Since the start of the month, those five saturated communities had respectively received 293mm (275 per cent of normal for the month), 265mm (376 per cent of normal), 445mm (310 per cent of normal), 219mm (323 per cent of normal) and 242mm (227 per cent of normal).
It's already been the second wettest month on the books for Matamata, Martinborough and Ohakune, and the third wettest for Auckland (at North Shore), Rotorua, Hamilton (at Ruakura), Dannevirke and Akaroa.
In Whakatane, where two major weather events hit the town hard and flooded nearby Edgecumbe, 285mm had already fallen - well over twice the normal amount for the whole of April since its records began in 1952.
Other soaked centres were Whitianga (338mm for the month so far), Turangi (210mm), Hastings (133mm), Upper Hutt (198mm) Waiouru (179mm) and Oamaru (141mm) - all of which were the fourth highest rainfall levels ever recorded in those locations.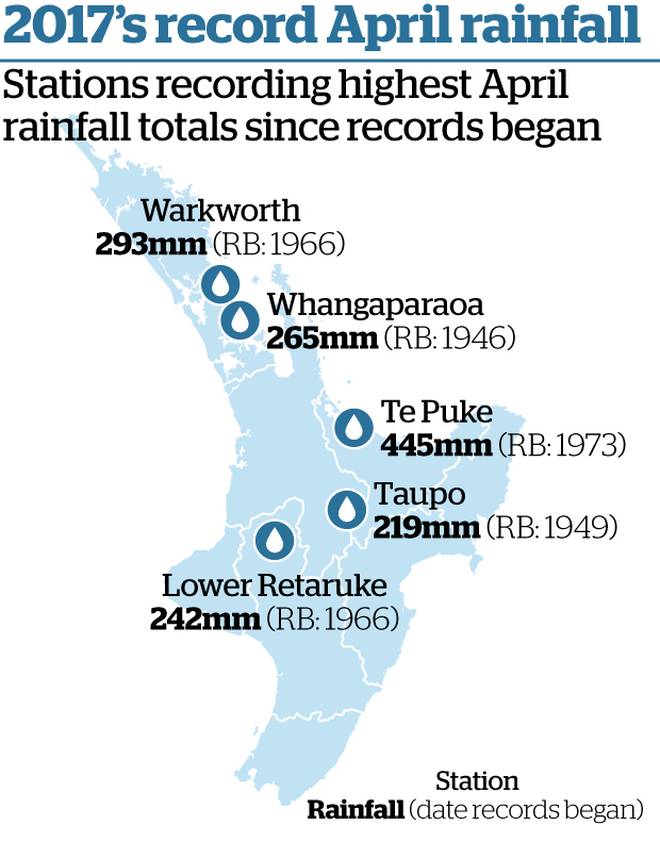 The deluges of April have also heavily contributed to what has been the wettest starts of the year for at least a dozen places.
Most gauges in the Auckland region showed 2017 to already be making records: Albany has so far received 610mm - the highest amount since the books began in 1966 - while Mangere (550mm), Pukekohe (573mm) and Warkworth (748mm) had also had the highest ever seen for the first four months of any year.
Year-to-date rainfall records have similarly been broken in Whangaparoa (755mm), Hamilton (585mm), Kaitaia (687mm) Rotorua (962mm), Turangi (654mm), Waipawa (401mm) and Arapito (794mm) - and some of these stretched back to the 1940s.
NIWA's Nava Fedaeff said while figures weren't collated into nationwide totals, it was clear it had been a particularly wet year for the country.
She put April's huge levels down to part of the "Tasman Tempest" low pressure system that hit New Zealand in late March and early April, and the back-to-back remnants of cyclones Debbie and Cook.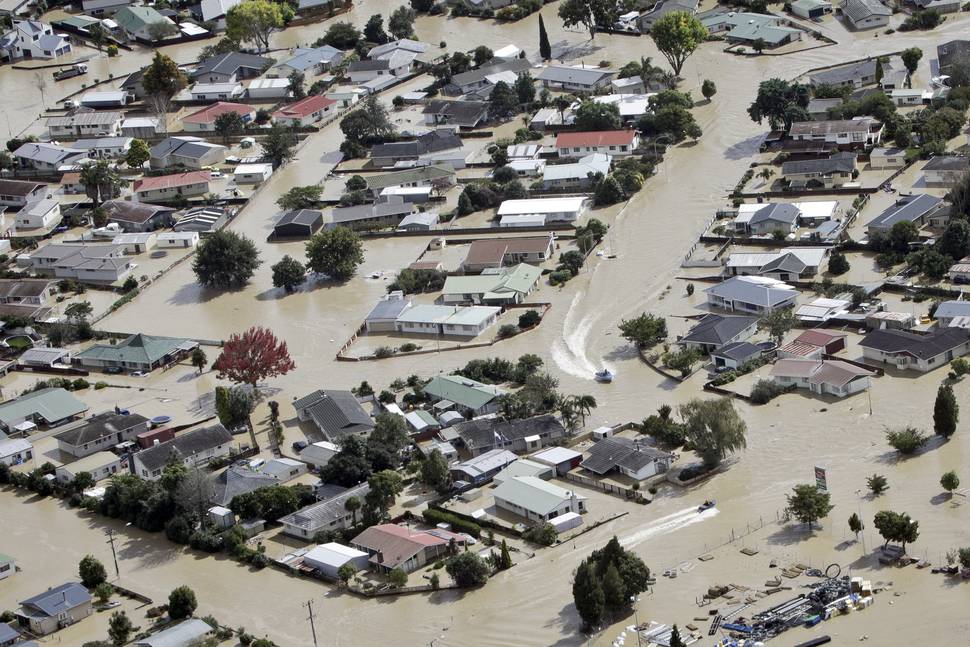 All of these systems had been siphoned from the tropics southward to New Zealand by atmospheric rivers.
These systems are relatively long, narrow regions in the atmosphere - like rivers in the sky - that transport most of the water vapour outside of the tropics.
Research indicates that for New Zealand, atmospheric rivers occur about 40 days per year and are associated with about half of the country's rainfall extremes.
While two cyclonic systems had hit the country in a short amount of time, there hadn't been a higher number of them than usual this cyclone season, which officially ends at the end of the month.
"It had actually been second quietest cyclone season up until February, which was unusual, so it's kind of like we're playing catch-up now."
Fortunately, weather forecasts show many of those worst-hit regions will get clear skies this week.