Wellington
Auckland
Christchurch
Dunedin
Tauranga
Hamilton
National Short-Range Forecast
2019-19-06 6:46 PM
Northland
Cloudy periods. A few showers developing in the Far North this morning, and spreading elsewhere in the evening.
Auckland to Kapiti, including Coromandel Peninsula, Bay of Plenty and the central high country
Mainly fine. However, the chance of one or two showers for Auckland north of the Harbour Bridge later this morning and afternoon.
Gisborne to Wairarapa including Wellington
Cloudy periods and a few showers about the east coast, and also the chance of a morning shower in Wellington. Showers clearing Wairarapa this evening.
Buller, Westland and Fiordland
Fine at first, then isolated showers developing later tihs morning or afternoon.
The remainder of the South Island
Fine weather.
National Long-Range Forecast
2019-19-06 11:20 PM
Friday
North Island, rain for most, possibly heavy at first about the Bay of Plenty, gradually clearing from the west by evening. South Island, rain in the west, easing for a time. Becoming fine in the east in the morning.
Saturday
North Island, Fine spells for most, but cloud increasing and isolated showers developing about Northland later. South Island, rain in the west gradually easing, with a few showers developing in Southland. Mainly fine elsewhere.
Sunday
North Island, Periods of rain spreading from the west and north of Taupo, easing to a few showers from the west. Further south, becoming cloudy with isolated coastal showers in the south. South Island, Scattered showers in the north clearing. Elsewhere, cloudy periods with isolated showers.
19 Jun, 2019 4:01pm
4 minutes to read
At -25.6C, New Zealand's coldest day, in 1903, caused frostbite and burst bottles.
19 Jun, 2019 2:47pm
3 minutes to read
As Kiwis freezes their breeches off, we answer your burning weather questions.
Coldest morning hits New Zealand.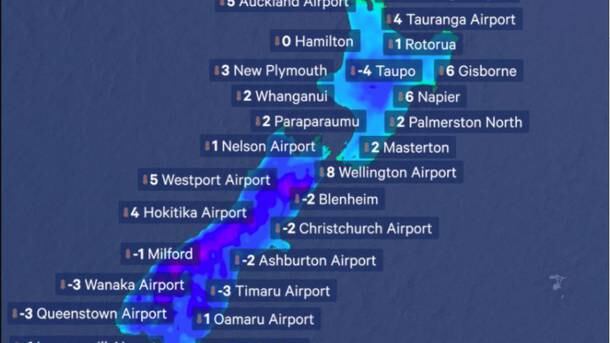 19 Jun, 2019 6:20am
5 minutes to read
Auckland dropped to 5C overnight as morning frosts blanket the country.