Wellington
Auckland
Christchurch
Dunedin
Tauranga
Hamilton
National Short-Range Forecast
2019-23-07 4:25 PM
Northland
Fine spells and a few showers.
Auckland to Manawatu, also Coromandel, Bay of Plenty and the central high country
Mainly fine, with areas of morning fog, and isolated showers about Bay of Plenty and the central high country from afternoon.
Gisborne, Hawkes Bay and Wairarapa
Occasional rain.
Kapiti and Wellington
Mainly fine at first, with areas of low cloud or fog about Wellington this morning, and some light rain from afternoon.
Nelson and Marlborough
Mainly fine, but scattered rain developing about Marlborough this afternoon or evening.
Buller, Westland and Fiordland
Partly cloudy with isolated showers, but mostly fine about Westland and Fiordland from afternoon.
Canterbury, Otago and Southland
Low cloud about the east coast and Canterbury Plains, with patchy drizzle.Mainly fine elsewhere, with areas of morning fog.
National Long-Range Forecast
2019-23-07 11:14 AM
Wednesday
North Island, rain in the east, possibly heavy in Gisborne. Partly cloudy elsewhere with isolated showers in the north. South Island, showers developing in Fiordland, and drizzle for Kaikoura Coast and Christchurch. Otherwise, mainly fine apart from areas of morning and evening low cloud.
Thursday North Island, rain in the east, and in Northland later. Showers developing from Auckland to Rotorua, fine elsewhere. South Island, mainly fine, but areas of low cloud morning and evening, and a few showers for Fiordland.
Friday
North Island, rain in the north and east, partly cloudy elsewhere. South Island, partly cloudy for the south and west, and for Christchurch. Fine elsewhere.
21 Jul, 2019 5:00am
3 minutes to read
Scattered showers in the North Island, and a deluge in Canterbury to end school holidays.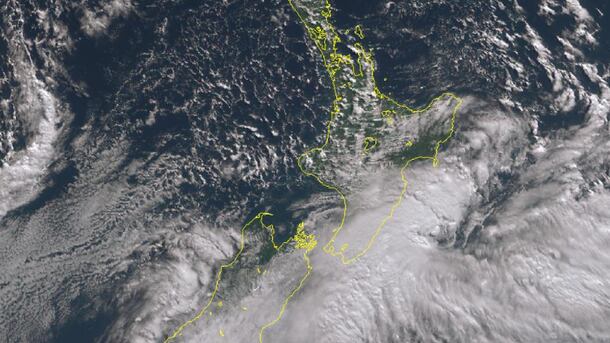 20 Jul, 2019 1:49pm
5 minutes to read
Canterbury and Otago are set to be battered with 70mm of rain over the next 24 hours.
MetService Weather National: July 19th - 21st.
MetService Severe Weather Update: July 19th - 20th
19 Jul, 2019 10:04am
2 minutes to read
Sauron's eye? A UFO? A mum and baby? Sunset phenomenon delights photographers.