Wellington
Auckland
Christchurch
Dunedin
Tauranga
Hamilton
National Short-Range Forecast
2018-19-11 5:08 PM
Northland to Waikato, also Coromandel and Bay of Plenty
Isolated showers, clearing this afternoon and fine spells increasing.
Waitomo to Manawatu, including Taumarunui
Fine spells and isolated showers.
Taupo, Taihape, Gisborne and Hawkes Bay
Scattered light developing this morning, becoming widespread and heavier in the afternoon.
Horowhenua Kapiti Coast, Wellington and Wairarapa
Cloudy periods with isolated showers.
Buller, Nelson and Marlborough
A few showers. Thunderstorms and hail possible this afternoon and evening.
Canterbury
A few showers, turning to rain this afternoon. Snow to 600 metres.
Otago, Southland and Fiordland
Periods of rain, heavy at times. Snow to 600 metres.
National Long-Range Forecast
2018-19-11 12:30 PM
Tuesday
North Island, showers for most, gradually easing. South Island, cold and showery in the east, with snow possible down to 600 metres about and south of Canterbury at first. Mainly fine elsewhere apart from isolated showers.
Wednesday
North Island, showers, turning to rain for a time. Brief heavy falls possible in the north. South Island, showers or rain in the east and north, mainly fine elsewhere.
Thursday
North Island, showers gradually easing and clearing. South Island, scattered rain in the north and in the south, but mainly fine through central parts.
Friday
Cloud increasing across the country, with late rain spreading onto northern and western areas, and a few spots spreading across the far south.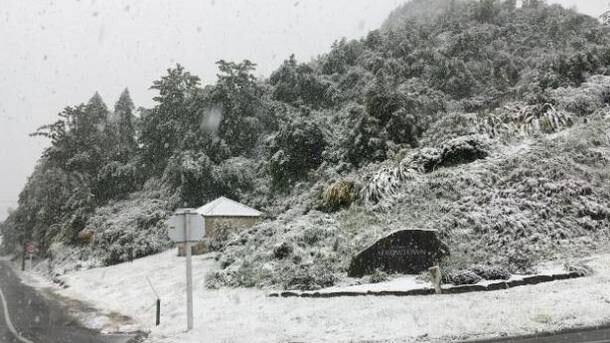 19 Nov, 2018 9:25am
2 minutes to read
Heavy snow falling in inland Southland, Central Otago and inland Clutha for next 2 days.
The twister was captured by local resident Alesha Plew as she and her husband were driving along State Highway 1 north of Ashburton.
18 Nov, 2018 4:34pm
2 minutes to read
Snow is forecast for areas above 400m in Southland and 500m in Otago and Canterbury.
18 Nov, 2018 12:50pm
2 minutes to read
A severe weather watch has been issued for coastal Otago and Fiordland.
The first snowfall of the season in New York left thousands of exhausted commuters stranded. Source: AP