Wellington
Auckland
Christchurch
Dunedin
Tauranga
Hamilton
National Short-Range Forecast
2018-21-02 6:12 PM
Cyclone Gita, just east of Banks Peninsula at 5am, is moving southeast away from New Zealand. However, Severe Weather Warnings remain in force for some regions.
Northland to Waitomo, including Coromandel Peninsula, Bay of Plenty, Taumarunui and Taupo
Isolated showers.
Gisborne and Hawkes Bay
A fine day.
Taranaki, Taihape, Whanganui, Manawatu and Wairarapa
A few showers, some heavy this evening. Severe northwest gales about Wairarapa easing this morning.
Horowhenua to Wellington
Showers, some heavy, with possible thunderstorms this evening. Northwesterlies, severe gale about the Capital at first.
Nelson, Marlborough, Buller and Westland
Showers, some heavy and possibly thundery.
Canterbury, Otago, Southland and Fiordland
Rain, with heavy falls about South Canterbury and Otago, easing later today. Southerlies, severe gale about Banks Peninsula until afternoon.
National Long-Range Forecast
2018-21-02 11:32 PM
Friday
North Island, fine or becoming fine for most, but isolated showers in the north and Gisborne, and also central areas during the afternoon. South Island, A few showers in the south, and about the west coast, spreading inland in the afternoon. Mainly fine elsewhere.
Saturday
North Island, Mainly fine, but isolated showers in Northland, eastern Bay of Plenty and Gisborne. South Island, Showers developing in the west, and cloudy periods about the east coast. Fine or becoming fine elsewhere.
Sunday
North Island, Fine and cloudy periods, isolated afternoon showers in Northland and eastern Bay of Plenty. South Island, Rain developing in the west, and scattered falls in the south. Mainly fine elsewhere.
MetService Severe Weather Update: February 21st - 22nd
Cleanup underway after ex-Cyclone Gita hits Kapiti Coast. / Video from Mark Mitchell
21 Feb, 2018 11:37am
Quick Read
Photos taken from across New Zealand reveal the devastation caused by Cyclone Gita.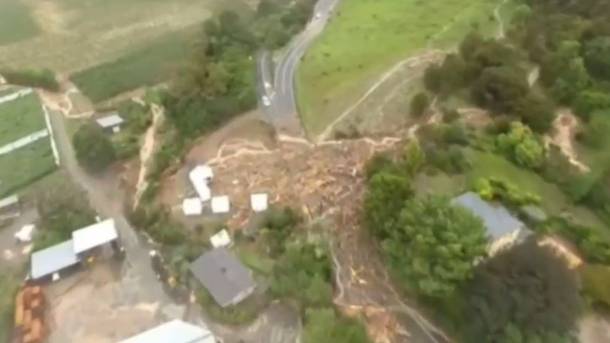 21 Feb, 2018 10:48am
Quick Read
Incredible drone footage shows slips, flooding and fallen trees caused by Cyclone Gita.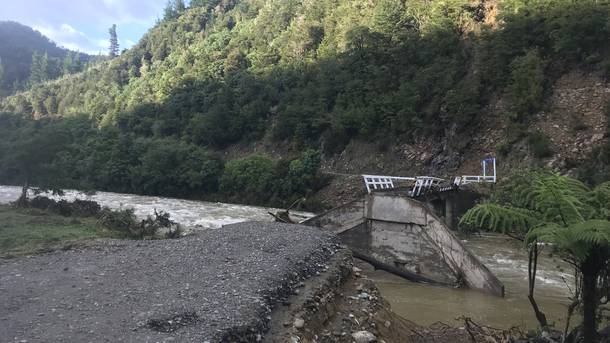 21 Feb, 2018 10:22am
5 minutes to read
Dozens of people spent the night at the Upper Takaka Country Club.
21 Feb, 2018 10:14am
2 minutes to read
Extra crews have been brought in to restore power in hard-hit Taranaki in Gita's wake.
21 Feb, 2018 10:14am
0:00
Tourists are trapped and residents have been evacuated as bad weather leads to states of emergency in Taranaki, across South Island. Massive slips have closed Takaka Hill Road in the Tasman region with huge damage done to the state highway. State Highway between Pukerua Bay and Paekakariki in Wellington is partially closed this morning after seas washed over the road.
It was a hectic night for emergency services, especially those in Taranaki, the Tasman region and the west coast of the south island.