As New Zealand prepares to remember those who fought for their country this Anzac Day, Neil Frances from the Wairarapa Archive explores the links between the All Blacks and the Featherston Military Training Camp.
A RECENT enquirer at Wairarapa Archive asked about sports at Featherston Military Training Camp, and whether any All Blacks had been there.
A Wikipedia article about international rugby players who died in World War I lists 13 All Blacks.
One of those, Hubert (Jum) Turtill, served in the Royal Engineers, British Army and died in April 1918, in France.
Although All Blacks may have been prominent sports figures, they were not professional and had to earn a living in the community.
Six of the 13 All Blacks definitely trained at Featherston. The most conclusive evidence is often a soldier's inoculation record, usually stamped with the location of the camp or troopship.
First into camp was probably George Sellars (26923), entering the Army on May 30, 1916, as part of the 17th Reinforcement.
He was at Featherston from July to September, leaving New Zealand in late September and eventually posted to the Auckland Infantry Regiment.
Sellars was killed on June 7, 1917, at Messines. His body was not found and he is on the Messines Ridge NZ Memorial.
Sellars was a shipwright in Auckland. His All Black career was brief, playing 15 games as hooker for the national team from 1913. Previously he played for Auckland Province and the NZ Maori team.
James (Jim) McNeece (27561), a farmer from Invercargill, was also in the 17th Reinforcement.
He was inoculated at Featherston and had a spell in Featherston Military Hospital with epilepsy.
After further training in Britain he joined the 2nd Otago Battalion and also fought at Messines.
He suffered gunshot wounds to the shoulder and back on June 8. McNeece filtered back through the medical system but died on June 21 at No6 General Hospital at Rouen, France, where he is buried at St Sever Cemetery.
At 1.82m and 84.3kg, he played 11 times as a loose forward for the All Blacks in 1913 and 1914, scoring two tries.
James (Jim) Baird (29720) was another South Islander, a machinist in Dunedin, his birthplace.
His mother died a year after his birth and his father in 1912 so by enlistment into the 18th Reinforcement in 1916, Baird had no close family.
He first trained at Trentham from late June then went to Featherston until embarking in October 1916.
He was posted to 1st Otago Battalion in March 1917. On June 7, the first day of the Battle of Messines, Baird suffered gunshot wounds to the buttocks, penetrating into the abdomen.
Although evacuated to a casualty clearing station, he died the same day.
Baird had a short rugby career. As a centre he played two games for Otago then was selected as an All Black to play against Australia in Dunedin on September 13, 1913.
He was only 19 in his one and only appearance.
The best-known New Zealand rugby casualty was Dave Gallaher (32513), captain of the 1905 All Blacks.
Born in Ireland in 1873, he had served in the 6th NZ Contingent during the South African War.
By 1916 he was a storeman for Auckland Farmers' Freezing Company, reducing his real age by three years when enlisting into the 21st Reinforcement in July 1916.
He was held back to be an NCO with the 22nds, leaving New Zealand in February 1917.
He had two inoculations at Featherston in late 1916.
During training in England Gallaher was promoted to sergeant before posting to the 2nd Auckland Battalion in June 1917, just after Messines.
The next major involvement of the NZ Division was in October, as part of the push towards Passchendaele. The Division, including Gallaher's battalion, attacked on October 4, 1917 in the Battle of Broodseinde.
Gallaher suffered a shrapnel wound to the head and was evacuated to the 3rd Australian casualty clearing station.
His wound was mortal and he died the same day.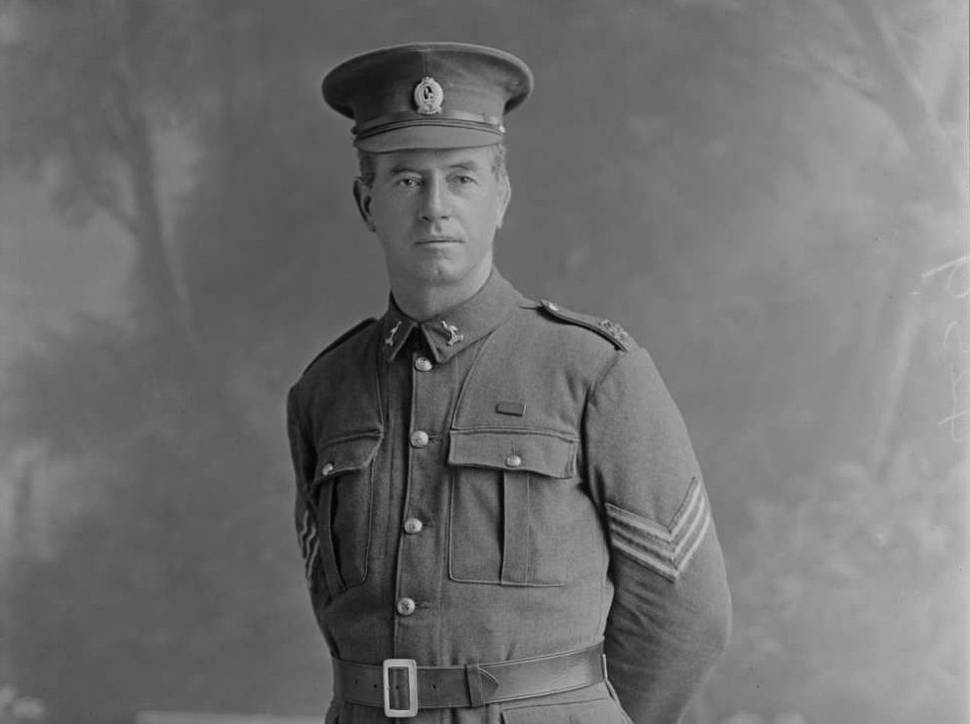 Gallaher lies at Nine Elms Cemetery near Poperinge, Belgium.
In spite of his status, Gallaher was an All Black for only four years, playing as a hooker and wing forward. He played nine games in 1903-4 before the long British tour of 1905.
Three games followed in 1906 before he retired to a distinguished career as a selector and coach.
Eric Harper (35694) was a Christchurch barrister, joining the 26th Mounted Rifles reinforcement in October 1916. Like Gallaher he was a mature trainee and did almost all his New Zealand service at Featherston Camp.
Embarking on May 31, 1917 he was a regimental sergeant-major en route to the Middle East.
After desert training he was posted in November 1917 to the Canterbury
Mounted Rifles Regiment.
The NZ Mounted Rifles Brigade took part in several raids against the Turks in Amman (now in Jordan), in March and April of 1918.
During the second attack Harper was killed near Es Salt and buried there. Presumably the grave was lost as he is now on the Jerusalem Memorial which commemorates 3300 servicemen, with 2500 graves.
After playing for Canterbury from 1900 he played 11 games for the All Blacks from 1904 and was a member of the 1905 tour to Britain.
Ernest (Ernie) Dodd (54336), a clerk in Wellington joined up in February 1917, into the NZ Rifle Brigade.
He trained at Trentham and Featherston, embarking on July 16, 1917. After training at Brocton, England, he joined the 2nd Battalion of the NZ Rifle Brigade in November 1917, just missing the hard fighting at Passchendaele.
In action against the 1918 German offensive in the Somme area, he was lightly wounded.
Dodd was promoted several times, up to lance-sergeant in August 1918.
Soon after the taking of Bapaume, he was killed at Havrincourt on September 11 and is buried at Metz-en-Couture Cemetery.
Several other All Blacks may have trained at Featherston.
A likely candidate, Alexander (Jimmy) Ridland (72271) of the NZ Rifle Brigade, went overseas with the 37th Reinforcement.
He died in the fighting around Le Quesnoy on November 5, 1918.
Robert (Bobby) Black (9/2048) may also have been briefly at Featherston as he was in the 10th Reinforcement, the first camp inhabitants.
He was killed on the Somme on September 21, 1916.
Other All Blacks who survived the war must have passed through Featherston Camp but they would require identification. Army service records do not include such interesting information.