With notes of vanilla, orange, mint and peach, some perfumes smell so delicious you could give them a lick. Well, says Jo Burzynska, you can.
Overpowering notes of rose and mint, with an incongruous undercurrent of honeycomb, were the characters that dominated in my first attempt at making a lickable perfume.
It was at one of the intriguing scent events hosted by Odette Toilette in London, which took participants on a tour through the mouthwatering world of gourmand scents and provided us with the opportunity to blend a fragrance we could actually eat ... at least for those whose final creations proved appetising!
Odette Toilette (real name Lizzie Ostrom), started taking people on olfactory adventures in 2010, when as an amateur perfume-lover she noticed there were no events based around scent.
Since then she's curated happenings that combine perfume with the likes of music and the movies, Vintage Scent sessions evoke nostalgia for past eras and their aromas and "Scratch and sniff" soirees, such as the one I attended, explore how the sense of smell connects with other senses.
Odette's evening of Lickable Perfume at London's Somerset House was tied in with its exhibition on the legendary Spanish restaurant, elBulli. For this event, she teamed up with flavourist Danny Hodrien, who has worked with the likes of Heston Blumenthal to create new flavours and taste combinations.
Both admit that this is the first time either has attempted to create a perfume for the palate. "But when you're tasting you're actually smelling - you taste with your nose," explains Hodrein. "The next stage is making an edible fragrance."
This may be a first, but gourmand perfumes have been around for a while: these are so-called foodie fragrances that use the likes of vanilla and honey to create scents that have been described as "olfactory desserts".
Before the 1880s, all perfumes were created from natural materials, which included edible elements such as vanilla, before aromas started to be chemically synthesised from the end of the 19th century.
We started by sniffing Jicky, created in 1889 by Guerlain, a house that became known as the "patisserie of perfume". With its notes of vanilla and citrus, it paved the way for the gourmand perfumes to come.
However, Odette tells us that it was Thierry Mugler's Angel that was recognised at the first true gourmand fragrance when it was launched in 1992.
This was the first to include ethyl maltol, a compound that when passed around exudes aromas reminiscent of candy floss and marshmallows. This kicked off a lasting trend, which today sees many perfumes smelling as if they were made to be eaten.
That said, most would actually taste pretty foul if one couldn't control the desire to take a lick, which is why Hodrien brought along fragrant flavourings that are safe and palatable, and it's with these we set about making our own lickable versions.
We're faced with a veritable larder of choices with which to blend our flavoursome fragrances: from fruit components such as bergamot orange, peach, lychee and melon to florals and herbs such as rose, neroli and mint. There's also some more unusual perfume components that include honeycomb, fudge and toffee, along with green, sweet and creamy modifiers for the final touch.
I diligently inhale every option and set about concocting a perfume that I hope will resemble Turkish delight with a herbal twist. While some in the room wield their pipette of perfume with gay abandon, I try to work out a winning equation before I assemble my fragrance de resistance.
Sadly, the first result is the foul fusion evoked at the start of this column. But, thankfully, we're allowed two attempts, with my second definitely better on the nose if not as successful on the palate.
This foray into edible fragrance proved a fascinating sensory exploration ... even if my first creation proved cloying!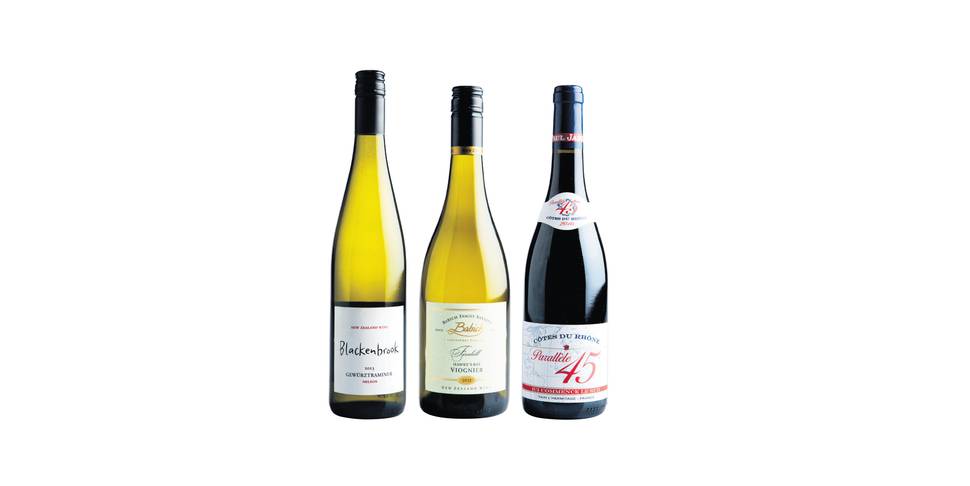 PERFUMED PICKS
A selection of highly aromatic wines that taste as fragrantly fabulous as they smell.
Blackenbrook Nelson Gewurztraminer 2013 $23.50
Notes of honeysuckle and musky spice waft up from this highly perfumed, powerful white, and are joined by rosewater and a fresh twist of quinine on its dry and oily textured palate. Available from Caro's.
Babich Fernhill Hawkes Bay Viognier 2012 $24.95
A rich and creamy textured viognier offering an opulent mouthful of exotic papaya fruit infused with notes of musky spice and soft lemon. Find at Babich Cellar Door.
Jaboulet Parallele 45 Cotes du Rhone, France 2010 $23.90
Although the so-called "aromatic" grape varieties tend to be white, reds, such as this blend from France, can also be noticeably fragrant. In this wine a dark berry fruit and savoury core is accompanied by lifted notes of spice and rose. Available from Glengarry.


- VIVA