With 7000-plus islands to explore, the Philippines will thrill outdoor enthusiasts, says Megan Singleton.
I've just come back from my first visit to the Philippines where I learned there are 7103 islands - and more than 99 per cent of them are open to tourists.
I stayed two nights in El Nido, part of the Palawan archipelago, and an hour's flight west of Manila.
Island hopping
The main reason for tourists to come here is to bob about the islands on a motorised outrigger canoe and take photos, jump in for a swim, and disembark to explore the beaches, caves and walking tracks for the 360-degree views.
Lagoon kayak
Any land mass is classified an island if any part of it is visible above the high tide mark.
Therefore, most of the 7000-plus islands are actually just limestone rocks puncturing the surface of the sea with lush green foliage above the dark grey rock.
They're beautiful to look at and jumping in a kayak to explore lagoons with see-through water and a quiet stillness broken only by my hollering echo is an amazing experience.
Caving
Not for the claustrophobic or those not fond of the smell of bat pee, but following our guide we rolled ourselves through an opening in the rocks and fell into Cudugnon Cave, which opens up into a virtual limestone cathedral.
Wear reef shoes or something with more grip than a Jandal and scale up the rocks into the smaller cave, said to be a neolithic burial tomb.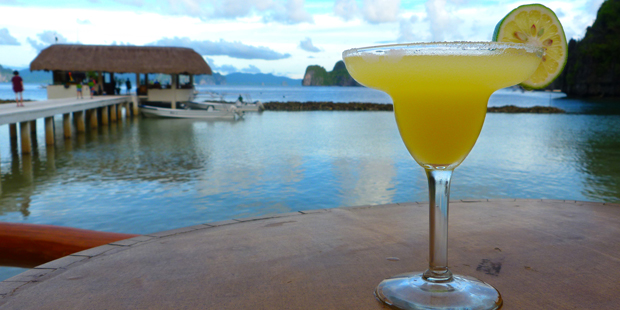 A cocktail at Miniloc resort in the Philippines. Photo / Megan Singleton
Snorkeling
Unfortunately the day I jumped in, teeny balloon-shaped jellyfish were pulsating around too. They give little stings, but nothing that lasts even as long as a mosquito bite. However, they're not always there, so perhaps it's a seasonal thing. The fish feeding on corals are the heroes and the visibility can be up to 30m.
Diving
TripAdvisor's No 1-rated activity in El Nido is diving. There are more than 30 dive sites with sloping reefs, rock walls and more cabbage corals than a coleslaw. About 900 species of fish and 400 of coral live here, more than the Caribbean. Look for sea turtles, dolphins and dugongs, plus, a little further away, World War II Japanese wrecks.
Click here find out more about Megan Singleton's adventures.