This is not a drill.
Nor is it a joke, as the FAA has temporarily closed the airspace over the Nevada airbase.
On Monday the Federal Aviation Association issued temporary flight restrictions over Mercury Nevada between September 18-23 for "special security reasons."
This move to stop civilian aircraft from leading "alien spotting" sorties or rogue tourist drones flying over Area 51 is a sign that the patience has finally run out with the long-running internet meme.
What started in June as a Facebook event called 'Storm Area 51, They Can't Stop All of Us', the webpage found surprising popularity. 2,116,175 people have signed up as "attending." The joke event which urged the internet to turn up en masse to the Top Secret base and demand to be let inside is scheduled for this Friday.
"Let's see them aliens," is the presumptuous tagline.
Two Dutch tourists pleaded guilty to trespass after being discovered on the "national security site" with a drone and filming equipment.
Ties Granzier, 20, and Govert Sweep, 21, were sentenced to 10 days in prison. "It was important to us that these men serve jail time and pay a substantial financial penalty," said the Nye County Sheriff's Office. "We will not put up with this kind of nonsense."
The men's attorney said that the punishment had been placed as a deterrence to others because of the hype surrounding 'Storm Area 51'.
However, it's uncertain how many – if any – of the pranksters will turn up.
A number of hastily organised music events have been arranged in the hope of cashing in on the hype from the Storm Area 51 event.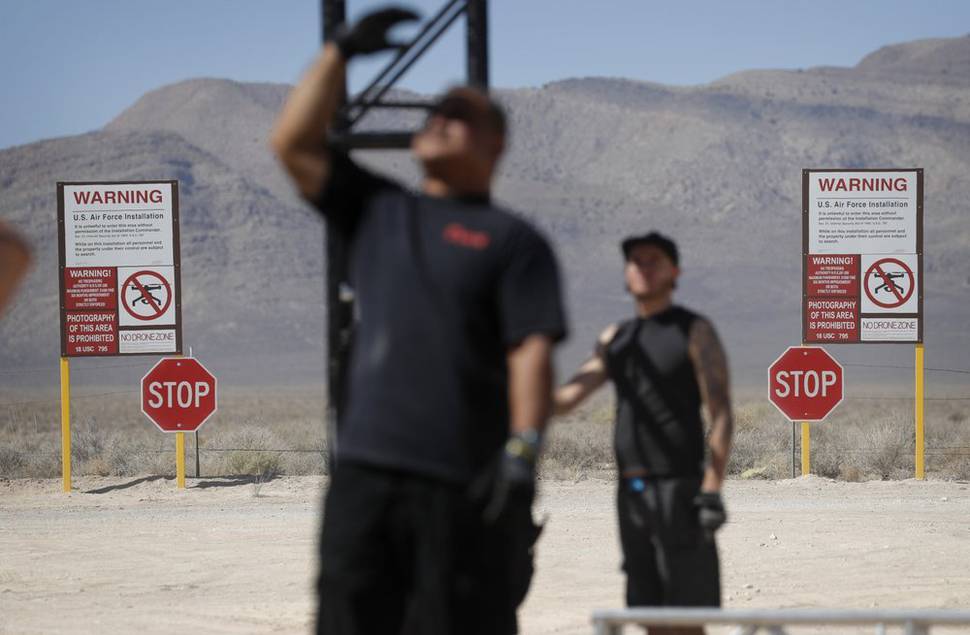 One such event, that redirects from the facebook page describes itself as the Area 51 Celebration which, "instead of storming a government base," urges visitors to Nevada to "come to sit back, share a beer, and talk all things aliens."
This far more sanitised event will take place with a "classified set list" in the Downtown Las Vegas Events Centre – having partnered with Budweiser and an events company Colective Zoo. All of which will be held a good 150km away from area 51.
However in terms of diverting curious visitors away from the Nevada desert, this fix might be closing the hanger door after the UFO is bolted.
There is at least one more rival festival being held, closer to the air base.
Paul Oakenfold will be entertaining the alien faithful at an event called Area 51 Basecamp. The tourist attraction Alien Research Center, which runs UFO tours in Hiko is charging visitors US$57.25 ($90) a night for the two day festival.
In Rachel, the closest settlement to the area 51 base, the Little A'le'inn was planning on holding a music festival called "Alienstock" over the weekend.
However fears that the tiny town of less than 50 residents in the Nevada Desert lacks sufficient infrastructure has led to the event being cancelled.
The town's official website has told visitors to "Stay away from Rachel this weekend" warning that it could become "Fyre Fest 2.0," a reference to the disastorous 2017 music festival.
The decision was made by the township which shared footage of the proposed site to show the lack of preparedness for the Alienstock event.
Alienstock's official websites have not made any official statement, though tickets are still on sale under a banner telling visitors to "expect the unexpected."
Fox5News Las Vegas reported that as "hundreds, possibly thousands of people will drive into rural Lincoln County for two alien-themed music festivals" the law enforcement officials are telling people to check they have adequate petrol.
After Rachel is the "next gas station isn't for more than 154 miles (247km) in Tonopah"
Visitors are also warned that if they are found trespassing on the airbase they could face up to "6 months imprisonment, a $500 fine, or both."