For decades, budget airlines have been winning the battle of the skies as the easy way to travel within Europe but there's a definite change in the air, with train travel muscling in on its market.
Consider the trip between the popular Euro capitals of London and Amsterdam. Some of the low-cost airlines offer super-cheap deals, but this is when you must look into what is really included.
When you factor in baggage charges, as well as the train, bus or taxi transfer fares to far-flung London airports like Luton and Southend, not only do costs add up but the gloss of that initial deal can quickly wear off.
My flight a year ago between London and Amsterdam was such an experience, with a 90-minute train trip to Luton, and an arrival an hour before the flight for check in.
A lengthy delay followed, by another one and then another one. The hour-plus flight to Amsterdam was easy, and after the half-hour train trip into the city, it all ended up a six-hour journey.
Memories of that trip were front of mind just weeks ago when I looked out the window of the Eurostar to see the platform of Amsterdam's Centraal Station come into view, having left London's Kings Cross-St Pancras just over three and a half hours earlier.
It's a new route for the famed train, which next year celebrates its 25th anniversary, and the Amsterdam jaunt is gaining popularity as a far easier way to travel between the two Euro capitals.
As the woman next to me exclaimed as the train came to a stop, "That was so easy, I'm never flying from London again." She echoed my own thoughts — the train took almost half the time of my last journey by flight, at almost the same cost.
Eurostar launched the London to Amsterdam route in April, joining Paris and Brussels on the list of Euro cities that you might never need to go near an airport again. Once you compare the train to the real costs of the low-cost airline deals, it puts the "bargain" into new perspective.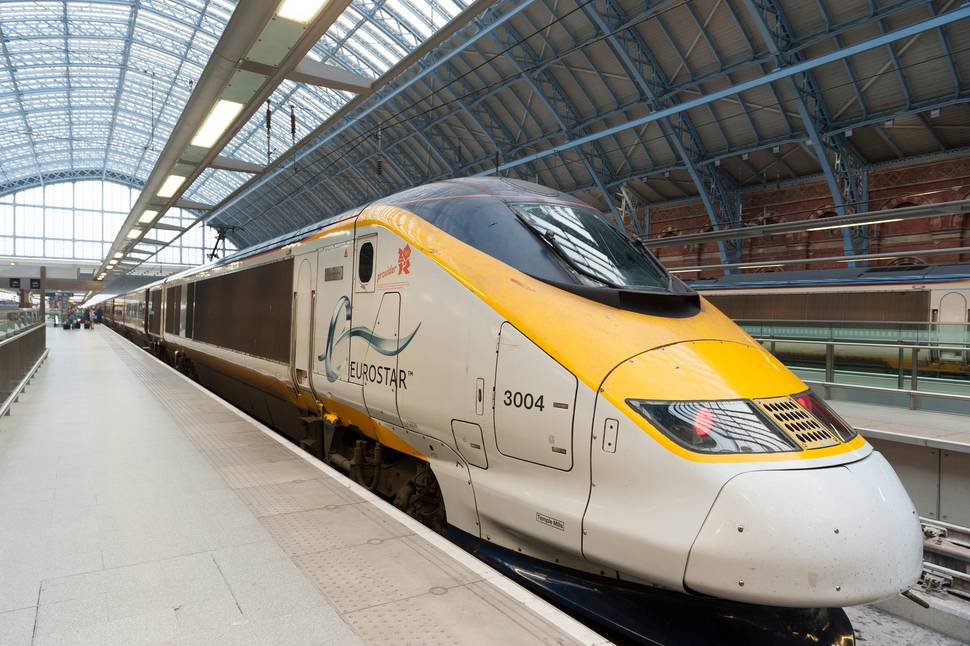 Check-in
From arriving at Kings Cross-St Pancras, through the security check and customs, it took 15 minutes until I was standing on the Eurostar platform, although it's recommended you arrive 45 minutes before departure.
EasyJet recommends arriving two hours before the flight and like Vueling, shut off the flight 40 minutes before departure. EasyJet does not charge for check-in but be careful with low-cost carriers like Ryanair that can charge up to $95 to check in at the airport.
Cost counting
For a trip in mid-January, a one-way fare on the Eurostar to Amsterdam starts from $78.
On easyJet from Luton, Stansted, Gatwick and Southend to Amsterdam, fares start from $38 and on Vueling, it's from $46 from Luton.
The one-way local train fare to Luton starts from $33, the Stansted Express is $21 and the Gatwick Express is from $36. From Schiphol, the train into Amsterdam is $8.
Baggage allowance
EasyJet allows one-carry-on bag with no weight limit. Anything more, and it's up to $56 for 15kg and $67 for 23kg.
Vueling allows 10kg of carry-on and it's $21 for 23kg checked bags. On some airlines, if you don't pay for the baggage online, the charge is far higher at the airport.
On Eurostar, I wheeled my bag onto the carriage, it sat behind me on a rack, and then I wheeled it off at Amsterdam — all at no charge.
Sitting comfortably?
The Eurostar seat is best described as like being in premium compared to the tight economy of most airline carriers.
Eurostar has a seat width of 45cm and pitch of 86cm, while easyJet's fleet has a 45cm width and 73cm pitch and Vueling comes in at 45cm with 73cm pitch.
The ability to get up and walk around during the train trip made things just that bit more comfortable.
The last time I flew to Amsterdam by budget airline, my knees were in my chest, and when I stood up for a moment to stretch my legs, I got shooed back to my seat.
The Verdict
For the sheer ease of the comfortable one-seat ride between the two cities, the Eurostar is hard to beat.
True, the budget airlines can offer some brilliantly cheap deals, but once you factor in baggage fees, transfer times and fares to outlying airports, it does not take long for the costs to spiral.
Eurostar is not always perfect, however, as my previous trip from Paris was delayed an hour and closer to travel times, fares can be high.
At this time, Eurostar is also only travelling one-way from London to Amsterdam.
But the next time I am heading to the Netherlands, after checking out all costs and schedules, it's almost certain you'll find me heading straight for the train.
* All fares quoted in NZ$ and are based on a journey in mid-January 2019.
The writer travelled courtesy of www.raileurope.com.au.