A British model has defended herself after taking a selfie at the Holocaust memorial in Berlin with a disrespectful headline.
Rhian Sugden, a lingerie model, initially posted the photo on Instagram with the caption "E.T. phone home", Fox News reported – and it did not go down well at all.
Sugden later removed the caption, leaving just the hashtags #sightseeing #museum #Berlin, after receiving a hefty dose of online criticism from commenters who believed it was disrespectful at a memorial for the dead.
"Imagine having such little respect for the millions of people murdered during the Holocaust that you think this is appropriate," one user wrote. "What an embarrassment of a human."
"If you want to document the experience take a picture of the memorial. You don't have to be in it, I think that is the issue. It becomes self absorbed at that point," wrote another.
"Would you take a selfie at a funeral and post it on Instagram? There is a time and place … if you are at a memorial it is a time for reflection not for selfies. It is disrespectful," said another commenter.
Another called her a "narcissist" for posting with "silly pouting/duck faces at a Holocaust memorial".
The memorial opened in 2005 and consists of 2711 concrete blocks arranged in a grid, which some interpret as representing a graveyard.
Sugden later defended herself in the comments and said other visitors had taken pictures at the memorial before – adding that anyone who disagreed with the selfie should "just remove" themselves from her Instagram page.
"I've got no time for this moaning generation. I'm on holiday. Sightseeing and took a pic. Under no circumstances is this disrespectful," she wrote.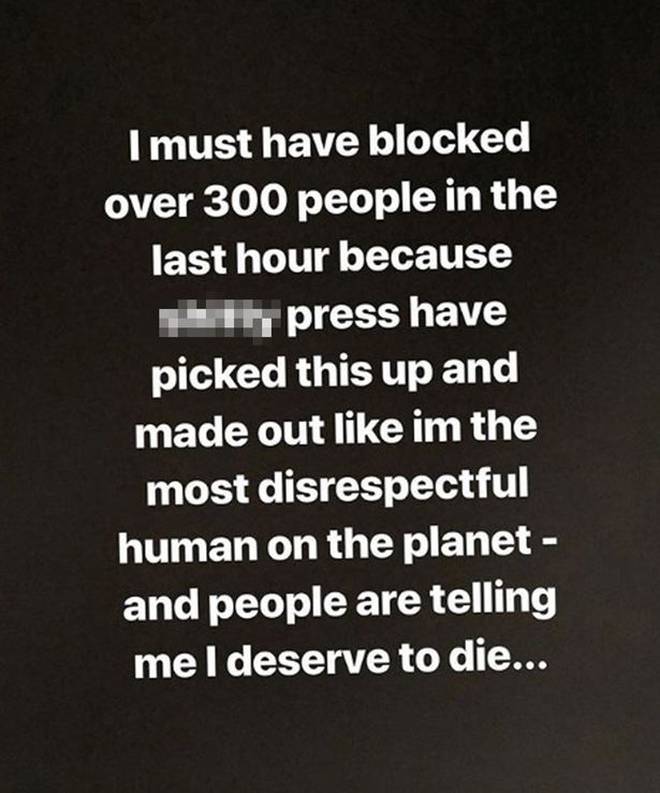 She also responded to MailOnline's coverage of her photo on Twitter.
"This is insane! I posted a pic of me sightseeing in Berlin - took a pic at a memorial and made a comment that I look like ET -the abuse I got is mental," she wrote.
Sugden continued to defend herself on her Instagram stories and said she had received death threats.
"All the decent things I do for charities, for other people and this is how I get spoken to for posting a selfie that wasn't intended to cause any harm or disrespect," she wrote.
"Thank you to all those who took my innocent site seeing selfie to a whole different level and made me out to be some awful person. Sending me abusive bullying messages."
It's not the first time Sugden has made headlines – in 2016, she claimed that cricketer Shane Warne bombarded her with text messages while she was engaged to Coronation Street star Oliver Mellor.
Mellor eventually responded to Warne and his text messages were published online.