Bond with your tween on a weekend away in Melbourne, writes Dani Wright.
Some family traditions happen by accident. Like the first time my daughter Georgie and I took a weekend away together at The Langham, Melbourne, which she named "the pink hotel". She still has the 2011 Langham teddy, "Grace", from that trip and it became "our hotel".
Back then, we ordered movie snacks of popcorn, and kid-friendly platters of diced apple, celery and cheese. It came wheeled in on a special table with flowers in a crystal vase, a little pink Langham tin with tiny mints and chilled water with kiwifruit and slices of orange in a tall glass. It's no wonder she felt like a VIP.
On the eve of her 10th birthday, we revisit the iconic Melbourne hotel situated conveniently on South Bank and overlooking the Yarra River, busy Flinders St train station and the city lights. She's swapped the babyish cubed cheese for a high tea overflowing with desserts, washing it down with a sophisticated mocktail with blueberries on a skewer and lemonade forming a creamy froth on top.
Now with an older head on her shoulders, she looks over at the staircase and notices the nice shoes and dresses the women wear who stop in front of the water fountains for family photos. She comments that it's now "the celebration hotel", because everyone seems here to celebrate a special occasion.
Birthday money in hand, we head across the Southbank footbridge where love locks were once placed by romantic tourists — they fascinated Georgie on the first visit but have long since been removed. Instead, it's the laneways filled with little boutique shops, al fresco dining and cobblestone streets grabbing her gaze.
The Discount District
Direct Factory Outlet (DFO) South Wharf is the place for discounted designer brands for tweens, including surf and skate brands Vans, Hurley and Rip Curl, adventure clothing brands The North Face and Mac Pac, as well as Lacoste, Adidas, Seed, Nike — you name it.
Tweens will have access to all their favourites under the one roof, but we still seem to find only things to buy that are not on sale.
Melbourne Central and Emporium
Back to the CBD and you can't beat the maze-like Emporium with 200 of the best names in fashion, beauty and lifestyle — everything from Chanel to Camper. The deluxe food court at the top is worth the escalator ride and leads you on a walkway through to Melbourne Central, built around a historic Shot Tower adding plenty of atmosphere to the centre of 300 retailers over five levels.
It's shop till you drop with these mega-centres, but stop a while to look out for the giant marionette watch hanging in the Shot Tower Square, famous for its hourly rendition of Waltzing Matilda, as well as seeking out The Little Library free book exchange for some much-needed respite.
Chadstone Shopping Centre
The next day we head out of the CBD to the suburbs in search of Chadstone — The Fashion Capital, which is Australia's largest shopping centre. It's a destination shopping experience with more than 550 stores, designer boutiques and 38 luxury brands — where you can spot the queues lining up to get inside stores such as Gucci. It's great for window shopping and to show tweens the high-end stores, as well as the more affordable in the huge Zara and H&M stores. There are also plenty of homewares stores, perfect for tweens who want to add their individual stamp on their bedrooms.
Back at the Langham, Melbourne, we pass a cabinet full of Langham teddy bears lined up in their year of "birth". Georgie spots Grace in the cabinet with all the others, working out she was just three the first time she stayed here. We didn't realise it at the time, but the teddies are a good reminder of the passing of time to mark the years.
We decide to come back to the "celebration hotel" for the next milestone birthday and continue the tradition we casually created, which now means so much.
The Laneways
First up is Degraves St, where Waffle On and Little Cupcakes provide sugar-fuel for tween taste-buds, before art supply stores and sneaker shops tempt. A stroll to Hosier Lane is where street art is showcased, with many tourists ticking this little laneway off their to-do list as we jostle to get our shots. Further away is The Block Arcade with the delicious Hopetoun Tearooms offering refreshment to Melburnians in this opulent block since 1892. We sip Snow White tea, a blend of apple, white tea, hibiscus flowers, rosehip and mango, alongside nibbles of pinwheel sandwiches and petit fours.
We head off the busy streets and up a "vertical laneway" at the art nouveau-style Curtin House, to reach Metropolis Bookstore and stock up on hard-to-find books — the shop has a curated selection of everything from fashion to popular culture, comics to art history.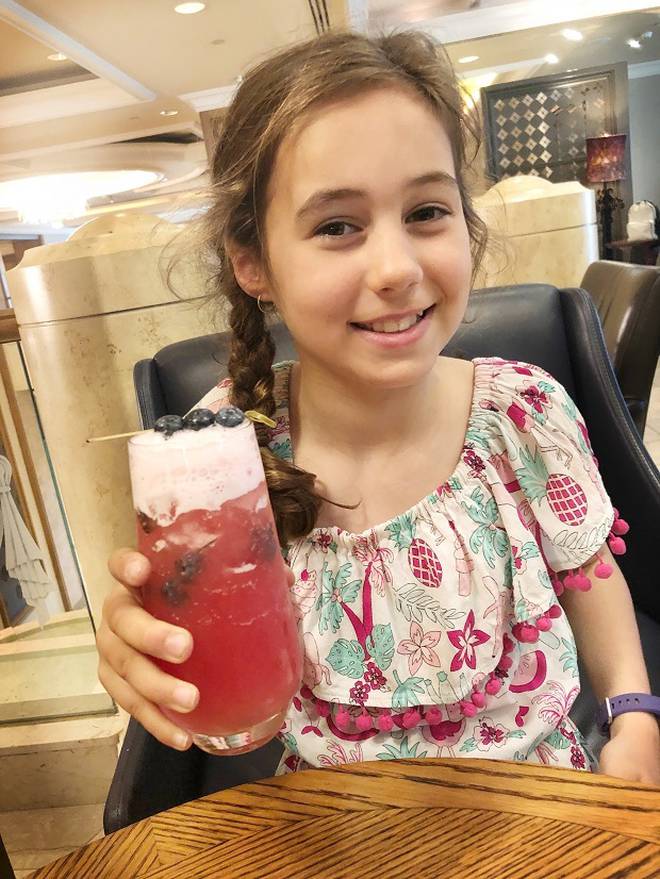 FACT BOX
GETTING THERE
flies direct from Auckland to Melbourne.
DETAILS
Start your own mum-and-daughter tradition with the Perfectly Melbourne package, available from AU$355, including overnight accommodation, full buffet breakfast for two at Melba Restaurant, complimentary parking and Wi-Fi. This offer is valid, subject to availability, until Thursday, January 31.
Families visiting The Langham, Melbourne during the December and January school holidays can also book Aria Lounge's themed children's high tea. Bookings with children will receive a mini-Langham backpack, children's slippers and breakfast for two children at Melba Restaurant.