Three NZ artists are taking part in Sculpture by the Sea, writes Dionne Christian.
Who doesn't like to be beside the sea — especially when the sea is the Tasman and the already spectacular Bondi to Tamarama walk is enhanced by some 107 sculptures along the popular foreshore destination?
Started in 1997, the annual Sculpture by the Sea exhibition is on for the next fortnight and, now in its 22nd year, is expected to attract about 500,000 visitors. It centres on Marks Park; an apt choice given the park is famous for an Aboriginal rock engraving of a shark or whale (you'll find that next to the walk, just below the park).
Once you've contemplated that — and brushed up against history which shows making art has been intrinsic to humanity for millennia — it's time for the 2km coastal walk and to see what artists create today. You'll no doubt be dazzled, amazed, intrigued and maybe even a little unsettled by sculptures that range from the immense — there's a 5.5m walking man and a giant disembodied head modelled on UK artist Damien Hirst — to the quietly thought-provoking.
In all, it's a tremendous testament to the power of creativity and imagination as well as an opportunity for artists from all over the world — this year from Australia to Slovakia and everywhere in-between are represented — to make us ask, "how did they do that?"
Bryn Jones, one of three New Zealand artists selected to take part, says he made his 2m-tall male figure, standing on a soap box and yelling out toward the ocean at the top of his lungs, by thinking about how the world is full of talk and people trying to have a say.
Jones has ensured the work is hardy — the wind can whip wild and Sydney's had a bit of rain this spring — incorporating fibreglass and a steel "armour" around it so it can stand up to environmental conditions.
Then again, he's no stranger to making work to stand in the great outdoors. Work by the Dunedin-based artist and teacher can be found all over the country — Pelorus Jack at French Pass, Sir Edmund Hillary at Mt Cook and Survey in Auckland — and has been described as reminiscent of classical Roman sculpture, incredibly life-like in scale and detail.
When he exhibited at last year's Sculpture in the Gardens, at the Auckland Botanic Gardens, his sculptures were described as "pensive, suggesting a sense of responsibility, and evocative of stately or philosophical figures. This notion of guardianship or accountability relates back to New Zealand in themes of environmentalism and ownership of land."
So it is with the shouting man: "It's the idea of communicating and everyone shouting at everyone else in all sorts of forums, talking on social media and trying to be on their own soapbox. But not everybody wants to hear what you have to say ... It's about, maybe, encouraging people to think about what they are going to say first."
It's Jones' first time at Sculpture by the Sea, now the world's biggest outdoor sculpture event, and he submitted a proposal more out of curiosity — "I just thought I would have a go" — and didn't expect to get in.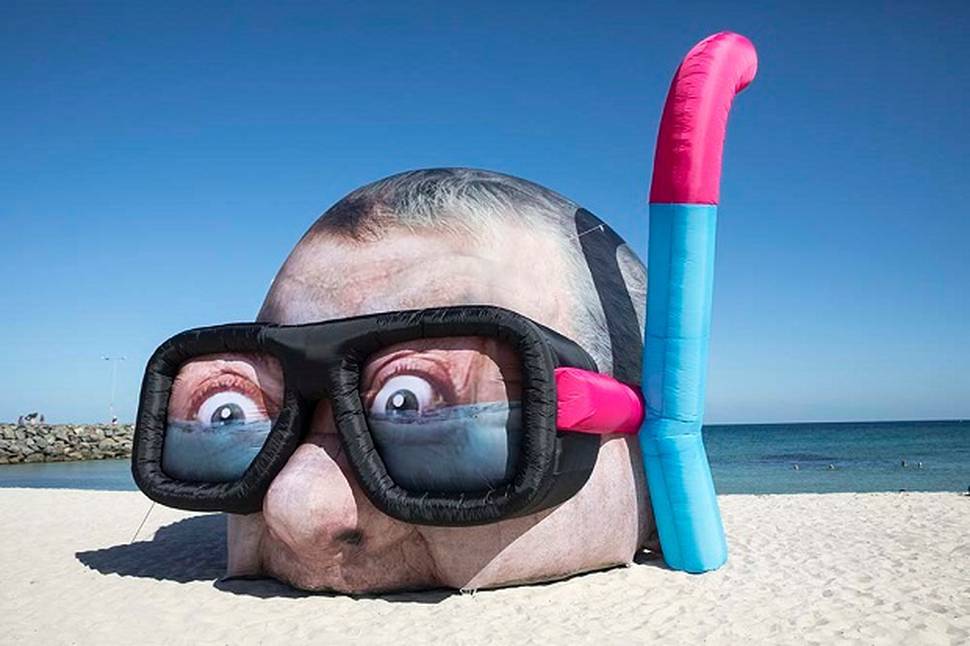 He could also be the first son to exhibit alongside his father. Jones' dad is senior artist Morgan Jones, back at Sculpture by the Sea for a fourth time. Now in his 80s, Jones snr was 21 when he arrived in New Zealand in 1955 and 32 when, 11 years later, he first exhibited at the Dunedin Public Art Gallery. His work is more abstract than his son's but it's still about ways to look at and think about the world. An orange corten steel sculpture, Horatius is based on the myth of Roman hero Horatius Cocles (meaning one-eyed), who reputedly saved Rome from invading Etruscans, and stands as a metaphor for the defence of one's beliefs.
Jones Jnr didn't tell his father he'd applied for Sculpture by the Sea, saving it for a surprise when he was accepted.
"It's absolutely fantastic to be part of such a well-run event and Dad was thrilled; he's always been supportive. It's a wee bit unusual for everyone else that we're both sculptors but not for me who was brought up with it. It wasn't a conscious decision to become a sculptor — I trained as a monument mason — but when it's been all around you, obviously it can't help but have an impact."
Rebecca Rose, the third NZ artist, worked with galvanised steel to craft a piece that reflects her interest in the cycle of life and interconnectedness. Sea Scene imagines underwater life washed up on the seashore, but these intricate pieces of nature, shells and the like, have lost their outer layers of protection because of the sun and the surf. What's left are surprising and beautiful interiors.
Checklist
GETTING THERE
flies from Auckland to Sydney, with return Economy Class fares from $641.
DETAILS
Sculpture by the Sea, from Bondi to Tamarama, Sydney until November 4.