Rob Cox takes his twin boys to the South Island for their first-ever ski trip.
I've always dreamed of skiing in the South Island. Over the years, I have clocked up an incredible total of four and a half days of skiing, all at Ruapehu, all with no lessons and no idea of what I was doing. My boys, however, were still on day zero. Their only taste of snow was driving up to Mount Taranaki forasnowball fight in the parking lot during Spring. As well as that, my boys hadn't been to the South Island before so flying over the Southern Alps on a stunning morning just blew their minds and was the perfect start to our lads' trip.
Base camp was the picture-postcard town of Methven. A busy little ski village tucked under Mount Hutt on the edge of the Canterbury Plains. It had everything you needed. Takeaways, cafes, and two pubs on either side of the main drag aptly named the Blue Pub and the Brown pub. Southern simplicity at its best.
The next huge tick of the trip was when we arrived at Ski Time Lodge; the boys were super-impressed with our modern and warm apartment, but even more so when they were given free Wi-Fi to soak up.
Johnny put on his goggles and gloves and stepped outside to stare across the fields at Mount Hutt. He was itching to go.
The road to the Mount Hutt ski field is an adventure in itself, 12km of steep, loose metal roads along many windy ridge lines. Luckily, we had a Methven Travel bus arrive at the lodge to take us up and down the mountain each day, which I think made all three of us feel more reassured.
When we arrived at the ski fields,Iwas shocked at the size of the facilities. It was impressive. A huge foyer and reception area, ski shop, cafes, bars, everything was there and beautifully spaced out. Our gear hire was effortless. The staff at Mount Hutt were perfect, they got everyone in gear superquickso we could make the most of our time up there — and they were hilarious, it was international speak like a pirate day so they were all dressed up as pirates screaming "Aargh!" every chance they could get, a huge hit with the kids that day.
One of the best things at Mount Hutt is the fantastic team of ski instructors and the very spaced-out and safe learning facility for beginners. The idea being that they don't let you move on to the lifts until they are confident you won't be hurting yourself, or anyone else for that matter. Our instructor was Marek from Prague. He was great with the boys, taking them through the basics repeatedly. The beginner slope has an indoor magic carpet, which you walk on to, then it slowly carries you up the ski field to the top of the run.
Once our lesson was over, the sensible thing to do would have been to continue practising on the beginner slopes, instead, we went up the chairlift and smashed our way down Highway 72 and Broadway, the two lower ski lift runs. I'm glad we did, it was awesome and the boys were falling in love with skiing, the bug was hitting them hard. The runs were long and fun and as our confidence grew, so to did our spectacular crashes.Ilost Johnny for about 10 minutes and he came back with a sheepish grin on his face and mumbled something about flying off a cliff.
We had three beautiful days of skiing and by the end of it we were all confidently carving down intermediate slopes, the boys confidence growing all the time.
When we weren't skiing, we were drinking hot chocolates in the cafe. The boys were in heaven, they wanted to ski forever. Thank goodness our bus picked us up each day at 4.15pm because a full day's skiing is knackering and I didn't possess the endless energy my rascals appeared to have.
This was an amazing trip for my boys and quite different to any skiing I have done in the past. As a ski option for Kiwis, Mount Hutt is a gem. It's accessible, has incredible facilities, we never had to wait for the ski lifts once during our time on the mountain, and it's affordable, so a really good option if Queenstown is looking a bit pricey or Ruapehu is looking too busy.
On our last day, we were dressed in T-shirts and shorts, it was so warm. We took the chairlift to the summit. The views are insane, you stand at the very top of the ridge and on one side you see the flat Canterbury Plains extending for miles, on the other you stare out at the Southern Alps, which appear to go on forever. Magic.
If you are game enough, there isaspa pool perched on the summit like an Eagle's nest. On a clear day it would have to be the best spa on the planet. Word of warning: take your own towel and don't spend too long getting changed.
The thing I loved most about Mount Hutt was that for kids it was filled with fun and packed with adventure. It gave my boys the confidence to take risks and really push themselves, but in a safe environment ... well as safe as it can be.
I'm glad I finally got to tick off that box, and more importantly, to see my boys tearing down the Hutt.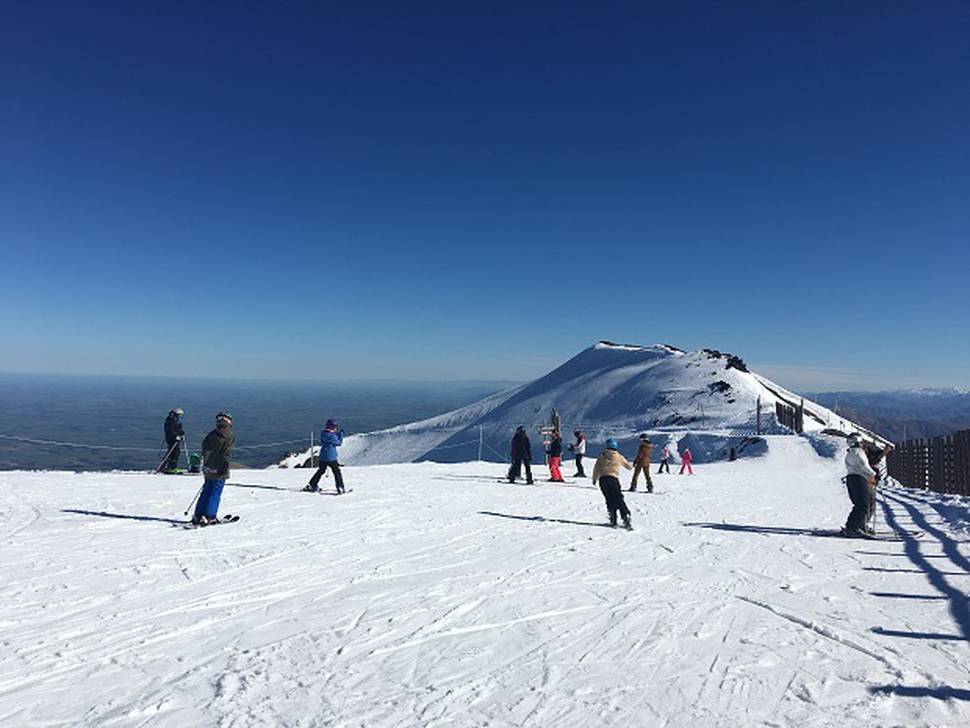 Checklist
GETTINGTHERE
AirNew Zealand flies daily from Auckland to Christchurch with oneway fares starting from $66. airnz.com
ACCOMMODATION
Forinformation on Ski Time Lodge and Apartments, call (03) 302 8398 or email res@skitime.co.nz.
DETAILS
MtHutt's 2019 Early Bird sale is on now, with adult season passes starting from $349.Kids 10and under pay just $5 forthe season.mthutt.co.nz