We missed him the first time. As we doubled back, we discovered why.
The male leopard was lying in the undergrowth, camouflaged among dry leaves and twigs.
This meant our local guide, Moses, only saw the elusive big cat at the last possible second. He slammed on the brakes just as we drew up next to it.
"Oh, f***!" the Australian in front of me gasped before she could stop herself, our open-sided Land Rover jarring to a halt at the same moment most of us locked eyes on the black spots just metres away.
"Shhh," Moses said. "Please be quiet."
The leopard's head was resting on his right leg, but his eyes were looking straight at us.
His whole body, stretched out and rippling with muscles, was now visible, and aside from twitching white whiskers, swivelling ears and a few blinks against the late afternoon sun, he made no sudden movements. He would soon.
South Luangwa National Park in Zambia has an exceptionally high density of leopards, making it one of the best national parks in Africa to see these secretive creatures.
There are no man-made boundaries, so the animals can move in and out of the park freely.
In 9050sq/km of wild bush, however, visitors to The Valley of the Leopard – as South Luangwa is sometimes called – are not guaranteed to see one, especially a few metres away, during daylight hours.
So, there was plenty of excitement less than an hour into our evening game drive when we were told by a passing vehicle that a leopard had been spotted not far away.
Our necks craned as we bumped along towards where it had been seen, searching for a hanging tail in the trees.
The leopard must have watched us drive past the first time, our eager eyes scanning over him.
Minutes later, as we retraced our route down the dirt track, we found ourselves beside him. Close enough for the next four minutes to play out in tension-sharpened detail.
My 27-day journey through east and southern Africa had many of these unforeseen, unprompted and unforgettable encounters, despite following a day-to-day itinerary.
There was the lost tuk tuk ride and the two helpful security guards armed with a shotgun and nunchucks in Tanzania, the late-night elephant visitor to our campsite in Zambia, the group of kids and teens in Malawi who could perform the haka better than the Kiwis trying to do it with them, and the three white rhino that let us get within metres of them in Zimbabwe.
The overland expedition, during which we travelled for more than 6000km through six countries with 21 other tourists aged 18 to 39, was run by travel company G Adventures and started in Nairobi, Kenya's capital, with a game of chicken.
At least that's what it felt like to me, a jet-lagged newcomer in a city of more than three million people.
The skilled driver taking me and two others from the airport to the hotel was grinning at my wide-eyed expression as he comfortably wove and merged his way through lanes of hooting cars.
"This traffic is fun, eh?" he said, before spotting a gap in the blur of an upcoming roundabout and quickly but carefully inserting us into it.
The next morning, having met my group and our two Kenyan tour leaders, Masivu and Antony, we were back in Nairobi traffic, this time crawling out of the city in a big purple bus named Lando.
From the excessive but welcome comfort of G Adventures' purpose built "overland adventure vehicle" – with in-seat USB chargers, air conditioning, two fridges and, sometimes, onboard Wi-Fi – I watched as the colourful and lively urban landscape slowly changed.
One of the great rewards of overland travel is being able to see that transformation at ground level, consciously and subconsciously taking in details as you pass by.
You begin to recognise the subtle and not-so-subtle differences in environment and people working and living there when driving through a country and continent rather than flying over.
The Swahili word safari means journey – originating from the Arabic word safar – and, despite morphing over time to symbolise something more specific in Western popular culture and even becoming a khaki-coloured genre of its own, it actually has nothing to do with wildlife.
It was fitting, then, that our African safari had a lot more to it than observing and photographing wild animals.
We spent three days on Zanzibar Island (Unguja) in the Zanzibar Archipelago, Tanzania. We swam in warm turquoise water in front of our resort-like bungalow base on Nungwi Beach and, off a dhow, snorkelled the reefs surrounding Mnemba Island, a marine conservation area.
Led by guide Mbwana, we also had an educational tour of a spice farm in Kizimbani, explored the narrow alleys and historically-rich architecture and landmarks of Stone Town, wandered through its main bazaar, Darajani Market, and were given an affecting insight into a grisly period in Zanzibar's history at the site of one of the world's last open slave markets, shut down in 1873.
On the shores of Lake Malawi at Kande Beach, we played volleyball, kicked a football around, swam, lazed on warm sand, marveled at a pastel blue sunset and partied into the early hours of the morning.
And during an evening with hospitable Malawians at a dinner put on at our guide Banjo's house, we sat on mats outside enjoying sweet potato soup, cassava mash, spinach, beans, carrots and chicken. After we had eaten, kids and teens danced and sang for us, and with us, to the beat of drums.
In the southern Zambian town of Livingstone, there was plenty on offer for adrenaline junkies. You could gorge-swing, cable-slide, or bungy jump 111m off the Victoria Falls Bridge. You could also white-water raft on the mighty Zambezi River, or take a microlight or helicopter flight over the Victoria Falls.
Those not fond of great heights, like me, could view and be soaked by the spectacular falls on foot at Mosi-oa-Tunya National Park. Mosi-oa-Tunya is the local name for the Victoria Falls and translates as "the smoke that thunders".
A more relaxing ride on the Zambezi could be found in the form of a sunset cruise, featuring an open bar and a close sighting of an elephant feeding along the river's edge.
Those of us travelling from Livingstone on to Johannesburg got two new tour leaders, Freedom and Vernon, to take us through their respective countries of Zimbabwe and South Africa.
Because of the local knowledge and experience of these people guiding us over the 27 days, our itinerary was always fresh and interesting, with additional activities and surprises sprung along the way – some planned, some not. In addition to the G Adventures tour leaders, in many places there were also local guides on hand with local expertise.
There were hundreds of kilometres between each of our destinations and many hours were spent on the road.
The going was sometimes slow and the amount of time spent at police and military checkpoints or border crossings was always changeable, but everything needed to prevent boredom was both inside Lando and outside our windows.
You make great friends on a road trip of this scale and, in a continent as vast and varied as Africa, there's always something interesting to take in, contemplate or discuss.
Although our safari was not all about African wildlife, for many of us it was the main attraction and reason for coming. We were not disappointed.
On day five we descended through thick early morning fog to Tanzania's Ngorongoro Crater, famed for its high density of wildlife.
"There are so many animals down there, you can't believe," our guide Sadiki said over the rattling and vibrating of the Land Rover as we slowly made our way to the bottom.
"Big herds of zebra, wildebeest, buffalo," he continued, before adding, "lions here are numbering about 70".
Ngorongoro Crater, technically an oval-shaped volcanic caldera, is so full of life it is regularly referred to as the "Garden of Eden" and, as we broke through the fog, it was easy to see why.
The night before we had camped on the rim under a large tree and were visited by buffalo, our flickering torch lights catching their eyes and shiny wet noses as they wandered around the tents.
As we drove down to the floor of the caldera the next morning, we could see large numbers of them grazing in green open grassland.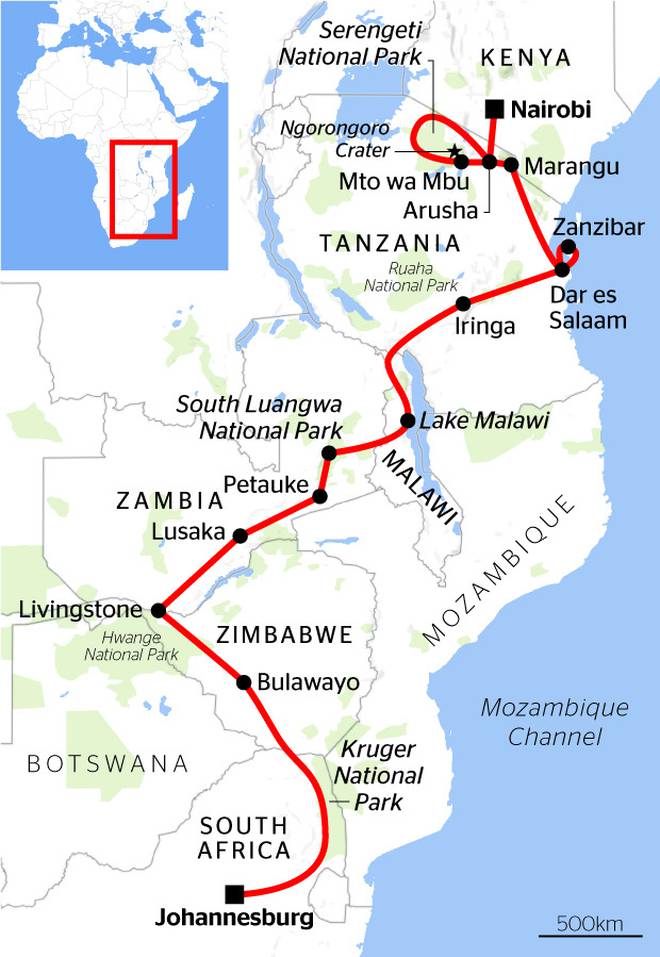 With the previous two days spent at Serengeti National Park, with its dry, endless savannah and hazy horizon, the colours and lushness of Ngorongoro were striking.
Lake Magadi – known by the local Maasai as Lake Makat, meaning salt – sat to our right as we bounced along, flamingos painting it pink. To our left the sun was breaking through low-hanging cloud, rays spilling down on to the plains below.
We saw hippos, gazelles, a couple of male lions, jackals, a hyena, and an abundance of zebra and wildebeest.
From a distance, we witnessed two lionesses slowly stalk a small group of buffalo, only for the cats to come inches short after spooking their breakfast.
The caldera was also rich with birdlife, a diverse and colourful collection of species in the air and on the ground.
We were spoilt here, as we were during our time at Serengeti National Park in Tanzania, South Luangwa National Park in Zambia, and Kruger National Park in South Africa.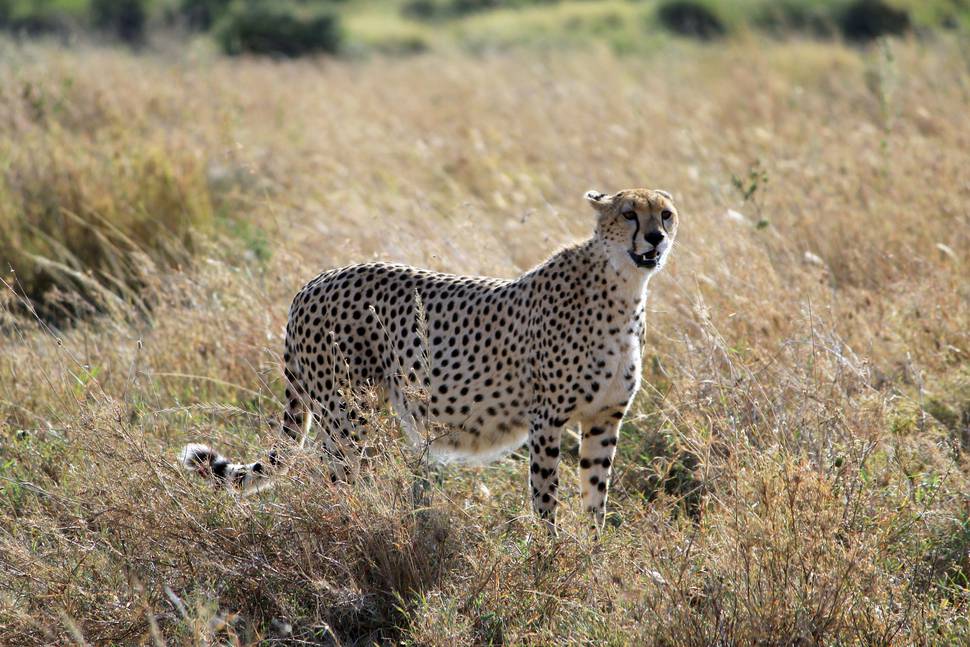 By visiting more than one national park, each different in climate, size and landscape, you get a broader understanding of and appreciation for the African bush and its inhabitants.
It also increases your chances of encountering the animals you flew halfway around the world to see and means you may see them more than once or closer than you could ever have hoped.
At a national park in Zimbabwe, which I won't name here for poaching security reasons, we went looking for white rhino on foot and came across three of them.
"What I am going to try and do is probably get us to maybe 10 or 15 metres," our guide Ian said, before setting off.
"It's then the animal's choice to approach us."
Walking, and not being driven in a Land Rover, is not without its risks.
"Now, it's the bush," Ian warned. "Rhino get scared, things go wrong. If that happens, freeze. Don't breathe, don't move, just pretend you're a rock ... you run, we get chased."
Crouched metres away from the ancient, bulky beasts, I gained a perspective unlike any other and began to truly appreciate their vulnerability to poachers and the despair of those, like Ian, who are doing everything they can to protect them.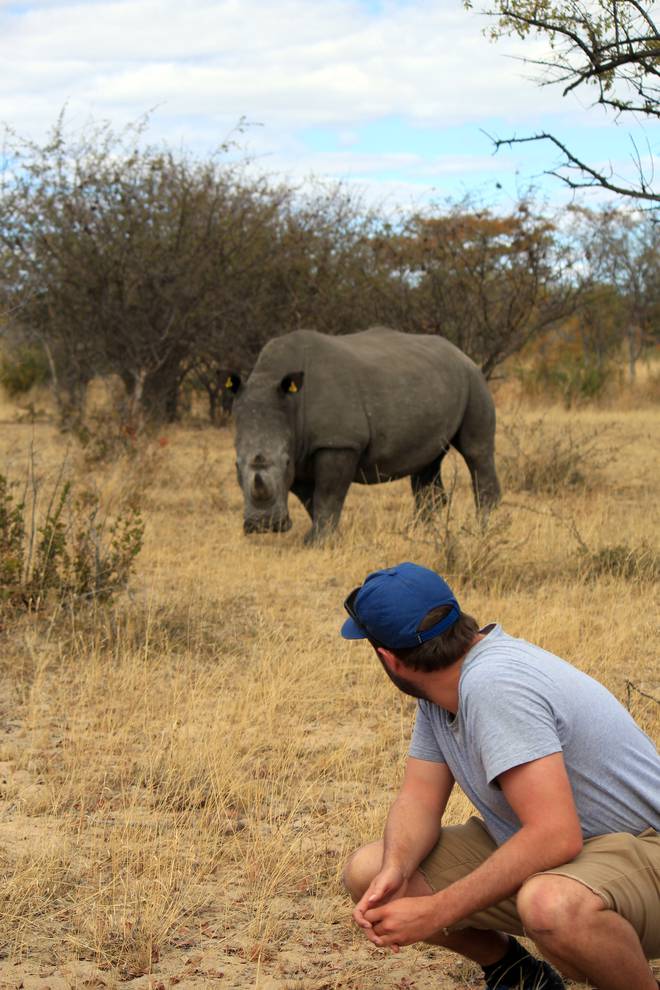 Camping in the bush within, or bordering, the national parks also meant at any time of day we could experience the unpredictable thrill of nature.
While eating a late breakfast after a morning game drive at Serengeti National Park, a herd of elephants walked past our camp.
And on the banks of the Luangwa River, we fell asleep to the throaty laughter of hippos, only to be abruptly woken by the ear-splitting trumpeting of an elephant, which sounded like it was inside my tent.
It was this unpredictable thrill that had us on edge during that evening game drive at South Luangwa.
The leopard was poised just metres away. He opened his mouth wide, eyes narrowing and muzzle scrunching. We could see large yellowing canines, a pink tongue and hear what sounded like a quiet growling.
Moses would later explain to us: "That was a sign to tell you to keep your distance."
The leopard stood quietly, eyes still locked on the Land Rover.
He arched his back, shifting power and weight to his rear legs. Was he stretching or getting ready to pounce? At that moment it was unclear. Perhaps intentionally.
For the first time, the leopard's eyes dropped as he padded towards us, his silky coat low to the ground and shining in the last of the day's light.
Gracefully and in no rush, he walked up to and then around the front of the vehicle.
He crossed the dirt track and without looking back, kept on going.
His white-tipped tail was the last thing we saw as he disappeared into the bush.
ABOUT
Encompassing a wide range of departure dates, trip styles and activities that cater for different tastes, G Adventures runs more than 90 tours around Africa visiting countries such as Botswana, Tanzania, Kenya and South Africa. Tour prices start from NZD$979 for 8 days and for more information, visit:
or call 0800 453 282.
GETTING THERE
South African Airways flies daily from Perth to Johannesburg, leaving at 11.50pm in Perth and arriving at 5am in Johannesburg (local times). Connections from New Zealand are provided via code-share partner Air New Zealand which operates daily between Auckland and Perth. For the latest details on airfare levels talk to your travel agent or visit www.flysaa.com.