Few cities can match Beijing when it comes to fascinating historical places to explore. There are half a dozen UNESCO World Heritage Sites in Beijing alone, just one less than the whole of Egypt. However, while the city is famous for its iconic structures, it also has a welcoming human side.
Even though communication can be a challenge sometimes, you are never short of locals trying to help. Beijing offers a vibrant blend of antiquity, culture and modernity, from hiking the Great Wall of China to a morning tai chi class with the locals and exploring the cutting edge 798 Art District. Pack your sense of adventure and get ready to experience the best of Beijing.
Ride a luge at the Great Wall
Several restored sections of the Great Wall can be easily reached from Beijing but savvy visitors favour Mutianyu, which is located 70km from the capital.
This segment was reconstructed in the '80s and is renowned for the visual drama of its tightly packed guard towers and knife-edged mountain peaks. Surrounded by towering pine trees and stunning scenery, it offers a compromise between the slightly closer yet tourist-packed Badaling and the physically challenging sections at Juyongguan and Simatai. The wall at Mutianyu is paved and has a scenic cable car ride to the start of the walk, making this section especially easy to explore.
Tower 14 is the highest point and the ideal spot to view the long line of imposing towers and parapets stretching into the distance. If you're feeling game, there is a metal luge track at Tower 6, which takes visitors from the top of the wall to the bottom in less than a minute. It is speedy, safe and loads of fun.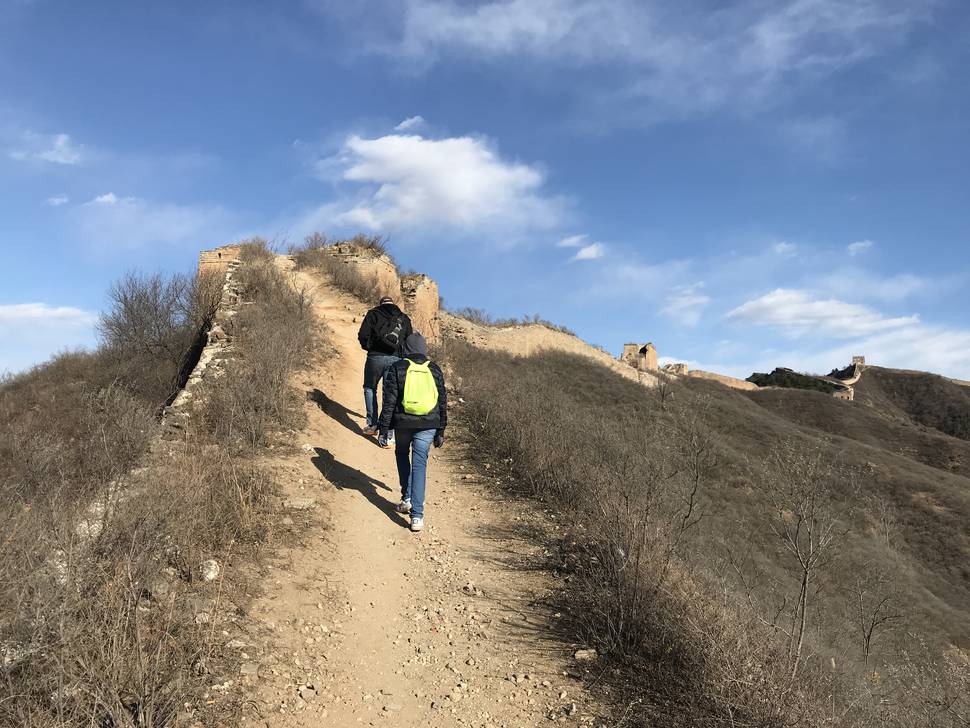 Go wild at the Great Wall
There are many ways to experience the Great Wall of China but few are as memorable as hiking the wild wall, with its unrestored sections. While it is possible to explore the wild wall on a group tour, you will likely end up feeling disappointed. Sharing one of these sections with lots of people defeats the purpose of this experience.
Nothing can compare to the sweeping silence of the landscape and the wild beauty of hiking with just yourselves and a guide. You will need sturdy shoes and a reasonable level of fitness but there is no need to rough it. Imperial Tours offer lunch with wine to toast the view on a secluded section of this iconic structure. While some parts of the unrestored wall are a little steep, having a private guide means you can take things at your own pace and stop whenever you wish to take photos or rest along the way.
Surrounded by jagged mountain peaks, ancient stone ramparts and crumbling guard towers, with no other buildings as far as the eye can see, it feels as if you have stepped back in time. imperialtours.net
Take an Urban Adventure
It is easy to see three of Beijing's most famous sights — the Forbidden City, Temple of Heaven and Tiananmen Square — in a day if you take a tour. Intrepid Urban Adventures include popular 'must see' tourist attractions and the chance to interact with locals in an authentic way. As we watched a tai chi class in the park adjoining the Temple of Heaven, one of the ladies broke away from the group and came over to talk to our guide. She was delighted to see overseas visitors watching the class and asked if we would like to join in.
We were welcomed with warm smiles and the music began to play once more as we followed the movements of the qigong masters, marvelling at their grace and control.
When the song finished, we were rewarded with clapping and more smiles as we left the class and continued on our tour. After lunch at an authentic restaurant renowned for its tasty dumplings, we explored Tiananmen Square and passed through the Gate of Heavenly Peace with its famous Mao portrait to enter the Forbidden City. This is the largest and best-preserved group of palaces in China and includes 720,000sq m of courtyards, pavilions, great halls, flourishing gardens and nearly 10,000 rooms. Our guide strolled around the site with us, sharing tales of betrayal, spies and intrigue that were worthy of a Game of Thrones plot. While sites such as these are impressive, it is the stories that bring Beijing's historical wonders to life.
urbanadventures.com
798 Art District
History abounds in Beijing but a fascinating look at the city's modern side can be found at the 798 Art District, a huge, disused East German electronics factory that now houses a concentration of contemporary galleries, bookstores and arty shops and boutiques. The industrial complex celebrates its proletarian roots via retouched red Maoist slogans and statues of burly, lantern-jawed workers, which can be found at many galleries.
Keep a lookout for quirky, open-air sculptures, such as Sui Jianguo's stack of caged dinosaurs outside the UCCA gallery, and stencils, murals and other street art that can be found throughout the area.
Allow two to three hours to soak up the vibe and browse everything from quirky fashion to fine art prints and politically-tinged propaganda art. Leave room in your suitcase for souvenirs.
798district.com
Dine like an emperor
Beijing is a prime dining destination, with restaurants to satisfy every taste and budget. Red Bowl at the Rosewood Beijing is the place to come for upmarket and affordable Chinese hot pot. Order your choice of simmering, flavoursome stock, which is used for cooking seafood, meat and vegetables at your table. Friendly staff delight in giving hot pot lessons to novice diners and the lively atmosphere makes for a fun night out. Some of the city's best Peking duck can be found upstairs at Country Kitchen where an open show kitchen and wood-roasting oven provide a fascinating insight into how this traditional dish is prepared. Don't forget to reserve a table (and your duck, which should be pre-ordered to avoid disappointment). If you do a tour, your guide can also help with dining recommendations.