They say all that glitters is not gold, but the Gold Coast turns that adage on its head.
From the mirrored skyscrapers overlooking the emerald water to the sparkling bling adorning many a wealthy tourist, this enclave of excess glitters everywhere you look.
However, the real gems of the GC aren't always the biggest, brightest or shiniest, and taking a bit of time to hunt them out is worth it.
My plan to do just that involved a clever innovation being pioneered by one of the area's newest hotels, where real-time messaging would deliver on-demand local and behind-the-scenes knowledge and recommendations direct to my smartphone. Just scan a barcode on your room key and you are connected to a local who will give you an insider's heads-up on the best places to check out.
The service, called Keys To The City, has been developed by the Avani hotel chain — and their 35-storey Broadbeach building — Avani Broadbeach Gold Coast Residences — is the newest kid on the GC block.
We arrived on a sunny morning that felt specially laid on to highlight the jaw-dropping view from our 32nd-storey Ocean View suite.
Sweeping views up the coast in one direction and city lights in the other make for ever-changing vistas that constantly draw your eye, and looking down reveals a swimming pool in the garden far below seems the size of a postage stamp.
The suite was more a reasonably-sized apartment, with a full kitchen and dining space, lounge, two bathrooms and a laundry. I liked the fact this gave us the option to request hotel-level pampering if we felt like it or be self-sufficient.
Broadbeach itself is one of the Gold Coast's more up-and-coming neighbourhoods. Although Surfer's Paradise, a few kilometres away, still holds a strong international reputation, it has been so crowded for so long that it feels a bit overused and other suburbs are developing their own senses of identity and community. The booming bass of boyracers in their souped-up salary-suckers seems to be less obvious in Broadbeach than down the road at Surfer's. In fact, you're more likely to see people cycling or skateboarding in this neighbourhood, which is characterised by golden sands, parks along the beachfront and a selection of great eateries and bars with lively, friendly atmospheres and top-notch food and drink offerings.
Keen for a drink at such a place after settling into the hotel, we decided to put our virtual guide to the test, and were pointed to a bar called The Loose Moose. Brownie points went to Avani for the first hit — it was lively, walking distance, poured craft beers that pleased my other half, and served a great Mojito, which did the same for me.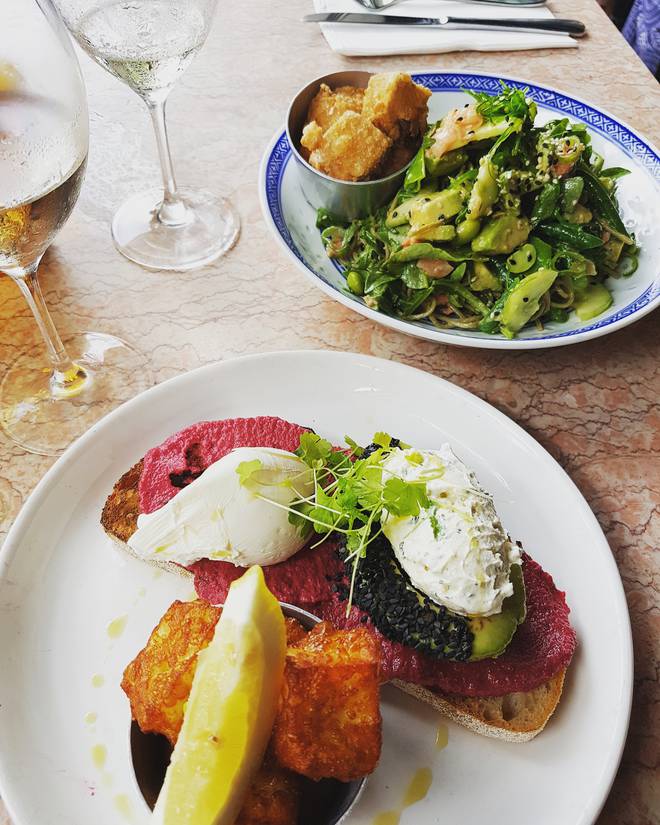 Pleased with the recommendation, we decided to trust our virtual buddy again the next day and we were able to easily organise bicycles to be dropped off to
our hotel, even down to my exacting request for one with comfy seats and a basket.
We biked a couple of kilometres to the next suggested stop — brunch at Bam Bam Bakehouse on the Gold Coast Highway. A culinary highlight of the trip that we may not have found otherwise, this hip eatery, tucked away on the edge of a park, has become known not just for its phenomenal patisserie, but for a menu packed with creative dishes bursting with fresh ingredients, as well as the odd celebrity sighting.
We tried a green tea noodle salad with edamame and fried tofu, and "violet avocado" with beetroot hummus, halloumi cubes and a nice pinot gris to wash it down while relaxing in the shade of the tropical foliage that surrounded a stylish indoor-outdoor area.
Suitably refreshed, we set off on the bikes, slightly more jovially, and explored the shared cycling and walking pathway that runs down the coast, stopping off for excellent cold-pressed juice at nearby Elk Espresso, where the shabby-chic decor was so expertly done it looked like a lifestyle magazine shoot.
After biking off brunch while getting our bearings, it was time for the beach, the Gold Coast's crowning glory, which was packed but beautiful.
Consistent waves, crowds of surfers, swimmers and sunbathing tourists — nothing has changed about this for decades, except perhaps the number of shadows cast across the beach in the afternoon by the enormous buildings that flank it. It certainly struck me that this is a bit of a conundrum. A stunning beach with generally hot, sunny weather draws so many people to a limited piece of coastal land that the accommodation needed to house them rises vertically in response, which then blocks the sun from the sand for half the day. Somehow this seems like typical human thinking. Perhaps a positive view could be less chance of sunburn in the afternoons for paler types like me but it still seems a bit strange to a Kiwi used to more open spaces. Then again, being reminded of our differences is one of the great things about travel.
Morning swims were in order the next day before we took advantage of the nearby Pacific Fair mega-mall to do some shopping with a far larger range than we get back home. The place is enormous and must take at least 20-minutes to get from one side to the other, so I was glad to escape its seductive grip and get back outside. Having conveniently missed an enormous, warm downpour, we traipsed steaming pavements back to the hotel to relax before meeting friends later for cocktails at Soho Place — a very cool speakeasy-style bar we wouldn't have found without Avani's virtual help.
The evening brought a visit to a place you definitely couldn't fail to find, assisted or otherwise, and which epitomises glittery excess. The Star Gold Coast is a casino, hotel and strip of restaurants, bars and nightclubs all in one. Palatial, and packed with glammed-up punters, it was heaving with money, glitz and false expectations, as all casinos are in my experience. A huge, outdoor, astro-turfed garden area jammed with people dancing, drinking and playing grandiose games of giant Jenga and tipsy table tennis made for quite a spectacle, and when I saw Moet champagne being sold in a vending machine and wine literally on tap at the bar, I pretty quickly got the measure of the place.
While maybe not quite my cup of tea, the Star, with its contrived debauchery, definitely represents one side of the eternal Gold Coast yin yang, where an area of stunning, real natural beauty has become a centre for glamour-chasing, materialism and appearances.
Luckily, however, the former has not managed to eclipse the latter, and even with the towering presence of the shiny skyscrapers, the busy traffic and urban sprawl, the perpetual waves washing up golden sands will always have far more permanence than anything man-made.