From Bolivia's Road of Death to Pakistan's Karakoram Highway, these are some of the deadliest drives on the planet as recommended by The South China Morning Post's Tim Pile
The words "scenic drive" fill me with dread. Where others envisage spectacular alpine vistas, empty roads and benign bends, I picture muddy, barrier-less switchbacks, mountainsides studded with precariously balanced boulders and worn out tyres scrabbling for purchase on the lip of a 3,000-metre ravine.
Losing concentration on any of these eight white-knuckle highways is likely to result in vehicle, driver and passengers hurtling into the abyss. This is living on the edge, in more ways than one.
1. North Yungas Road
At its peak, if that's the right word, between 200 and 300 people lost their lives every year on Bolivia's El Camino de la Muerte, the Road of Death. The treacherous 56km track offers up everything you would expect from a single-lane nightmare described as the world's most hazardous road. Limited visibility due to frequent rain and fog; check. An absence of safety railings; check. Reckless drivers who have an unquestioning belief in the afterlife; check.
Ten years ago, the Bolivian govern­ment wisely decided to build a bypass and so, these days, the only daredevils you'll see are on two wheels – guided mountain-bike tours are a popular way of sampling the sharp turns and sheer drops, although fatalities still occur. Try to remember; it's not a life or death experience, it's just a scenic drive.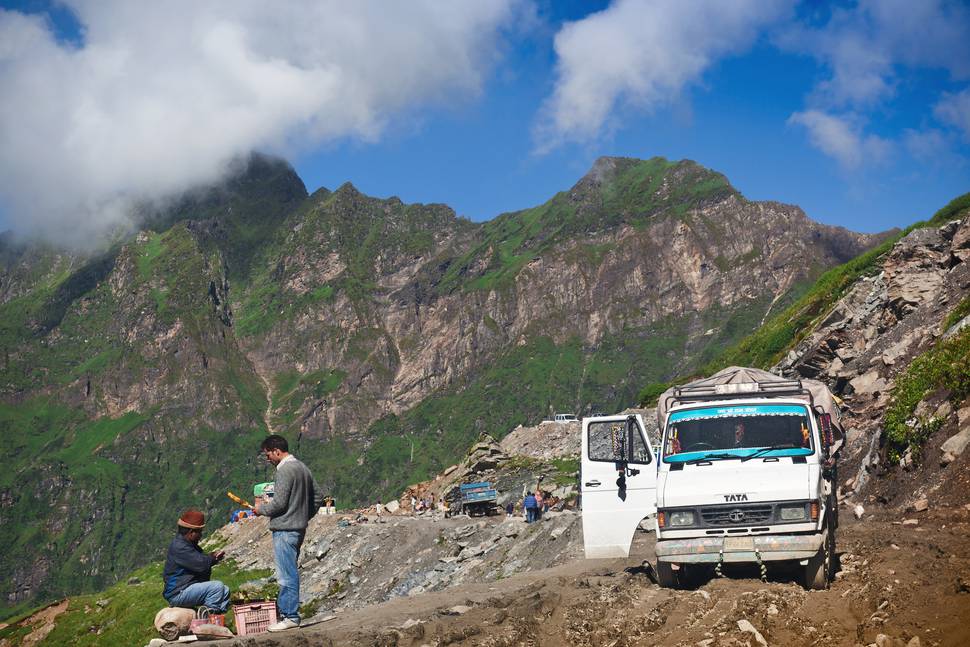 2. Leh to Manali (Rohtang Pass)
The 20-hour marathon journey from Leh to Manali through the Indian Himalayas combines stupendous scenery with heart-in-the-mouth moments such as the ascent of Tanglang La, one of the world's highest motorable passes. The section that lures thrill seekers (and repels normal people), however, is the notorious Rohtang Pass; a muddy, single-lane ledge with a vertical rock face on one side and a bottomless chasm on the other.
The potential for catastrophe is almost limitless. Your overworked driver is likely to be exhausted before you set off, despite exhibiting the twitchy symptoms of a caffeine (or amphetamine) overdose. But even if he is wide awake, other bus and truck drivers probably won't be.
Don't think too much about the mechanical condition of either the vehicle you're travelling in or those swerving erratically as they try to pass. There's the risk of rockfalls, avalanches and animals that appear from nowhere; not to mention altitude sickness and rivers of snow­melt that turn the unpaved road into a quag­mire. Rohtang means "pile of corpses" in Tibetan – consider buying life, rather than travel, insurance.
3. Tizi-n-Test Road
Connecting the Moroccan cities of Asni and Taroudant, the Tizi-n-Test Road makes an appearance on the Dangerousroads.org website accompanied by worrying phrases such as "only one car wide in places", "blasted out of the mountains", "un-barriered road" and "precipitous drops". Signs warn of falling rocks yet numerous villages lie beneath the very same overhanging High Atlas peaks. Landslides cause inevitable delays while mechanical diggers clear boulders and mounds of rubble.
The Tizi has humbled many egos but that doesn't stop Moroccan drivers from overtaking on the blindest of bends. Vertigo sufferers should consider alternative routes, or brace themselves for a stressful episode on a ribbon of crumbling asphalt that boasts more twists than Chubby Checker.
4. Moraca Canyon Road
The highway from Sarajevo, capital of Bosnia, to a country rather ominously named Black Mountain (Montenegro, in English) corkscrews through a surreal landscape of rugged summits, gaping gorges and cobalt blue lakes.
Vehicles race along perilous stretches, hem­med in by overhanging cliffs on one side and a yawning void on the other. Local drivers know the roller-coaster route intimately, which, they believe, entitles them to take liberties with the safety of their passengers. Mine juggled a cigarette in one hand, a phone in the other and used his elbows to guide the steering wheel. No wonder they say the Montenegrin scenery is "to die for".
5 Los Caracoles
Closed more often than it's open, thanks to frequent snowstorms, the Paso de los Libertadores is a busy trans-Andes highway linking the Argentinian city of Mendoza with the Chilean capital, Santiago. The section nicknamed Los Caracoles, or Snail's Pass, is a serpentine series of switchbacks that looks like a CGI-concocted mirage. Check your will is up to date; the margin of driver error is minuscule – as are the guard rails.
Other honourable mentions in the photogenic zigzag category include the Transfagarasan, a convoluted racetrack of a road known as Ceausescu's Folly, after the former Romanian dictator, and Col du Chaussy, a mountain pass in the French Alps that incorporates the infamous Lacets de Montvernier, which features more hairpins than a beauty salon.
6. Guoliang Tunnel Road
When you're virtually cut off from the outside world by high mountains and the government is unwilling to assist by blasting a tunnel to civilisation, sometimes you have to take things into your own hands. In the case of 13 villagers from Guoliang village, in Henan province, those "things" were hammers, chisels and lots of steel.
The amateur engineers also used explosives to carve a passageway through the cliffs and, after five long years and a number of tragic accidents, "the road that tolerates no mistakes" opened to the public in 1977. Gouged out of the rock to help remove rubble, 30 scenic lookout windows punctuate a remarkable 1.2km drive that is loved by sightseers, if not by those behind the wheel.
7. Trampolín del Diablo
To Colombia for the next adrenaline rush and, when a thoroughfare is known as both the Devil's Trampoline and Adiós mi Vida ("bye bye my life"), you can't say you weren't warned. The destination is La Laguna de la Cocha, a dazzling high-altitude lake, but you've got to get there first.
Built in 1930 to transport soldiers during the Colombia-Peru war, the skiddy gravel surface, visibility-reducing mist and deadly narrow turns ensured that fighting forces were depleted long before they reached the battlefield. Dangerousroads.org describes the route as "directly responsible for ending hundreds of lives" but try not to dwell on the roadside crosses marking the locations of countless fatal falls and don't even consider wolfing down a big breakfast before setting off.
8. Karakoram Highway
It's back to the Himalayas for our final candidate. Connecting Pakistan and western China, the 1,300km Karakoram Highway follows a spur of the ancient Silk Road trade route, culminating in the 4,693-metre Khunjerab Pass, the highest border crossing on Earth.
If the splitting headaches, dizziness and nausea don't get you, the monsoon rains, winter snows or summer heat probably will. Take your mind off the sheer drop-offs by marvelling at the soaring vistas, including K2, the world's second highest mountain, and Nanga Parbat, the ninth highest.
As you judder your way through northern Pakistan, fellow passengers will tell you the local Hunza people are renowned for their good health and exceptionally long life expectancy. Presumably they don't spend much time on the Karakoram Highway.