The Beyond the Streets multimedia exhibition in Los Angeles will showcase graffiti and street-art inspired artists from throughout the world. Writer Rachel Grunwell meets the curator and a husband-and-wife artistic duo involved.
'The culture of graffiti and street art has exploded," says Roger Gastman, curator of Beyond the Streets exhibition which kicks off on May 6.
This follows Gastman's successful Art in the Streets exhibition in the US — a graffiti and street art retrospective which drew a phenomenal 220,000 visitors.
Gastman is a graffiti historian, urban anthropologist and passionate collector. He co-produced the Oscar Award-nominated Banksy documentary Exit Through the Gift Shop.
He says Beyond the Streets will feature more than 100 exciting works. This will include tiny works to paintings on a grand scale, sculptures, and unique installations. The exhibition will take over 3500-plus square metres of indoor and outdoor space.
He says it's an exciting time for street art and those influenced by the graffiti movement.
Big names include Japanese artist Takashi Murakami, and artist, designer and gardener Ron Finley, whose canvas is soil.
DabsMyla, a husband-and-wife team of artists originally from Melbourne, will be among the top line-up. They have lived in LA for nine years. They do brightly coloured, playful and whimsical paintings that they create 100 per cent together. They no longer create individual works; they like their collective efforts more.
Sitting with them in their Downtown LA studio, the couple — who met while studying — explain how they create their pieces.
Their work is done with incredible planning. It's based on colour theory and they use a specific red, blue, yellow and white. They mix these colours for visual effects.
They combine complementary colours which are pleasing on the eye. Many of their playful characters and objects are repeated — in different ways — in subsequent works. This makes their artworks recognisable.
The duo has shared their work on walls around the world including Norway, London and Tahiti and collaborated with the likes of adidas to Hello Kitty.
I can't help but ask if working and living together gets tough?
"Never," responds Myla.
Dabs, the other half of DabsMyla, explains that it's not like they agree on every brush stroke. Sometimes he will just know Myla has the best approach and she might finish off a work, for instance, he says.
The couple takes me through a colour theory workshop, explaining colour harmony and how they use colours that "look good together".
As I experiment with their signature vibrant paints, I feel incredibly calm and happy. Maybe this is the secret to DabsMyla's happy marriage?
Forget mindful drawing, try mindful painting, I take note ...
Street art culture is buzzing in LA at the moment. It is becoming a huge draw card for tourism to this city. LA has more art galleries and museums than any city in the US.
I'd recommend heading to the Beyond the Streets exhibition too, in LA May 6-July 6. See the full list of artists and find out more via https://www.beyondthestreets.com
* The writer was hosted by Discover Los Angeles
* Rachel Grunwell is a lifestyle writer. Follow her via:
* Facebook https://www.facebook.com/InspiredHealthNZ/
* Insta https://www.instagram.com/inspiredhealthandfitness/.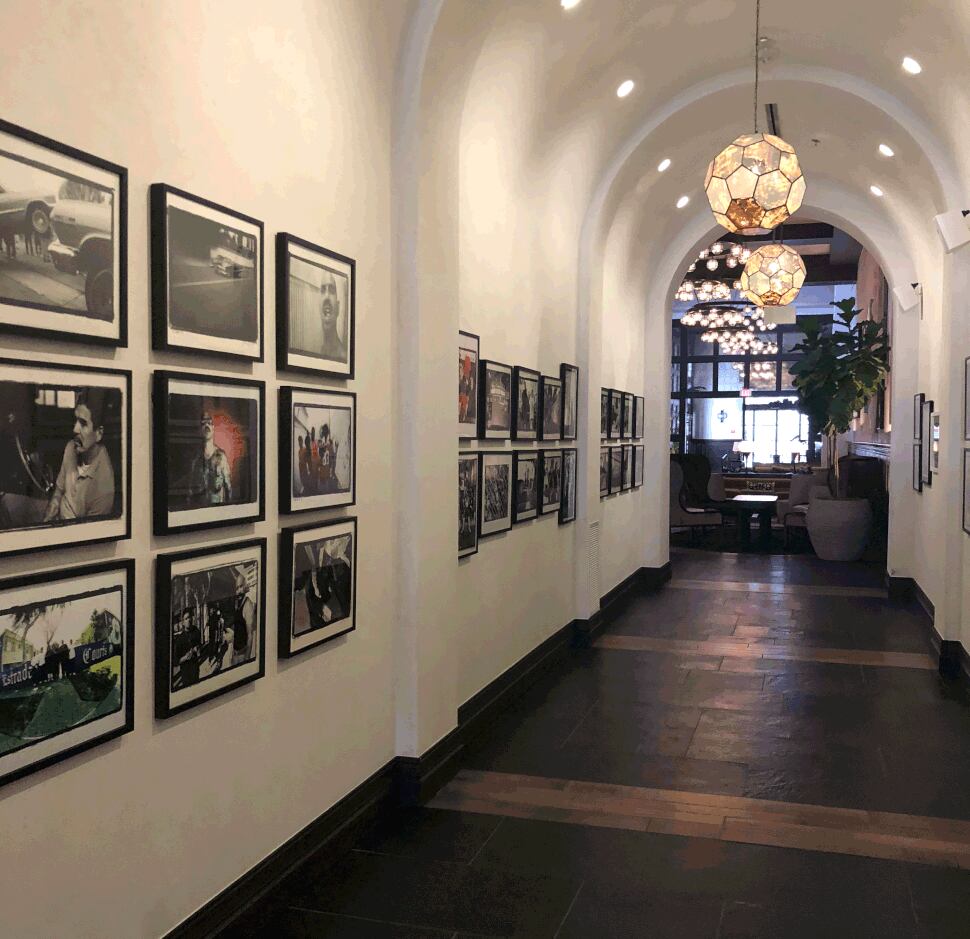 DIGS DOWNTOWN /strong>

Where to stay if you love good art, good food, and want to be in a stunning environment that boasts a bar or two and a pool? Hotel Figueroa is in Downtown LA.

It was first opened in 1926 as an exclusive women's hostel. Exquisitely refurbished in keeping with its original Spanish colonial splendour, the hotel often showcases local artists and literary collections from LA-based authors.

In a hallway, pictures reveal a behind-the-scenes look into the lives of several gangsters. The main restaurant on site is Breva, where the food is incredible, featuring fresh, seasonal ingredients with a Mediterranean twist. hotelfigueroa.com