Tracey Bond heads off on a once-in-a-lifetime trip to a luxury safari lodge in South Africa in search of the big five.
As the plane approached Hoedspruit Airport, I spotted two giraffes roaming across the landscape and excitedly turned to the man sitting across from me with a massive grin on my face. "Giraffes," I explained. He nodded sagely. This was not his first safari.
That sense of awe and wonder would stay with me for the next few days.
Hoedspruit Airport is a collection of low-lying, red-brick buildings in the middle of nowhere, bustling with travellers, and rangers waiting by safari jeeps to pick up their guests.
After collecting our luggage from outside the terminal, we met our guides: Ruan and Andre from Camp Jabulani.
This was not your ordinary hotel transfer — the safari began the minute we left the airport and drove across the road right through the manned gates of the Kapama Private Game Reserve.'
The reserve is part of the Greater Kruger National Park and home to 40 species of animals.
As we bumped along the red-dirt tracks and into the grasslands, our guides pointed out Impala (known as the McDonald's of the savanna due to their prevalence and the identifying M on their hindquarters), a family of warthogs and giraffes gracefully picking their way between trees.
On to Camp Jabulani, which would be our home away from home for the next three nights. Kapama Game Reserve has a variety of accommodation but the best bet for a full-immersion experience is to stay at one of the all-inclusive camps.
Few travellers try DIY safaris here as the latticework of tracks can be difficult to navigate without local knowledge, and — as our guides pointed out — it's not like you can pop out to the corner shop.
Our lodge accommodation included delicious breakfasts, three-course gourmet lunches with wine, and delicious dinners featuring crocodile tail, springbok and national specialties pap (a ground maize dish), braais and the spicy vegetable dish chakalaka.
Our luxuriously appointed villa (guests staying here have their own entrance and access to a private butler and chef) was decorated in warm wood and tones of the savanna.
Everything you could possibly wish for was provided — the kitchen had a fully stocked fridge and a buffet bar of dried fruit, nuts and biltong.
My room had a living room with a fireplace and a plunge pool outside the bedroom. Thoughtful touches included a universal power strip.
After lunch it was time to jump back in the jeep to see what the park had to offer.
It wasn't long before we came upon a Cape water buffalo wallowing in cool mud.
Andre and Ruan were encyclopaedic in their knowledge of the park and its inhabitants.
On the first evening, cold drinks and snacks were set out on a crisp white tablecloth in front of a watering hole.
It was the perfect, most beautiful spot to watch the sun go down as the namesake of the camp, Jabulani (meaning happiness), and his herd of elephants came home for the night.
Jabulani's herd are elephants brought from neighbouring countries who have been orphaned, abandoned or had too much interaction with humans.
Twice, Jabulani has been returned to the wild, and twice he sought out the company of humans, on one occasion frightening a local farmer, who nearly shot him.
Now he and his herd are accompanied by rangers for most of the day to prevent them from straying too close to humans or wild elephant herds, and each night they come back home to their own camp.
It was pretty magical seeing them arrive back at the waterhole as the last of the suns rays set. The herd adds a special aspect to this safari as a stay at camp Jabulani offers chances to see the elephants returning home, swimming or, for the more adventurous, a bush walk to track the herd and see them going about their day.
As darkness set in, it was time to clamber back on to the jeep — with drinks in hand — to experience and hear the savanna at night.
On a wide, open plain we came upon herds of zebra grazing and from afar saw a hyena slinking off into the undergrowth.
As we were heading back to the lodge for dinner we pulled to an abrupt stop as Ruan bounded off into the bush.
Back he came, cradling a small, green chameleon, who seemed perfectly happy to sit in the palm of my hand, his little feet curling tightly around my finger and no, he did not change colour, a sign that he was perfectly content where he was.
There was one more treat in store for our group.
The rangers got word on the radio that there was a lion nearby, and suddenly there she was, sashaying by our vehicle, glancing up as she went past.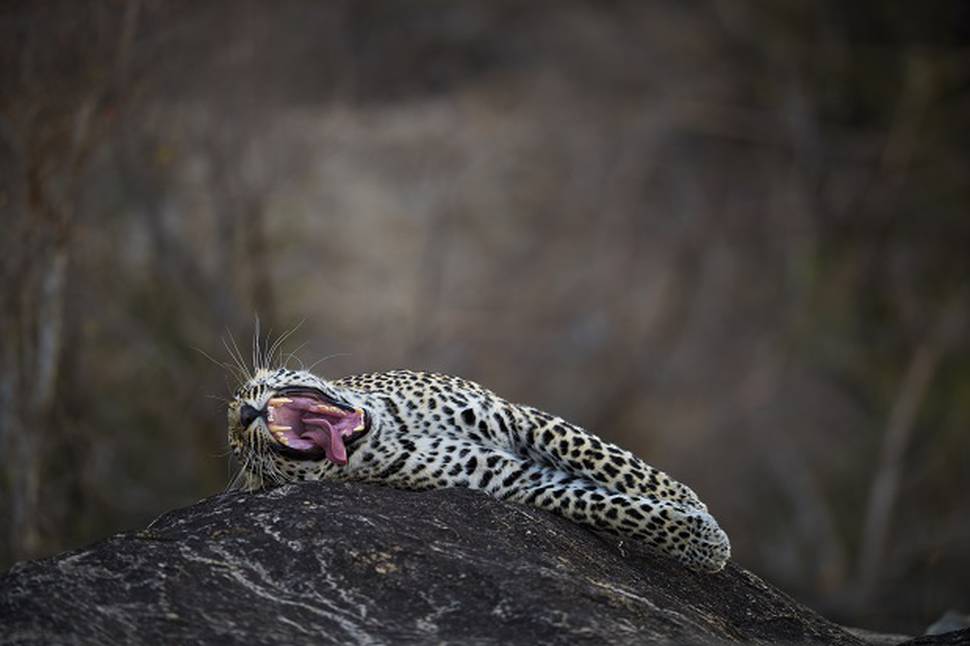 Back at the lodge, there was a warming sherry and a roaring fire (nights and early mornings on safari can get cold, so packing a hat and warm clothing is a must — although thick fleece blankets are provided).
After a fabulous dinner with delicious wine and good company, it was back to our villa and my dreamy four-poster bed. I was awoken in the early hours by the spine-tingling roar of a lion near the lodge. An electric fence rings the property but that doesn't always stop animals from getting inside the boundary, which is why you are always accompanied back to your lodgings by a ranger.
On day two, after a breakfast fit for a king, it was back out to try to spot the big five (the African lion, elephant, leopard, Cape buffalo and rhino). The magical thing about going on safari is no two days are ever the same.
"It's a giraffe jam!" declared Ruan as our progress was halted by several giraffes on the road.
A small herd of white rhinos awaited us around the next corner. Poaching is still a major problem here and although the park carries out a regular census of its population it does not publicly release figures.
"Whenever there is human and animal interaction, the animals will always lose," explained one of our guides.
In the afternoon we made our way to the Hoedspruit Endangered Species Centre (HESC) to learn about the conservation work that takes place in the park.
HESC has had great success with breeding cheetahs and releasing them back into the wild. The centre is also home to injured and orphaned animals including a leopard cub whose mother had been killed by poachers.
The malinois or Belgian shepherd is crucial to the work the centre does in tracking and catching poachers.
HESC is a great place to see animals up close as well as stop for a bite to eat or pick up souvenirs — all proceeds go to the centre and support the work they do.
On the drive back from the centre, we came across two lionesses sprawled in the sun, unperturbed by our presence.
With them was a cub, who peeked uncertainly from behind the safety of a bush to figure out if we posed any danger.
One of the most memorable moments of many on this trip took place shortly after sundowners on the second day.
After watching the sun go down from a spot by a stand of majestic marula trees, we discovered two young male lions and a female, lying beside a waterhole.
It was obvious from their groans and protruding bellies that they had just eaten, but watching the trio as the skyline behind them was lit by flashes of lightning from an approaching storm is a memory that will stay with me forever.
We made it back to the lodge just in time before the heavens opened.
The rains from the night before worked in our favour the next morning as we set out on the final day of our safari adventure.
We spent 20 exhilarating minutes following a pair of male hyenas — our guides (who were as excited as us at getting to see these elusive creatures) explained that hyenas hate getting their feet wet and, with the grass still soaked from the night before, they were using the same tracks as us to travel on.
Still buzzing from our hyena encounter, we travelled into a different area of the park in search of a herd of wild elephants.
"The trick is to let the elephants come to you," explained Andre, as we waited patiently in a clearing, listening to branches snapping as the herd moved closer.
Then suddenly we were surrounded as elephants moved past us, trunks raised, scenting us. Then came a new baby, just a few weeks old, trying to keep up with his mum; others arrived next to us, stripping foliage from trees, while across the way two youngsters tested their strength against each other in play.
Finally, came the bull of the herd, moving with purpose along the track. We were in his way.
He paused, allowing us to reverse rapidly out of his path.
It was the perfect way to end our time on safari.
I left feeling that three days wasn't enough to experience everything fully, and made a promise to myself that, like the man on the plane, I would return one day.
Checklist
GETTING THERE
flies from Auckland to Johannesburg, via Sydney, with return Economy Class flights starting from $1645.
DETAILS
For further information to plan a trip, go to southafrica.net/gl/en.
ACCOMMODATION
Camp Jabulani runs all-inclusive luxury safari stays.