Rediscovering Rotorua, Jennifer Dann finds it is a place where the whanau can enjoy a whole lot of adventurous fun during a weekend break.
As pre-teen hormones make their presence felt in our family, my husband and I are keen to connect with our kids by sharing some memorable experiences before we're too uncool to be seen dead with.
Rotorua is the perfect weekend getaway for our adventure-loving Auckland family. Our kids, aged 12, 9 and 7 are an active bunch who love being outdoors especially when it involves getting wet and muddy, so there's loads of options to choose from.
The lakeside tourist resort with its lush forests and boiling geothermal parks seems as exotic to our city kids as it does to overseas visitors, so it's a treat for us to rediscover the place through fresh eyes.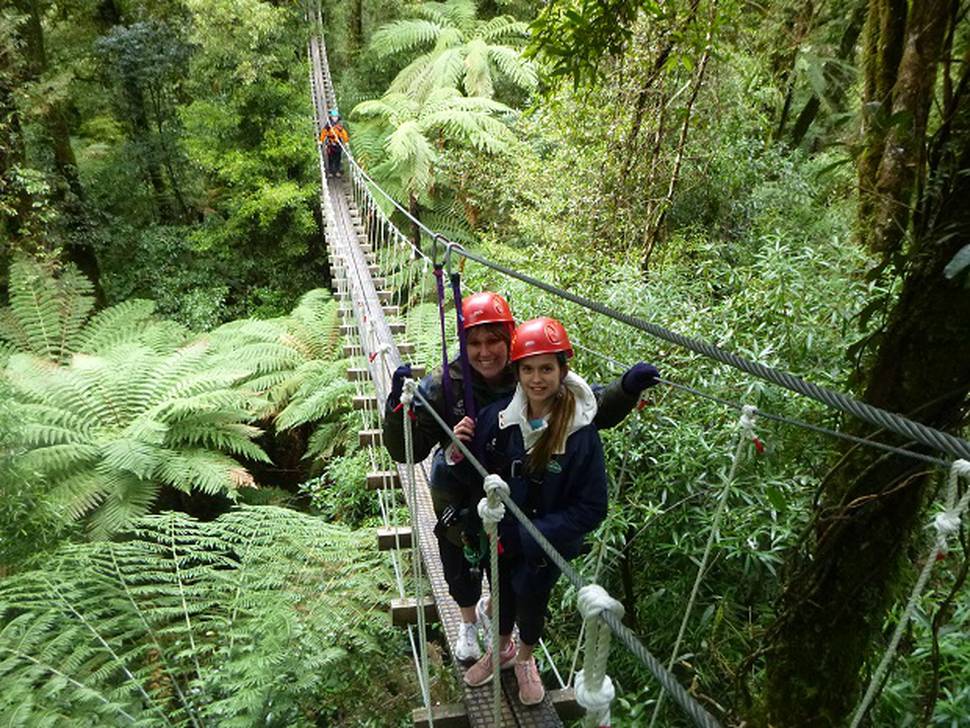 We managed to enjoy eight different attractions in one long weekend by splitting up for some so each parent could spend one-on-one time with a child as well as having fun as a family.
What better way to have fun with your kids than by getting completely coated in mud? The highlight of our trip was sinking into a warm pool of silky grey mud after touring this active geothermal park on the outskirts of Rotorua. We smeared ourselves up to the eyes in the luxurious natural balm before rinsing off and stepping into a medicinal sulphur spa as night fell over the steaming moonscape around us.
Named Hell's Gate by visiting playwright George Bernard Shaw, the park has been sacred to local Maori for over 700 years. We spent over an hour walking the paths of the well-signposted site reading about the science and legends of its hot pools, steam vents, mud volcano and a 40C waterfall where Maori warriors bathed after battle to heal wounds and remove the tapu of war.
Combo package; includes geothermal walk, mud bath and sulphur spa; $215 per family of four
Rotorua Canopy Tours
Zip-lining through the towering treetops of the ancient Mamaku Forest is a breathtaking experience.
Guided by two passionate local ecologists, my daughter and I spent an inspiring three hours learning about native birds and trees as we traversed a network of zip lines and swing bridges connecting platforms perched 20m high in the canopy of 500-year old forest giants. Rotorua Canopy Tours deserves its NZ Tourism 2016 Supreme Award win.
The company has invested $250,000 eradicating pests in order to restore birdsong to one of the North Island's last remnants of untouched native forest.
My 12-year-old was delighted by a close encounter with a native robin which alighted on her hand to eat a grub she'd been given.
Immersed in the wonder of nature, it's impossible not to care about its conservation.
Family package; three-hour guided tour plus transport; $508 per family of four (minimum age 6 yrs)
Agroventures Adventure Park
The need for speed and plunging from great heights is easily satisfied at this adventure park bringing together five rides on one site. Leap from a bungy or a 40m-high super swing; freefall in an outdoor wind tunnel; hoon around a man-made river in a jetboat or race the Shweeb — a pedal-powered bubble suspended from a 2m high track.
Our family shared a pack of 10 rides. We donned winged flying suits for the intense Freefall Extreme. I braved the Swoop and had the best belly-laugh when the AgroJet driver spotted my sons standing in the splash zone and politely asked whether I'd brought spare clothes before tearing past and knocking them over with a massive wave.
Family 8 Share Package; Choose eight rides for $205
Mountain Bike Rotorua
From man-made thrills to natural ones, mountain biking the famous Whakarewarewa Redwood forest trails was probably our riskiest activity. Thankfully the extensive trail network is well sign-posted for all ability levels. Even our 7-year-old managed the mildly challenging slopes and bumps of the beginner's track. Our guide told us 80-year olds have done it on electric bikes.
Most of the mountain bikes available for hire here are worth more than our car and we discovered the advantages of full suspension. Rain is no obstacle as these well-maintained tracks dry fast. Our exhilarating 1.5 hours of mud-splattered exertion was followed by a round of well-earned hot chocolates back at the bike hire base.
Bike hire for two hours; Adults bikes $60 (full suspension), kids bikes $20 (includes helmets)
3D Trick Art Gallery
The best way to spend a rainy day in Rotorua and improve your social media popularity is at New Zealand's first 3D trick art gallery. A popular concept imported from Korea and Japan, the gallery is filled with over 50 art works designed to create the optical illusion of being 3D when you're photographed "inside" them. We spent a couple of hours playing with perspective to transform ourselves into giants or babies for the camera.
The best fun comes from hamming up your horrified expression as you appear to cling to a precipice or be swallowed by a monstrous beast, then sharing the photo to give friends a giggle.
You can while away even more time at the fireside buffet which offers sushi and Korean bibimbap as well as traditional hot dinners.
Family pass; $69 (per family of four)
David Trubridge is world famous for his lantern designs inspired by nature and made sustainably.
The Hawke's Bay designer has partnered with Redwoods Treewalk to create a unique nocturnal experience. Over 30 of his bespoke lanterns illuminate the majestic redwood trees, ferns and punga as you walk around suspension bridges traversing the treetops. Our kids loved the magical hush of the forest lit up at night. My daughter described the experience as being "like meditation".
Family pass; $69 per family of five. Under 5s free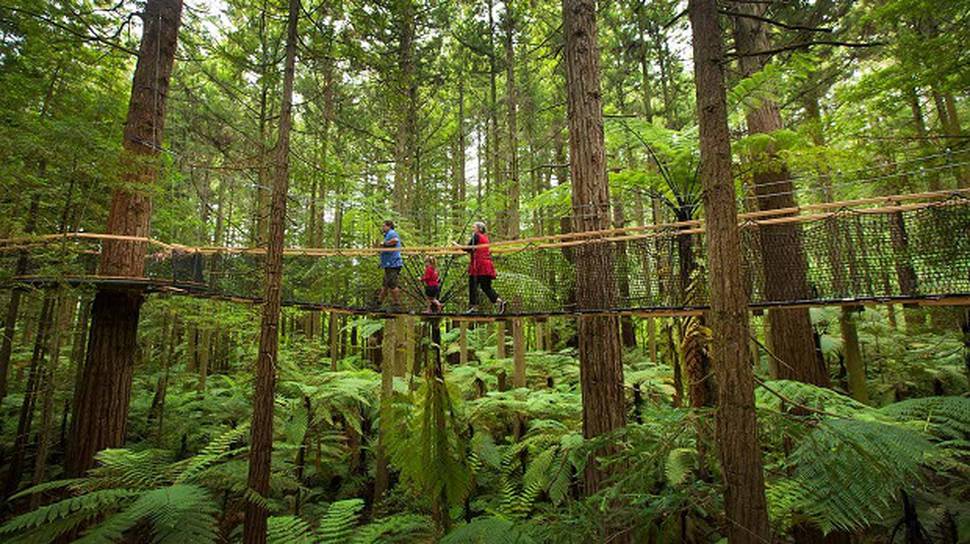 Paradise Valley Springs Wildlife Park
AC/DC drummer Phil Rudd once lived next door at his angora goat and deer farm and was "a very good and sociable neighbour" according to a sign at this former trout sanctuary, now mostly a petting zoo with some lions on the side. Our 7 and 9-year old boys were suitably impressed with the lions and loved feeding the alpaca and farm animals but their favourites were the sleek fat rainbow trout, observed through the window of an underground cave.
Family pass: $82.50 family of four. Under 5s free
Skyline Rotorua
I'm always surprised by how much kids enjoy a good view. Every time we take them up a mountain or a gondola they get a kick out of seeing the world laid out from above.
The iconic view of Lake Rotorua from the Skyline gondola is according to my kids a "must see"; tearing down the hill on the Luge go-karts a "must do" and consuming a box of novelty jellybeans at New Zealand's first jellybean concept store is a "must eat".
You can also zipline, sky swing or dine at the Stratosphere restaurant while enjoying the panoramic views. We shared a 10 pack of Luge rides between five, but two rides each wasn't enough so we bought an extra round of rides up there.
Family pass for unlimited Gondola rides + 10 Luge rides + one box of jellybeans; $129
CHECKLIST
Getting there
Rotorua is 3 and a half hours' drive from Auckland, or you can fly with Air New Zealand, which takes 45 minutes.
Details
rotoruanz.com