On an evening expedition in central Madrid, Anna King Shahab is won over by the sights and tastes and ends as full as a gordo olive.
As dusk settles in and restaurants and bars roll up the doors to welcome their first evening customers, our group sets off from Madrid's medieval square, Plaza de le Villa, to explore a variety of the city's food offerings. We have just the one night in this city and we want to make the most of it.
We soon stop outside the entrance of Corpus Christi Convent — locally known as El Convento de las Carboneras because the cloistered nuns here worship the image of the Virgin Mary discovered by local kids in a pile of charcoal. If holy images aren't quite your thing, the convent may still interest you: the nuns sell traditional Spanish sweets through an old-school vending system — you put your money in and push the drawer in, they put your sweets in and push the drawer back out to you. However, we've missed tasting the nuns' handiwork as the clock's just gone 6.30pm.
Mercado San Miguel beckons next. Think a big artisan food court, an overgrown Ponsonby Central, but with more of an eat-at-the-bar vibe. Wandering from counter to counter, we check out each shop's specialty.
First we go for a selection of local olives — the gordo (fat) olives stuffed with lomo (cured pork loin) are especially delicious — and the pinxto of the house, the simple Gilda.
Originating in San Sebastian but now popular throughout Spain, the Gilda is named for Rita Hayworth's famous character: a pickled pepper, an olive and a white anchovy cosy up on a toothpick — extremely moreish (I think that's the Rita connection) with a glass of Vermouth Reus. We move on to a cheese specialist and order a glass of chilled, crisp Albarino, which we sip while we gobble five cheeses from different regions with accompaniments. We taste Carrat from Cataluna, Idiazabal from San Sebastian, Peral blue from the famous Asturias cheese caves, Afuega l'Pitu — also from Asturias, and my absolute favourite — a goat's cheese from Malaga.
Entering the heart of the historic La Latina quarter, our Urban Adventures tour guide Andrea slips in a quick detour before our next culinary installment. Opening a gate into the courtyard of a private apartment building, she shows us the remains of 12th-century city walls, standing in this incongruous setting in all their pockmarked glory. Public access to this spot is legally entitled, but you need to know where to go.
Next door, at the bustling Casa Lucas, our feast continues with pinchos La Manchas — bread topped with pisto (Spain's ratatouille), quail egg and crisp pieces of Serrano ham, and rabo de toro (oxtail) stew, matched nicely by a glass of Ribera del Duero, a temparanillo made in Valladolid.
Winding our way back to el centro we pass the colourful window display of Casa Hernanz, where they've been handcrafting espadrille shoes since 1845, and the handsome Baroque Basilica San Isidro, before managing to nab one small table in the heaving La Campana.
Here, the specialty are the bocadillos de calamares — half-baguettes stuffed to overflowing with freshly floured-and-fried calamari. Excellent washed down with a glass the local brew, Mahou.
Our last savoury dish for the night is a few minutes' walk away at Casa Labra, where the crowd spills out on to the street gathering around standing tables. Since 1862 they've been serving solely (or codly . . . sorry!) salted cod two ways: fillets or croquettes. Deep-fried is always more delicious so we opt for the latter, crisp-on-the-outside croquettes oozing with cod-spiked white sauce. No doubt the communal enjoyment of these, and a few vinos tintos, had something to do with the formation of the Spanish Socialist Party here in 1879.
To finish on a sweet note, Andrea takes us down a lane and into the charmingly mirrored and antique-tiled Casa de las Torrijas, a restaurant that does what it says, specialising in torrijas. Think sugar-coated French toast, but you can opt for a milk-only version or a pimped-up wine and spice-soaked version. Of course, we order both, and struggle to make a dent in it; not that it's not delicious, but we're already mightily stuffed, like those gordo olives, ready to be rolled back to the hotel.
Madrid has surprised me. For a sprawling city, the heart of the place is small, easy to navigate and very pedestrian-friendly. And, in a way that reflects the way Spanish hospitality goes in general. Rather than fall into that common cosmopolitan trap of wanting to be all things to all customers, it seems to us, in our short time here, that Madrid's proprietors prefer to stick with the things they do best, those dishes they've perfected over decades (sometimes centuries). No fuss, simple food that's best enjoyed with a bunch of friends and a belly full of laughter.
Salud to that.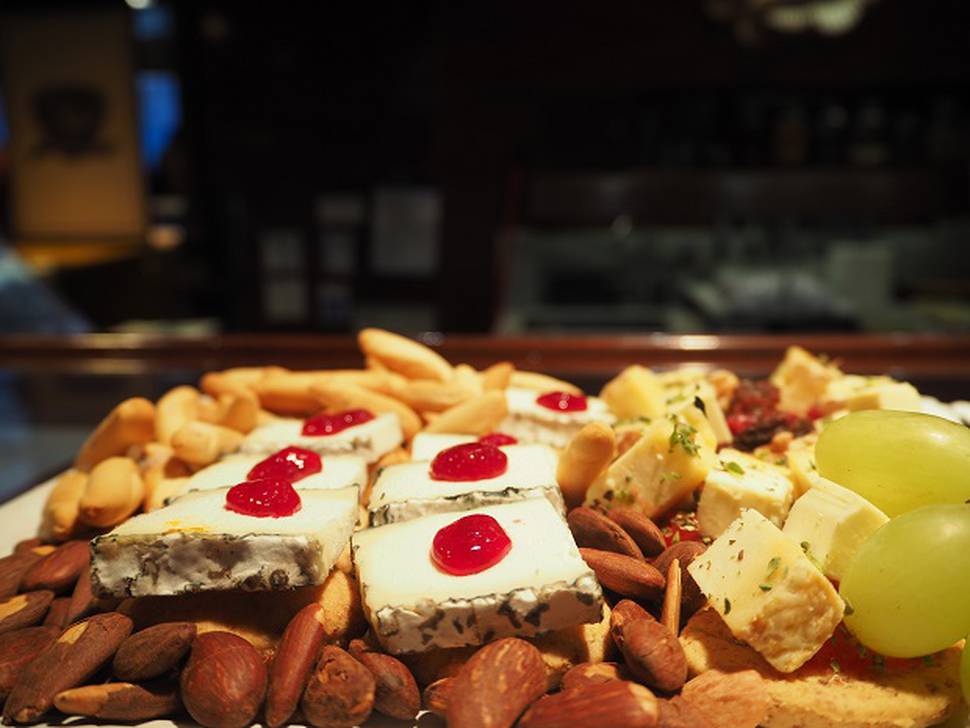 GETTING THERE
Cathay Pacific flies to Madrid, via Hong Kong, with return Economy Class fares from $1489, on sale until February 27. cathaypacific.com
Urban Adventures is the city-specialist arm of Intrepid Travel, with tours in more than 150 cities around the world. urbanadventures.com