Charismatic Motutapu is for the birds, writes Elisabeth Easther.
Motutapu is a remarkable island. Not only is it one of the oldest landforms in the Hauraki Gulf, it's connected by a causeway to the youngest, Rangitoto, which exploded on to the scene a mere 600 or so years ago. Covering Motutapu in a thick layer of ash, Rangitoto was destructive but the eruption also added a certain something to the soil, and today Motutapu is Auckland's largest pastoral farm. With pretty bays, walking trails and a small campground, thanks to an ambitious restoration and conservation programme that relies on volunteers, Motutapu is also home to burgeoning populations of vulnerable native species.
IN A NUTSHELL
For most of its 178 million year history, Motutapu was a haven for birds and trees. When Maori arrived in the 1300s, they put down roots, naming their new home Motutapu-a-Taikehu, the Sacred Island of Taikehu, with 300 archaeological sites still evident today. Fast-forward to the 1930s, when a second world war looked imminent, battery emplacements were installed, with bunkers still peeking hobbit-like out of the grass today. An impressive, moderately spooky, network of tunnels is excellent fun for exploring.
THE MOTUTAPU RESTORATION TRUST
Formed in 1993, The Motutapu Restoration Trust works tirelessly to create a pest-free habitat for native creatures. Thousands of volunteers have planted 100ha with more than 450,000 trees, creating a fruiting-forest supermarket for birds. Home to a 20th of the takahe population and about 40 Coromandel brown kiwi, the trust aims to introduce 50 kiwi a year for the next five years. Looking to recreate the natural and cultural landscape of the past, the seeds of this ambitious project germine, bringing long-lasting benefits to Auckland.
FLORA AND FAUNA
Covering more than 1500ha, much of Motutapu is farmed, with significant areas focused on restoration, demonstrating how farming and conservation can make surprisingly good bedfellows. Expanding stands of native bush provide a habitat for kiwi, takahe, korimako (bellbirds), kakariki (green parakeets), pateke (brown teal ducks) and tieke (saddlebacks) as well as five species of gecko and skink. There are also several "weta hotels" where you can open wooden shutters and gaze at these ancient insects through perspex windows. Predator-free since 2011, do check your bags for stowaways before boarding the ferry and always give your shoes a good scrub to prevent kauri dieback.
WALKING AND SWIMMING
The island's most popular tracks are the Rotary Centennial Track (a two-hour loop), the Wetland Walk (3.3km one way) or the Motutapu Farm Walkway (4.2km one way) that connects Home Bay to Islington Bay. As for swimming, depending which way the wind is blowing, Home Bay is usually sheltered, or follow the Wetland Track north to pristine Waikalabubu Bay. And if one day simply isn't enough, pitch your tent at the Home Bay campsite (bookings required).
VOLUNTEERING ON MOTUTAPU
Visiting recently as a volunteer, I joined a group of extreme weeders to do a grid search of a section along the Rotary Centennial Track. Fitted out with gloves, I was also armed with secateurs, a small saw and a bottle of pesticide. Sometimes on foot, sometimes on hands and knees, we fossicked along the forest floor, seeking out mothplant vines. Once I was confident identifying them, adult and infant, I relished each act of search and destroy. Grovelling in the undergrowth with an eclectic group of weeders, tieke and korimako sung above us, and the task offered a novel perspective. And not only did I have a most enjoyable encounter with nature, I also made the world a marginally better place.
HOW TO JOIN IN
Every year, thousands of volunteers toil on Motutapu, sowing seeds and pricking out seedlings in the impressive nursery — the island's engine room — with winter for planting trees and the rest of the year for maintenance and weeding. Popular with schools and corporate groups, it's also easy to volunteer on your own because the sorts of people who give their time to nature tend to be warm-hearted. Vanessa has been volunteering for 14 years and she reckons working among the trees feeds the soul. "Every day is an adventure, it's always different and I love what it's doing for the future."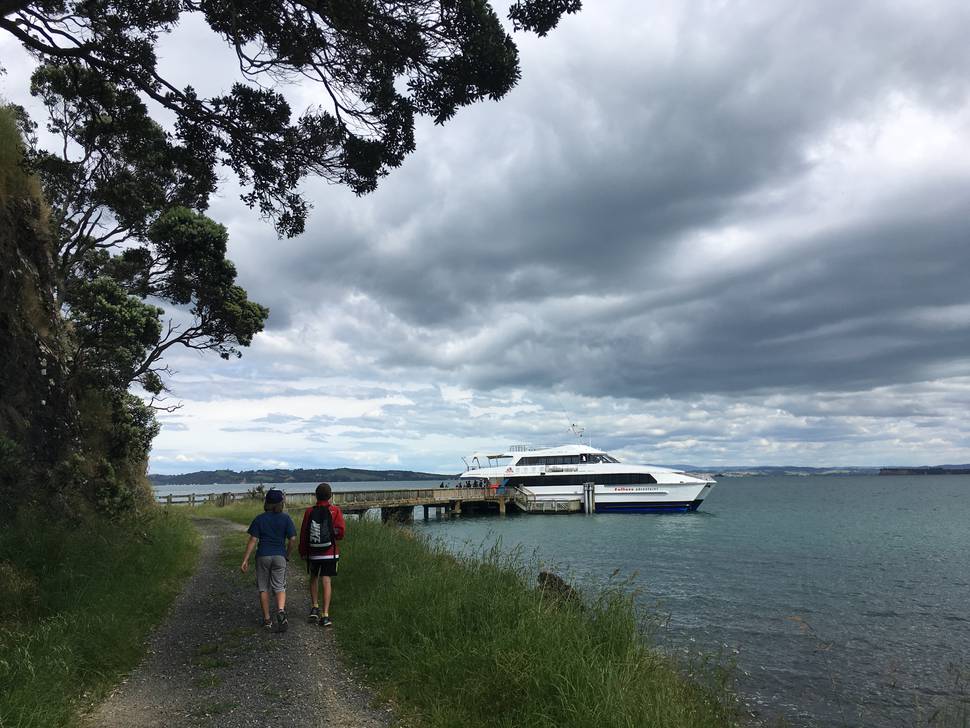 Getting there
Fullers Ferries operate a handy service that departs from Downtown Auckland via Devonport twice a month on volunteer Sundays.On other days, take the Rangitoto Ferry then walk over the causeway, although it'll take about three hours so be swift.
Challenge yourself
Planning ahead? Pop March 24 in your diary. It's the day when runners, walkers, mountain bikers and triathletes converge on Motutapu to take part in The Dual. This annual fundraiser includes a 6km run/walk to a full marathon, even a triathlon, with options for all levels of fitness. Not only are you racing in a remarkable setting, you're also helping to save it.