Sadie Beckman sets about brunching, lunching and imbibing
If you are looking for a community-minded neighbourhood where the locals are friendly, streets are clean, art in many forms turns up on every corner and there are leafy residential roads, the last place you'd expect to find it would be right in the middle of crazy, busy, infamous Los Angeles, right?
Yet West Hollywood - affectionately known as WeHo - is all of these things, as well as the epicentre of glamour, wealth and history associated with LA's movie and music industries.
This unusual dichotomy is not what I expect as I arrive on the famed Sunset Strip and check into the sumptuous new hotel The Jeremy West Hollywood on the corner of La Cienega Boulevard.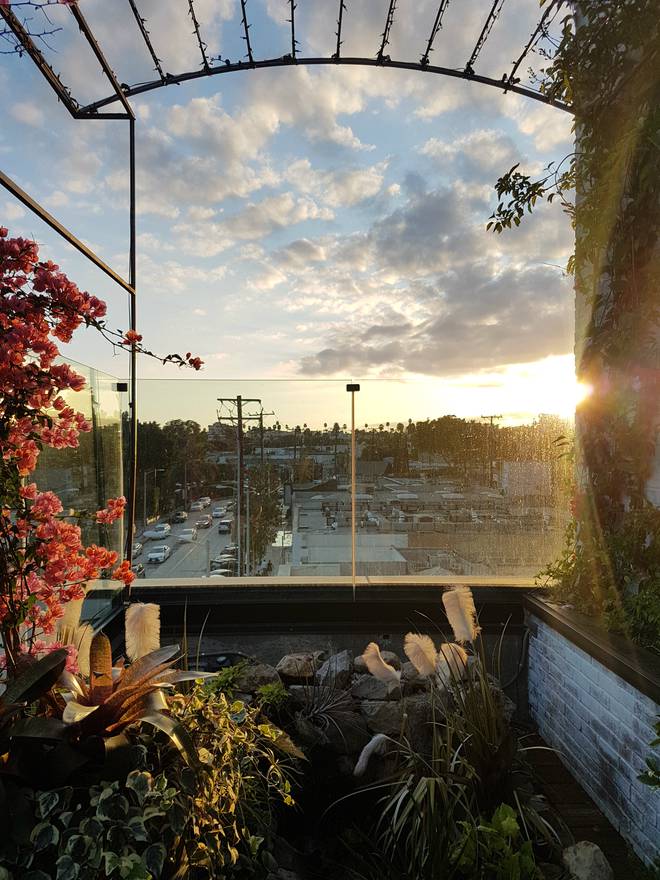 The first "ground-up build" on the Strip for 30 years, The Jeremy is modern luxury without pretence. The funky lobby is filled with furniture arrangements that make you feel you are in an upmarket interior design store, while around the corner the hotel bar ramps up the glam factor to remind you just where you are. Admittedly, that's hard to forget, with a panoramic view of the city out of the picture windows and also from my room, a well-appointed King Skyline with fixtures and fittings so new they appear to have never been used.
Outside, a never-ending stream of traffic is dwarfed by mega billboards that take up entire sides of enormous buildings, and while there is plenty of neon around, little havens for dining and shopping are tucked in-between. It creates a village atmosphere, and just a block or two back from the main drag are airy apartment buildings on peaceful-looking streets.
Just east of The Jeremy, a cluster of famous hotels exude modern luxury mixed with nostalgia, including the Sunset Tower, an Art Deco building that has seen more celebrities than you can shake a stick at, and the more-modern Mondrian, bursting at the seams with glamour and quiet affluence. Its rooms are styled with an Alice In Wonderland theme, and there's an ornate giant swing in the lobby - this is La La Land we're talking about.
On my first afternoon in the city, I am escorted on a walking tour of the Sunset Strip, which is a great way to get orientated. Although the multiple lanes of rushing traffic, largely luxury cars, were off-putting at first, the Strip has lots to offer on foot - WeHo is known as "the most walkable city" in LA, which almost everyone I meet makes sure to tell me. And it is seen as an entirely separate city, with very clear boundaries and its own local authority. More than 40 per cent of the population identify as LGBTQ, and some of the pedestrian crossings are painted in rainbow colours, reflecting the diversity and liberalism that can be found here.
While Sunset Strip is packed with life, it is also part of a main route through the city - Sunset Boulevard runs to the West Coast's Santa Monica and Venice Beach in one direction, and down to Hollywood in the other.
Perhaps for this reason, WeHo locals claim nearby Santa Monica Boulevard as their main street, and you can spot them sporting expensive sunglasses, effortlessly casual but upmarket style and well-groomed dogs in the cafes and restaurants. Brunching, lunching and imbibing seem to be the main way to spend your time in WeHo, so the diligent person I am, I set to.
Catch LA is a new addition to WeHo, and it's one of the hippest joints in town. At any given time, I am told, this restaurant can be crawling with celebrities, producers and people in "the industry", networking in the rooftop garden. The place is so cool, the owner has apparently turned down multiple requests from the Kardashians to film there, as he doesn't want to lower the tone.
It certainly lives up to the hype, with exquisite dishes based around a seafood theme and delicious cocktails. Mine is served in a beaten-copper goblet, which is a first.
Feeling suitably chic (especially as there are paparazzi hanging around outside), we retire to E.P. and L.P, another venue enjoying patronage by the in-crowd. The rooftop bar is packed, the music is good, and glass of rosé in hand, I luxuriate in the warm California evening breeze and the feeling you always get when you realise you are on an entirely different part of the planet.
The next morning, a short stroll takes us to the Mondrian, where brunch is served near a gorgeous pool. Mexican influences show up on many menus, as is the case here, where the brunch options are very different from those back home.
Not quite brave enough for the giant bowl of corn chips and spicy salsa a couple of my companions choose, I have a tasty crab-cake Benedict, before heading off to check out La Peer, an under-construction hotel that is shaping up to be one of WeHo's next hotspots. Juliet balconies, artistic touches and some excellent design features stand out, while watermelon mimosa cocktails on the roof help me envisage the finished product.
The afternoon calls for "pool time" and we settle in at the rooftop pool of Petit Ermitage, yet another gorgeous boutique hotel with whimsical, Spanish decor and, slightly worryingly, a large jar on the reception counter labelled Quaaludes.
Sticking to the sparkling rosé, we while away a few hours, before the sun sinks and it is time for dinner.
Rosaline is another LA restaurant frequently on "best of" and "don't miss" lists, evidenced by the bar crammed with people waiting for a table.
Ours is ready and, followed by the envious glances of the waiting masses, we are whisked off and treated to a Peruvian feast.
Describing itself as "the next phase of Peruvian dining", Rosaline is a triumph of street-food fare made fancy, from the delicate small plates to the huge steaming dishes of paella that arrive on the table, it is an authentic and mesmerising experience from beginning to end.
Karaoke follows at Chinese-style underworld bar Blind Dragon, where my Australian companions smash the obligatory rendition of Land Down Under, and happily fulfil a cliche for our American hosts. With the world set to rights, everyone rolls back to The Jeremy to sleep it off.
Exploring more of that Mexican theme, the next day sees us brunching at Gracias Madre in a beautiful outdoor courtyard, where my earlier resolve to lay off the beverages until at least after midday is quickly quashed by welcome drinks of prosecco. The restaurant is completely vegan, but absolute wizardry must go on in that kitchen, because the menu is full of non-vegan-sounding items that are incredible imitations. Who would have thought jackfruit can be made to taste like crab? I also try one of their special margaritas, which, thanks to California's decriminalisation of marijuana, seems to have cannabidiol in it - the part that is supposed to make you relaxed but not stoned. The cocktail is tasty, but I can't really tell if I feel anything - the sunshine, prosecco and general good vibes could be equally responsible.
Either way, our group is merry as we walk off brunch exploring WeHo's Design District before, at night, getting our grunge on at the famous Rainbow Bar and Grill - a favourite haunt of many a rocker, the place John Belushi ate his last meal, and also where Marilyn Monroe showed up very late for her first date with Joe DiMaggio.
Next morning's fitness class at SoulCycle - a super-hip spin-biking franchise that has achieved almost cult-like status in the US - sees every drink from the night before flash before my eyes, while the sweat runs into them.
Seventy bodies spinning away in a dark room with pumping music and an instructor who coaches us with evangelical fervour, and more meme-worthy motivational slogans than I have ever heard in one place before, leave me unsure if I have just experienced therapy, religion or exercise, although the two-day thigh-burn afterwards could certainly count as penance.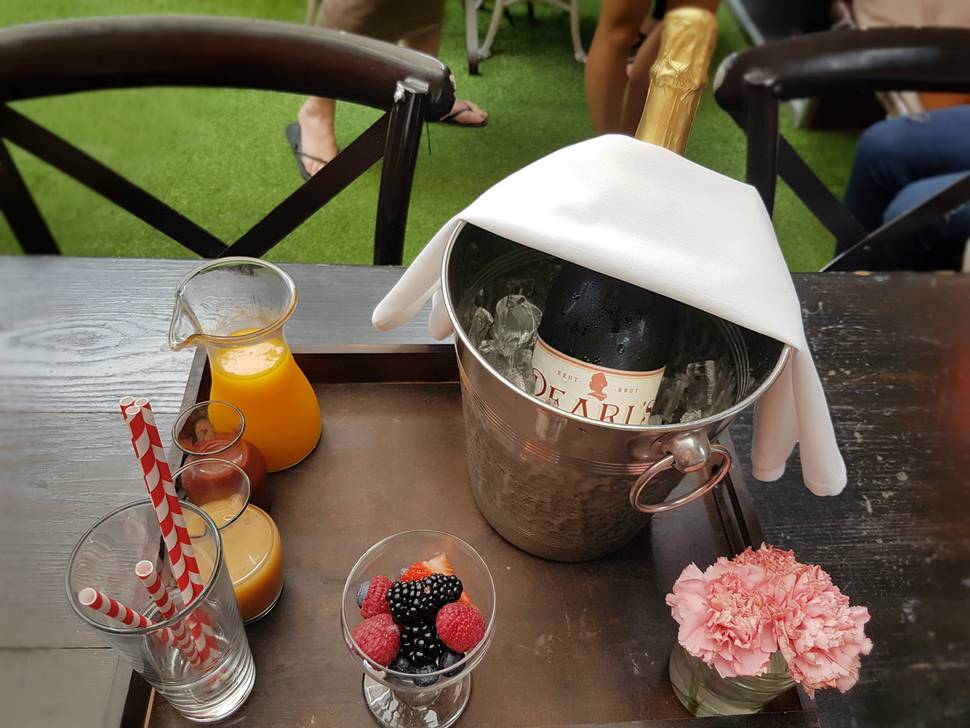 A visit to Pearl's on Sunset helps ease the pain, especially when the signature mimosa "kit" (think berries, fruit nectars, crystal flutes and bottomless champagne) arrives.
From there, an eye-opening afternoon at WeHo's gay mecca The Abbey Bar keeps us entertained. All day, male go-go dancers in shiny rainbow undies gyrate on podiums throughout the huge bar, and the fashion is just so, well, fashionable. I can't believe how packed the place is on a Sunday afternoon, but there is a really relaxed and happy vibe that I wouldn't normally feel in a place with that many men drinking together. A no-threat scenario perhaps.
That evening it is off to Craig's restaurant on Melrose Ave - celeb-spotting HQ apparently, although despite it being Emmy Awards weekend I don't see anyone recognisable. A blinding burst of camera flashes goes off outside at one point when some guys in suits leave, but to my untrained eye they could be anybody. The food is good, however, - a swish experience, with tablecloths and sumptuous decor.
Monday sees me exploring Runyon Canyon Park, a popular reserve on the hills behind Hollywood. My guide is Danny Roman of Bikes and Hikes LA - a popular eco-tourism company, which does all kinds of tours, walks and hireage of bicycles and electric bikes for those who might want a slightly more active way to check out the sights than from an Uber.
Lively and extremely personable, Danny points out all kinds of interesting things, including that there are wild coyotes living in the park. The arid, desert scenery reminds me about LA's geographical location, and the lush, green gardens of the houses visible on the expensive Hollywood Hills are an obvious product of watering, gardeners and money.
On the way back to town, Danny lets me drive his Maserati - my first experience with a left-hand-drive, which luckily goes well and turns out to be a highlight, especially compared with my trusty Nissan back home.
In the afternoon I take a ride through wealthy areas, where film stars' homes are tucked away behind security gates and most of the cars have tinted windows. Unfortunately it isn't a Maserati this time, instead an open-sided bus belonging to Starline Tours.
It's the most touristy I have felt, as the driver loudly regales us over the speakers with tales of which famous person lives in which house, and the gawping passengers dutifully click away with their cameras, but it is actually a great way to get a bearing on the city.
The tour begins and ends on the Hollywood Walk of Fame, so dodging tourists photographing the starred paving slabs underfoot and marvelling at the majestic Chinese Theatre, I make my way back to The Jeremy to wrap up what has been a whirlwind trip of hedonism, brunches, culture shock, affluence, laughter and margaritas.
Yet to mentally process the last few days, I head out to Los Angeles Airport for the flight home, where I collapse into my seat, wonder what the hell just hit me, and sleep almost all the way back to a little city in New Zealand that almost got nicknamed Wellywood - and where it truly is another world.
Checklist: West Hollywood
GETTING THERE
American Airlines flies from Auckland to Los Angeles, with return Economy Class fares starting from $1100. aa.com
ACCOMMODATION
For information on room rates and availability at the Jeremy, go to jeremyhotel.com.
ONLINE
visitwesthollywood.com

Clockwise from above: Runyon Canyon Park; looking across LA from The Jeremy's rooftop; mimosa kit at Pearl's; poolside at The Jeremy hotel in West Hollywood.
Pictures / Sadie Beckman