A roadblock leads Jim Eagles to an antiques fair and a distinguished selection of kepi Chateau Chambord.
Would you believe my peaceful cycling trip to see the magnificent chateaux of the Loire Valley was disrupted by the French Foreign Legion, a fox, a panther and some sausages?
No? You don't believe me? Well, then, I better tell the whole story.
We - my wife Chris and I - were on a UTracks self-guided cycling trip in the Loire Valley.
That morning we had left the medieval city of Blois, with its royal chateau, heading along the banks of the Loire River towards the equally venerable town of Amboise, with its even more royal chateau.
Our route took us across the river, providing marvellous views of Blois with its chateau, cathedral and abbey, then along the bank, past meadows of multi-coloured wildflowers, great fields of wheat and barley, picturesque villages, ornate roadside crosses, a cluster of allotments sprouting colourful scarecrows and a lonely yellow sunflower glowing in the middle of a sombre landscape of grain.
Once, we took a detour to check out a strange circular house, with an angled roof and a small chimney, which looked like the sort of place where the Mad Hatter might live. We didn't find the Hatter but there were a lot of grumpy people picking strawberries so we left them to their work.
We also stopped a few times to check out small chateaux surrounded by tree-filled parks, high walls and padlocked gates, several looking rather abandoned. It was all very peaceful.
The plan was to have lunch at the spectacular Chateau de Chaumont, famous for its English-style gardens, perched high above the river.
But just as we were approaching the chateau, stomachs rumbling with anticipation, we came to a roadblock. Oh no. We'd had similar problems elsewhere on our trip. Once a whole road was closed for repairs and it took us a couple of hours to get back on track after the detour. Another time a railway crossing had been blocked off but on that occasion I just walked back down the line and carried our bikes across illegally.
The reason for the latest closure, according to the notice, appeared to be something called a "Bogan" so I started looking for people with mullets and black clothes. Then I realised the notice actually said "Brogan" though I never did find out what it meant.
Anyway, there was a gap in the roadblock so we carried on and, just where the road turned up the hill to the chateau, came to a large open air antiques fair with stalls spread along maybe 500m of river bank.
There was some fantastic stuff on sale - wooden chests, a battered accordion, beautiful hand-painted china, amazing old clothes that looked as if they may have come from the chateau, a painting of a majestic sailing ship, an old tuba, a fireman's brass helmet, and a huge statue of a crouching panther - but my favourites were a stuffed fox and a couple of kepi (you know, those round hats with small peaks worn by Charles de Gaulle, gendarmes and French soldiers).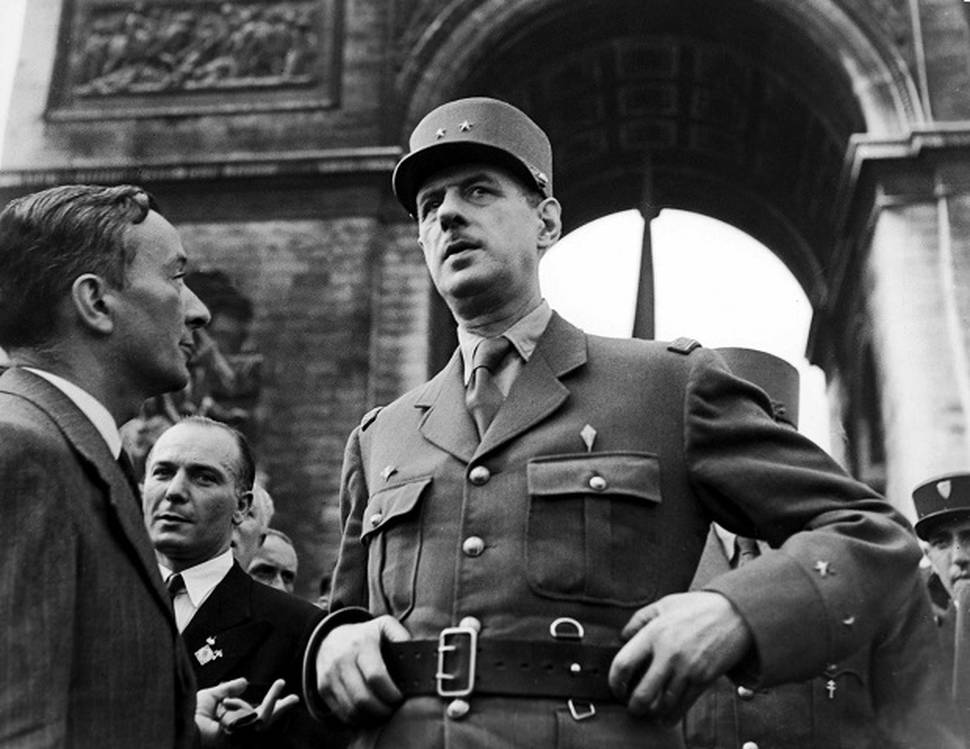 We also found a stall where a couple of old guys - about my age - were expertly barbecuing sausages while a couple of old girls - about Chris' age - were serving them in baguettes smothered with mustard. We got one each and they were delicious.
I was initially very keen on the stall next door selling wine but it turned out you had to buy a whole bottle and, even though we were in France, with 15-20km still to cycle I thought that might be a little unwise.
As we wandered round the stalls munching on our sausages, enjoying the smiles and amiable cries of "bon appetit", Chris said to me, "This is lovely. We should buy something as a souvenir." Good idea.
But after spending some time looking at bits of bric-a-brac she added ruefully, "This stuff is great but it would be too difficult to get it home."
Ah, well, then how about a kepi? Very French and worth a laugh. "Sure," she said. "Why not?"
I approached the stallholder and asked how much. "Cinq," he said, holding up five fingers in case I didn't understand. Five euros. Wow. With the kiwi at its crazy level that was only about $7.50. I could afford that.
I tried the hats on, first the fancy one with silver braid, then the plainer one, but they were too small. I went back to Chris to report. "Oh get it anyway," she said. "It's only a bit of fun."
When I returned to the stall the owner had wandered down the river bank and - this being France - was standing with his back to us having a pee.
I picked up the hat and proffered a €10 note and the neighbouring stallholder shouted down the bank that someone wanted to buy a kepi. "Cinq," I added helpfully. "Cinq," he yelled. "Oui," came the reply.
By the time the neighbour had discovered that there was no change in the cashbox hidden under a coat and I had gone to Chris for a €5 note, the stallholder was back to complete the deal. I asked if I could take a photo of him giving me the hat. "Oui," he smiled, "certainement", then turned his head away as I did so. I was a little puzzled but then reminded myself that, after all, he was French.
The deal completed we decided it was time to move on and that we would forget about the Chateau de Chaumont. After all we had recently seen the Chateaux of Chambord, Cheverny, Chenonceau and Nitray and about to see Amboise and you can have too much of a good thing.
As we cycled below Chaumont with its impressive lofty walls and conical towers, I stopped to have a look at a cluster of the wooden Loire boats specially designed to sail on the river ... and suddenly felt the need to relieve myself.
No one was around and, after all, this was France. But, just in case it was considered inappropriate for a tourist to behave that way, I left my new kepi sitting on the bike seat, hoping any prudish passers-by might think I was a gendarme. It seemed to work.
But since I've got home I've googled the kepi and it looks as though it's actually the hat of a sergeant in the French Foreign Legion. Ha. No wonder nobody messed with me.
CHECKLIST
Getting there
has daily connections to Paris via Hong Kong with return prices starting from $1549 in Economy, $4419 in Premium Economy and $6109 in Business.
Details
UTracks has a range of self-guided cycle tours throughout Europe, with meals, accommodation, bike hire and transfers all included.