Mark Williams takes his family for full immersion treatment at Shanghai Disneyland Resort.
For years, I had it in my head to take the family to Los Angeles. Specifically, to Disneyland Anaheim - the original, 62 years old this year.
I lived in southern California as a kid, and visits to the "happiest place on Earth" were an annual event. Mickey and I have historically been tight, and as best I tried to hide it, my excitement and enthusiasm to go again might have exceeded that of my children.
I was told by a secret agent friend that Disney and the Chinese Government had come together to create Shanghai Disneyland Resort, 30 minutes from Pudong airport, on the outskirts of Shanghai City. The concept intrigued me, the park opened a year and a bit ago, costing US$5.5 billion. Mickey Mouse in Mandarin at a state-of-the-art Disney theme park featuring many new rides and attractions. A cacophony of East meets West. Word among fans was that the new park was quite an achievement.
My family were returning home to New Zealand from Europe, via Shanghai on an Air New Zealand/Lufthansa flight, so we decided to go all in - go full Disney - and book the family (me, wife and two girls, 13 and 11) to spend two days and three nights at the Shanghai Disneyland Resort Hotel.
When you arrive at Pudong Airport and hit Customs, you're going to want to get in the visitor visa waiver line. New Zealand passport holders now get a six-day visa waiver in China. Once you're through, just head out to the taxi rank, with the Disney resort address written down. Make sure you have it in Mandarin - the park is so new that many taxi drivers don't know it yet, but I discovered making mouse ears with my hands helped where language was lacking.
It's roughly CNY100 (NZ$21) to catch a taxi to the doorstep of the resort.
On arrival, you are met by cast members who greet you with "Hello" and say goodbye with "have a magical day". The staff here are helpful and friendly, checking us in promptly with our Disneyland park tickets in hand. These can be ordered online in advance if you're staying at the hotel and saves you time on the day. The resort hotel is styled like an old Victorian one. but features marble statues of Disney characters and there was a guy playing the hit song from Moana on a grand piano as we walked in.
The foyer has the omnipresent gift shop, a cafe, and a bar for weary parents at the end of a long day.
We took it easy the first night, with a trip to Disneytown - which doesn't require a ticket and is adjacent to the park. It has many restaurants and shops to choose from and we managed to find a very good wonton noodle soup at a place called The Boathouse. The food overall wasn't too spectacular. You can get Chinese food here, but you're best to get the good stuff in the city. The "Royal Banquet Hall" in the famous Storybook Castle is the best option for eating at the park. It's the only full-service sit-down restaurant inside Disneyland that sells a cold Tsing Tao.
Mickey, Minnie, Donald and Daisy come by and visit as you dine to say hi and snap photos. I ate pork belly, mac'n'cheese and Mickey-shaped hash browns. It was actually a lot of fun and a great rest from the crowds. It pays to book in advance at one of the many guest services, or at the hotel if you're a guest.
The crowds take some getting used to. Eleven million people visited Shanghai Disneyland during its first year. Waiting in line is a fact of life when visiting any Disneyland, so you're best to accept it. At peak times of year and day, a wait of two hours or more is not unusual. If you choose to go on the sold-out, first day of summer and school holidays, as we did, you can sometimes wait three hours. The Chinese families visiting for the first time are well versed in dealing with people and lines. Some of the mums and grandmas performed some of the best queue-jumping I've ever witnessed. By the second day, my daughters and I developed our style and started a rugby scrum formation to hold our position in the line for The Jet Packs.
Alternatively, you can get a Fast Pass to your favourite ride at a set time. These go quickly, generally before midday, so make sure you get in early to buy them from the guest services in the area of your favourite ride. Premium passes are also sold in the park, for CNY150 on top of your ticket. These give you express entry at the time of your choice for seven of the most popular rides. If you have limited time - or you just want to hit it - that's your ticket.
On arrival, make your way through the ticket gates and enter Mickey Avenue.This is a newly designed area, unique to Shanghai. It's mostly a shopping district with food and handy things like guest services. At the end of Mickey Avenue you won't miss the Enchanted Storybook Castle, the biggest of all the Disneyland Castles dedicated to not one, but all of the princesses.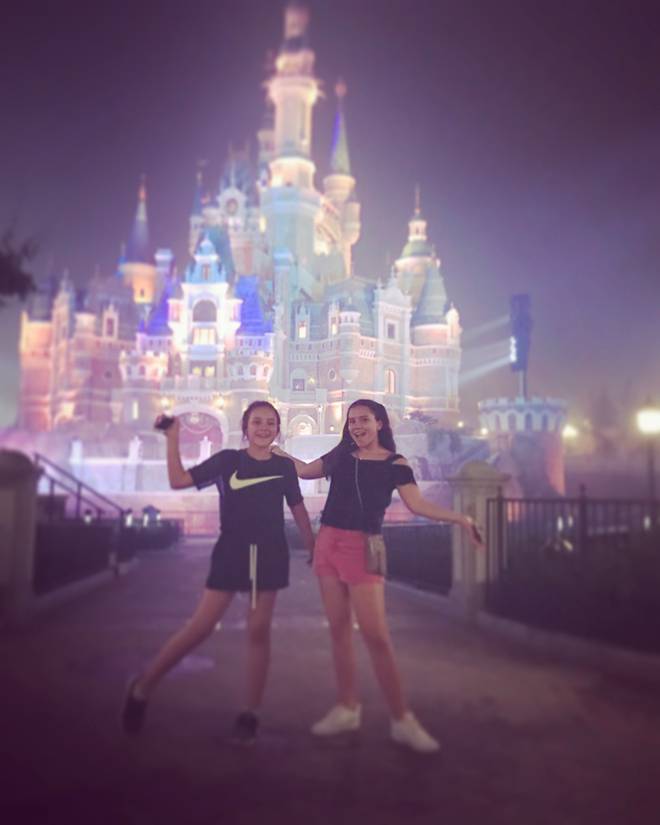 It is home to the Royal Banquet Hall restaurant and the gateway to Fantasyland. It is also the centrepiece of the nightly Ignite the Dream fireworks and projection spectacular. Fantasyland is all about the classic movie characters and features attractions for the younger kids.
A favourite from Anaheim Disneyland, Peter Pan's Flight, is here, so we made that our first stop. It's a classic. Tinkerbell flies you over London and off to Neverland you go, in a pirate ship. It is almost identical to the California ride, with a few added special effects and projections. The family loved it, and suddenly the hour and a half wait in line had all been worth it.
We were making our way to Tomorrowland when we were headed off by the Mickey's Storybook Express daytime parade, the longest parade route in any Disneyland. It features all the Disney characters, floats, and cast members - Mulan's is pretty much the best float. This draws big crowds so, as we discovered, it's the perfect time to go to the more popular rides. In fact, here's a hot tip: visit the popular rides when either the parade or the fireworks show is on.
With this knowledge we beelined it for Tron, one of the most exciting theme-park rides ever, based on the light cycles from the 1983 original Tron movie. It seems the ride itself might have breathed new life into the 1980s movie and subsequent 2010 sequel. You ride on a light cycle as if on a motorbike through space and time in a race with your fellow riders. It is the fastest roller coaster ride in any Disney park. My wife was slightly traumatised by this but the kids and I agreed we would come back for a second go at night. Next, we hit Buzz Lightyear's Planet Rescue, also in Tomorrowland. This is a more subdued, target-practice ride where you defeat the evil Zurg by hitting targets with your laser gun and collect points. My daughter proved to be the sharpshooter of the family.
From Buzz we headed to Adventureland, home of Soaring over the Horizon ride, where you fly - legs dangling - over the wonders of the world. It's a hugely popular family-friendly ride.
The seasonal June rain set in and everyone else in the park seemed to pull a plastic poncho magically from their pocket. We took the opportunity to duck out of the rain and see the Tarzan theatre show, which features dancers, acrobats and trapeze work. After dinner at the Royal Banquet Hall we ran to Treasure Cove, home of the state-of-the-art Pirates of the Caribbean, which is a completely new version of the ride based on the films and adventures of Jack Sparrow. A lot of new technology has gone into this, and there is a lot to take in, so we gave it another go, as most of the masses had headed to the fireworks. We managed one last ride before the park closed at 10pm, on the Seven Dwarfs Mine Train, a surprisingly rollicking rollercoaster and a great way to finish the day.
Given the conditions, we'd accomplished a lot, so day two had a much more leisurely pace. We caught the Wishing Star Ferry across the lake from the hotel to the park gates and headed to the Roaring Rapids, another hugely popular whitewater rapids ride that can potentially get you wet - but isn't a concern when it's 30C and you're already soaking from a heavy downpour. This won the prize for the longest line of the day so if you get a chance, grab a fast pass. We visited the Marvel characters pavilion en route to the Jet Packs, and popped by the Storybook Castle again to see Snow White before finishing our day with the Ignite the Dream show followed by one last dose of Tron. Tron didn't disappoint a second time. Definitely the winner on the day.
If a Disneyland adventure is something you've thought about, I highly recommend going to Shanghai, though preferably not in peak season.
Tickets and accommodation are about half the price of California. By the sound of things, the park will expand over the years with new attractions. I will return , with a fast pass in hand.
Checklist: Shanghai
GETTING THERE
operates daily direct services to Shanghai from Auckland. Economy Class, one-way fares are on sale until October 30 from $459 for selected travel periods.
DETAILS
For tickets and booking information for Shanghai Disneyland, go to shanghaidisneyresort.com.