Ashleigh Collis drinks in the atmosphere at Wairarapa's wine festival
Toast Martinborough 2016 kicked off under blue skies, crowds of happy wine enthusiasts gathering in the town square to collect Toast's new "globe-lets" (unbreakable, polycarbonate glasses) and load festival francs on to their electronic payment wristbands.
Shuttle buses bursting with well-dressed festival-goers were bound for the winery circuit known to locals as the Golden Mile.
Looking around at the floaty dresses and wide-brimmed hats, my wardrobe malfunction became obvious. I had packed a long-sleeved blouse and grey skirt, influenced by the winter weather at home in Horowhenua. Pretending I wasn't dressed for the office, I slipped on my sunglasses and slapped on some sunscreen before jumping off at my first stop of the day.
The Bubbly Bar at Margrain Vineyard was the perfect way to kick things off as I relaxed among the vines, enjoying the magical Wairarapa weather.
After marvelling at the plump, perfectly shaped strawberry I was given, which sweetly complemented Margrain's 2013 En Rosé, I took a stroll along the vines inspecting the tiny green three-month-old grapes, as others were doing.
The social vibes were contagious and before I knew it, I had somehow met the designer of my sunglasses, Guy Coney.
He spotted his eyewear shielding the bright sun from my eyes and came over to say hello.
Coney, who designs for skater/hipster clothing brand A.L.C, which incorporates amazing tattoo art into its designs, has been coming to Toast for the past 12 years.
He said the newly enforced stricter stance on alcohol and stronger police presence was a bit of a buzzkill, but he still had a good day out.
"I was worried about what it would be like without Palliser Estate (which had pulled out) on the circuit, but it was all good. I will continue to attend Toast for as long as it runs." he said.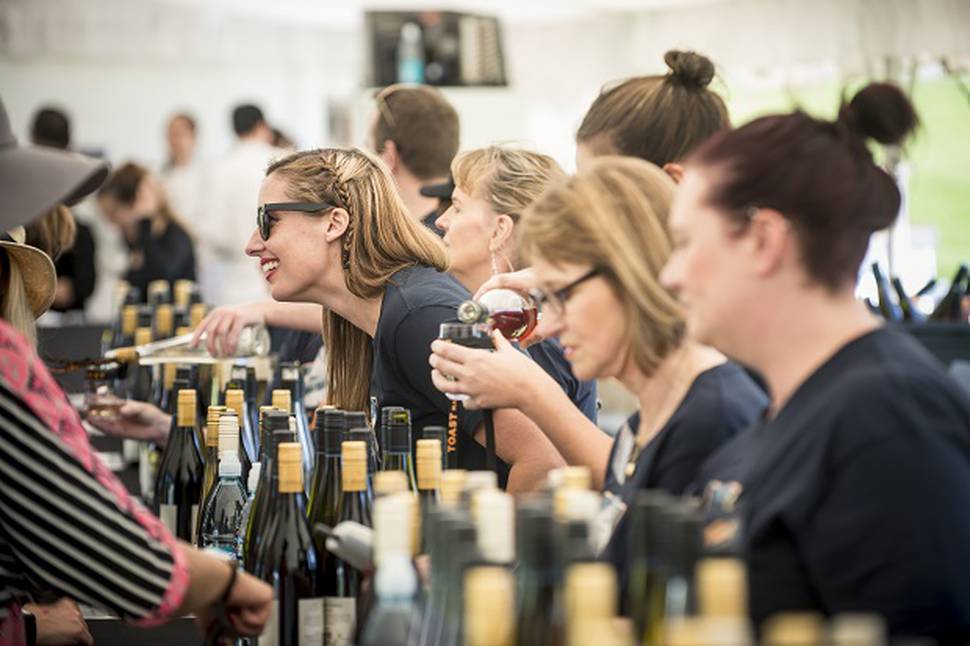 Another stop on the hop was Ata Rangi, one of Martinborough's original vineyards, planted in 1980 with the infamous gumboot clone — which I'll explain later.
The day slipped away, as wine flowed and affordable gourmet food fuelled tipsy tummies.
Live entertainment set the mood as I indulged in Ata Rangi's acclaimed pinot noir alongside Ruth Pretty's West Coast whitebait fritters with asparagus and hollandaise, a braised pulled pork gua bao and to top it all off, blackcurrant and white chocolate creme brulee, heaven for my taste buds.
Bashing the bongos, Brazilian singer Carlos Navae had the crowd on their feet dancing to the rhythm of his salsa/Latin fusion. As I got up to join them, I caught a glimpse of Ata Rangi's owner Clive Paton.
I had to find out whether the rumours were true — was his infamous gumboot clone stolen from the famous French Vineyard, Romanee-Conti?
I sat on a hay bale with Paton and heard the story from the man himself.
At 28, Paton had a midlife crisis; he was dairy farming and gave it up to plant a vineyard after discovering Martinborough had the perfect climate and soil for pinot noir.
He gave himself 10 years to see whether it would work, but only five years in, he knew the vineyard would be a success, thanks to the Gumboot clone.
Paton told me he bought the clone from Malcolm Able, a customs officer turned wine-maker. "When I looked at planting a vineyard it was suggested I get my cuttings from Malcolm," he said.
"Without the full story, I ordered 3000 cuttings, planting them in June 1980.
"Later, Malcolm told me the vines were grown from a cutting he procured at 2am one morning at Auckland Airport. A guy had brought the clone back from France in his gumboot, claiming he had jumped the fence at Romanee-Conti to steal the cutting.
"Malcolm had it confiscated at Customs then got it back from quarantine before planting it himself.
"Sadly, before I could find out more information, Malcom died, in 1981, choking on a piece of corn while laughing over some photographs."
Paton said the Gumboot clone is what gives Ata Rangi pinot noir its edge. "When we bought the cuttings we didn't know how good they were. It's hard to say what life would be like without them," he said. "The Gumboot clone ripens later in the season with bigger bunches. Till this day, we like make our pinot noir with 60 per cent Gumboot grapes."
Meanwhile. I found Toast Martinborough's past reputation for drunken and disorderly behaviour was history.
Changes regulating alcohol sales in 2012 led to a police crackdown in following years that has had a maturing effect on the festival.
Police area commander Donna Howard said the changes Toast had put in place had been really positive and have worked well.
The festival's refined execution was reflected in the majority maintaining their composure, and considerably fewer incidents than in previous years, which makes Toast like a fine wine, improving each year.
The event, which this year takes place on November 19, is the perfect way to wake up your summer spirit and celebrate some of New Zealand's finest cuisine and wine, pulled together by great entertainment.
The unique vineyard hop experience has deepened my love affair with Martinborough wine and will no doubt see me return with a refined palate - plus flat sandals for the gravel and grass, a cotton dress and a sombrero.
WIN
Toast Martinborough takes place on Sunday November 19 and we have a prize package valued at more than $1500 to give away, including flights, rental car, accommodation, tickets to Toast Martinborough and a brewery tour. For full prize details, and to enter, go to toastmartinborough.co.nz/herald-on-Sunday.