Patricia Greig finds it all too easy to go troppo on the laid-back Pacific island.
I'm writing this for you on the beach. There's cold beer to my left and a room key to my right - that's how I live my life now.
After 12 hours on Rarotonga I have fully assimilated to the lifestyle. The lifestyle of a retired person who lounges around staring at the ocean all day. It's actually quite difficult to write this as I keep being hypnotised by the way the sea moves.
Honestly I've had more than a little help to relax from Te Vakaroa Villas. Situated in Muri Beach, right in the centre of where you want to be in Rarotonga, the property overlooks the ocean, is private and has quickly become like a home away from home.
The beauty of Te Vakaroa is that it can house 18 people at capacity, so it's perfect to hire the entire place if you need a well-appointed location for a group celebrating a special occasion.
What's also perfect is that even when the villas are full, you never have to see any of the other guests if you'd rather be left alone. During my four-night stay, I only bump in to one woman who is very understanding of my awkward - probably unattractive - antics as I try to get photos of myself in the infinity pool.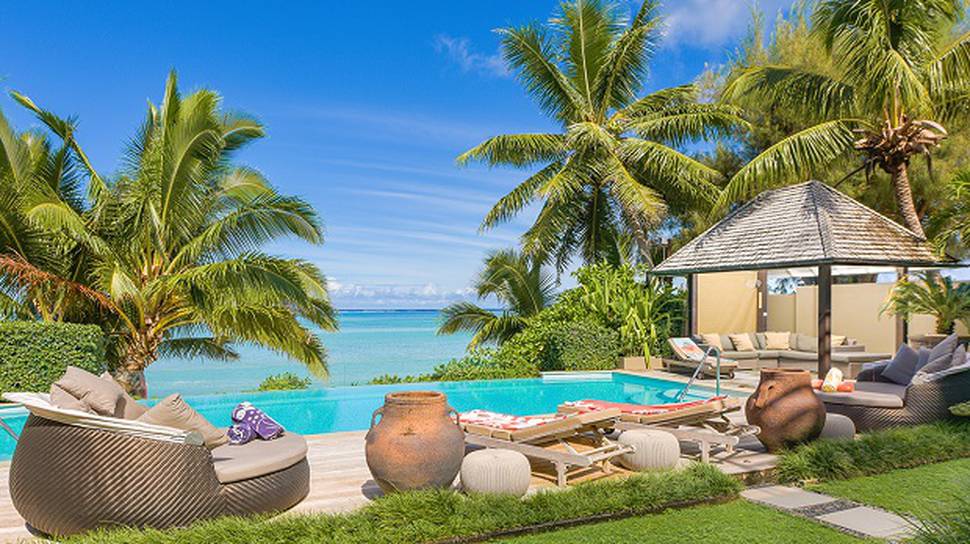 Te Vakaroa offers one and two bedroom villas which are spacious and beautiful inside, with full kitchens, set in manicured tropical grounds right on Muri Beach.
Each morning fresh tropical fruit platters, juice and cereal are delivered to each villa. The crowning glory of breakfast, however, is the pastries. Better than anything I have eaten in Paris, these delightful parcels of buttery goodness can be warmed up in the oven for maximum enjoyment.
If gazing at the ocean while drinking beers on the private porch in the evening - read: doing absolutely nothing - isn't your thing, Rarotonga has plenty of options for wining and dining, many of the best being on Muri Beach.
Sails Restaurant is a stand-out. In a sailing club next to Te Vakaroa, it is decorated with regalia. The best thing on the menu is the seafood linguine. In fact, if you're eating out and fish is on the menu - you're on an island so it's bound to be - go for that option. Huge portions of tuna and mahi are an absolute treat.
Rarotonga is a small place but a car is useful. The best way to get your bearings in a new place is to drive around and you can literally do laps of the island in a hire car. Taxis are expensive and the bus can be a packed sauna on wheels when it's hot. Sweet As Rentals will sort you out with a reliable ride, and you'll be good to go.
Driving is easy. The road rules are the same as New Zealand's, so if you can drive on the left hand side of the road the only adjustment you'll need to make is to slow down. The speed limit in Rarotonga is 50km/h (30km/h around Muri Beach), and you need to watch for potholes, fellow tourists trying to drive scooters for the first time and the occasional dog.
Another way to get your bearings is to gain a little understanding of the history of where you are. Te Vara Nui Cultural Village know what they're doing. Guests are taken on a guided, interactive tour of parts of a Rarotongan village and have the chance to learn the history and traditions of the people. From protocol to medicines and fishing techniques, guides share it all along with more than a couple of laughs.
To top off an evening at Te Vara Nui, enjoy an extravagant buffet dinner with Rarotongan food and take in a little fire dancing. It all makes for quite an evening - there are boats and warriors and fire and more boats.
Being on a tropical island, there are plenty of aquatic tours available to tourists. For the best experience, a trip with Koka Lagoon Tours is a must. Crews take guests out to the reef on a glass-bottom boat to a marine reserve which is home to a tonne of fish and clams.
The tour concludes with a barbecue lunch on a small motu in the crystal waters opposite Muri Beach. Plenty of singing, ukulele and drumming - and the genius coconut tree climber makes me want to stay on that tiny motu forever.
All good things must come to an end, but when you have a beach villa to return to it makes it a little easier to leave your new Rarotongan mates - until you have to go home, of course.
Things I found out so you don't have to . . .
Coffee:
Look for places using Cook Island Coffee Company beans. That's the stuff dreams are made of.
Nu: These are the coconuts you drink. The coconut water is so good it will cure the meanest of hangovers. Some hotel restaurants charge NZ$10 for a nu, which is outrageous. You can pick one up at a cafe for around $5, or better yet when you're hooning around the island, keep your eyes peeled; families sell nu for $2-$3 outside their houses.
Fish sandwich: Mooring Fish Cafe just outside Muri Beach offers an incredible fresh fish sandwich or wrap with a variety of toppings. They're open Sunday to Friday, 12pm-4pm (closed on Saturdays).
Church: Head along if you're keen. Because Rarotonga observes the Sabbath, the township is closed on Sunday but some cafes at Muri open for tourists.
Roads: There's an inside road and an outside road. The inside road is shorter and heads up around the centre of the island. This is where you will find nus, where the locals chill and a fair few more potholes. The outside road follows the beaches around the island. It's newer than the inside road so it's a little smoother, and takes about 35-40 minutes to drive around.
Ukelele: Don't pack them in your suitcase - they break.
FACT BOX
Getting there
flies from Auckland to Rarotonga, with one-way seat fares from $313.
Muri Beach is a 20-minute drive from Rarotonga Airport.
Staying there
Te Vakaroa has just six, one- and two-bedroom architecturally designed villas open to large private patios overlooking an infinity pool and Jacuzzi to the ocean.
Rates start from $850 a night for a one-bedroom villa and $1150 per night for a two-bedroom, including tropical breakfast each day.
From December 1 to March 31, stay 5 nights, pay for 4*. T&Cs apply.