Allyson Gofton plays support driver as she follows her family on a cycling tour of France
Teenagers can make family holidays trying, unless they're on a challenge that excites them — and does not nearly kill you. So it was that we gathered up three 15-year-old boys, one gutsy 10-year-old girl, and took them on the bike ride of their life — right across France, from the Atlantic to the Mediterranean. Exciting, exhilarating, educational and exhausting enough to ensure they slept and the adults could party — albeit just a little.
The ride, an 800km dream of my husband's was, as holidays go, reasonably easy to organise, value for money and completed without too many hiccups, given this was rural southwest France, where long lunches, inadequate signage, tour books only in French, and crazy drivers abound.
Bike riding in France is a national pastime and with choices from tree-lined canals to strenuous Grade 1 Tour du France cols — mountain passes — to pedal over, it is a rider's dream destination.
Our ride from west to east would follow the ancient canal system of the Canal Deux Mers, from Bordeaux to Toulouse, and then the Canal du Midi, from Toulouse to Sete. The latter, a Unesco World Heritage site, was dug by hand from 1667-1681. It was the the brainchild of Pierre Paul Riquet — he died penniless, before it was finished — to connect Bordeaux to the Mediterranean thus reducing travelling time and enabling the country towns to be connected to each other and the wider world.
Today it still has 91 working locks, which provided 91 opportunities for three teenage boys to pose and Snapchat their friends.
The Canal du Midi showcases exceptional scenery — verdant pastoral lands of the southwest, to the azure blue Mediterranean Sea with its historic coastal ports. For much of the way the canal holds hands with old narrow roadways which allowed me, chef du mission in the support vehicle, to buy patisseries and refreshments, and rendezvous with the riders at locks or ports for morning or afternoon tea.
The elegant and graceful World Heritage port city of Bordeaux, home to some of France's finest vineyards, sits on the Garonne river and, with daily flights from most major city hops, is a great place to begin a biking holiday. Bikes can be easily hired from the train station and companies organise pick-up on the other side of the country. (We took our own bikes, as a 30kg luggage allowance was more than ample).
Day one, which should have been more pleasant, was filled with angst as our bikes were rerouted via Toulouse airport, due to one of France's interminable strikes. We began, late, at Lacanau, a stylish beach resort frequented by Parisians in high summer, but as it was April, the only action was repairmen tidying up the beach in readiness for the onslaught.
After dipping toes in the cool Atlantic and the compulsory upbeat photograph, the bright-eyed kids, who, set off with the leader of the not-your-mother-tour. This was a name coined in regard to the fact that they were to be wholly responsible for themselves and their bikes on tour. At this stage they really had no idea how hard 800 kilometres would be! All arrived, to rendezvous for pizza in the grand plaza at Bordeaux, some hours behind schedule thanks to inept map reading by the leader, who took a long detour north instead of the direct easterly route. This was our first brush with the lack of signs, an issue that would raise its head on most days.
Day two, which included sharing the road with some hair-raising locals, finished at the delightful medieval bastide village of Saint-Macaire. Few tourists head here, ensuring breathing space to explore cloisters, renaissance homes and the Church of St Saviour and St Martin, with murals and painted ceilings dating back to the 14th and 15th centuries, that have only been touched up once since.
Day three, an 85km ride to Serignac-sur-Garonne, a tiny village a few kilometres short of Agen, was easy going along the Canal, under the shade of centuries-old plane trees on well-kept pathways. Agen is famed for prune d'Agen production and its love of rugby.
The historic centre features half-timbered, corbelled houses alongside bustling French cafes. These were much appreciated on my part, as a number of issues that had arisen with the bikes had to be fixed. Agen provided bike shops to solve the problem of ripped tyres - wheelies by teenagers on rocky pathways — locking brakes and a few other unexpected hiccups.
A short hop to Moissac on day four allowed time for us to absorb some amazing history.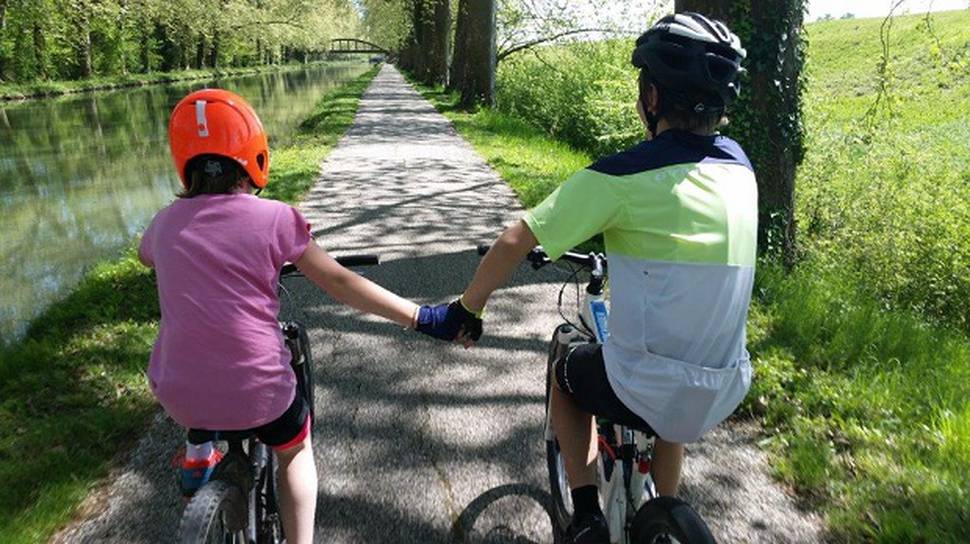 This quiet town, somewhat fading around the edges, boasts the Unesco World Heritage abbey church of Saint-Pierre, founded in the 7th century. Thanks to its state of preservation, its cloister dedicated in 1100 is considered the world's finest.
An early start beckoned on day five and many canal boats, eclectically painted, decorated with colourful flower pots and yesterday's washing, were reflected like a still life along Moissac's canal marina. It made a glorious backdrop for the team, as they headed off on excellent bike pathways alongside the canal on a 127km ride to "la Ville Rose", Toulouse, and beyond to the peaceful village of Villenouvelle.
Toulouse, regional capital of Occitane, is nicknamed "Aerospace Alley" as it's home to Airbus, hordes of hi-tech industries and science museums. For architecture buffs, it is a Renaissance period jewel. In the 1400s, the country around Toulouse grew pastel (or woad), a yellow flowering plant whose green leaves produce a natural blue dye that became the noble colour for the royalty of France. Privileged traders built sumptuous maisons in bricks fired from iron-rich clay. The result is a city that through the centuries has glowed red in the evening sunset.
Tourist attractions aside, big cities and bright lights were not on our accommodation list.
We continued to the unremarkable village of Villenouvelle. Though clearly marked on maps, the destination did not correspond with the lock name and the 29km ride, now on unexpected narrow stone tracks from Toulouse, ended with a seek and search party when darkness fell and no riders were in sight. It transpired that they had wheeled on for a further 20km - thank goodness for cellphones!
One of the treasures of such small villages is the accommodation discoveries.
Our hostess Hugeutte, 65-plus, fiery and abrupt, settled us into her stylish maison before bolstering our flagging spirits with violet liqueur and champagne cocktails. A four-course meal, enjoyed with wine to match, eaten in her night-scented garden, where teenagers plunged into a small pool to ease aching bones, highlighted the specialness of France's Chambre d'hote accommodation.
A cool morning greeted the riders for the 100km sprint to the medieval, walled Camelot-like town of Carcassonne. This was a definite two-day stop, to walk the cobblestone streets and 3km of ramparts of the World Heritage citadel and view its 52 towers. Even to teenage non-history devotees, Carcassonne was, to use their vernacular, awesome.
June to August is a great time to visit Carcassonne, as the city's continuous summer festival of classical music, opera, dance, circus, theatre, French and international variety concerts supported by knights' tournaments within the citadel offer diverse - and free - entertainment every evening.
Leaving Carcassonne, you quickly cross into the Languedoc-Roussillon region, and the scenery changes from rolling hills to plains with row upon row of gnarled vines producing some of France's oldest and finest white wines. On this leg, we struck the toughest bike paths — if you could call them that. Stony walkways disappeared under new season's foliage, and a dearth of signs on the canal meant a planned 100km sprint to Beziers became hard work on the legs and bum — no matter how much padding the lycra had! The team collapsed at the dinner table, teenagers so overcome by exhaustion that not an iphone surfaced.
Beziers, set on a high bluff on a bend in the River Orb, watches sleepily over the largest aqueduct on the Canal du Midi, measuring a total 240m long. Come August, more than one million tourists descend on this once-noble Cathar stronghold to dance, cheer and drink away at the five-day Feria (festival) of corridas, equestrian events, flamenco competitions and nightlong parties at pop-up bodegas.
The final day's ride was joyous. Leaving behind palm-tree lined village streets, the six-member peloton wheeled the last leg with ease. The well-sealed, well-planned pathway flanked the canal and the Mediterranean provided an opportunity for teenagers, elated with their achievement, to celebrate by playing loud music, cartwheeling and racing to the old port town of Sete, which is really an island connected to the mainland by bridges.
The wharves of the old port of Sete — crammed with fishing boats, fringed by salt-wind weather-worn houses with a plethora of wrought-iron balconies and apero quaffing tourists in wharf-side cafes - provided a glorious finish for the tour.
While boat teams practiced rowing and jousting for the upcoming fete, the kids sat with feet dangling over the side of the wharf, agog with their achievement, and asked when the next bike adventure would be.
The adults, still nursing painful muscles and even more painful bums, were yet to contemplate that, but as holidays with teenagers go, this one got full marks.
CHECKLIST
Getting there:
flies from Auckland to Lyon, Nice and Paris with connections in Dubai.