Ewan McDonald stays in three high-end London hotels
Follow me, said Fabrizio Russo, gesturing towards the conservatory, and I did, for I have made it a rule in life to do whatever I'm told by a cheerful Italian wearing an outlandishly green cape and cap with a garish yellow feather in it, especially when he is pointing the way to the conservatory with a metre-long sabre.
The conservatory — all white ironwork and cane furniture and floor tiles and improbably green plantings, possibly chosen to tone with Fabrizio's cape and bonnet, was in The Milestone Hotel in Kensington, across the street from the gardens once graced and favoured by Peter Pan, Tinkerbell and another disillusioned princess.
"Please sit there," said Fabrizio. He told me the sword was sharp, and let me run my thumb along the blade, but that's one of those magician's stage tricks.
He removed the white linen cloth from an upturned bottle of champagne — I would mention the house and the vintage, but a gentleman never tells — sitting in an ice-filled silver bucket.
Whoosh! With one blow of the sword, Fabrizio decapitated the head of the bottle from its body. Very Marie Antoinette. He poured me a foaming flute. I didn't bother to check whether there were shards in it.
For Fabrizio is one of the highest-ranking members of the Confrerie du Sabre d'Or, an order of gentlemen devoted to the noble art of removing the cork from a bottle of vintage champagne with a sword. The tradition can trace its origins back to Napoleon's officers in the Russian campaign of the early 1800s. In fact the brotherhood was founded in London in the 1980s.
"You might like to take a seat in the house bar," said Fabrizio, and I would like, for I would have to consume the rest of the bottle.
This is one of the Red Carnation group's several upmarket hotels in London. Each is attuned to its location — haute shopping London; royal London; bohemian, artsy London. There are others, for London has more than three personalities.
I'd spent the previous night at The Chesterfield Hotel in Mayfair. Several adjoining 18th-century, red-brick townhouses, with a marvellous history that tipped its cocked hat to Lord Nelson and Lady Hamilton. Management had had the walls knocked down to make them one building, forming a seamless 21st-century hotel in one of London's most exclusive streets.
A few steps that way, Mayfair and Oxford St, A few steps in the other direction, Shepherd Market and Piccadilly; the royal estates, Green Park and Buck House. Savile Row, Bond St and Regent St, Burlington Arcade, all within a toddle.
Were one so disposed, one could have boulevarded a few minutes down the street to Fortnum & Mason and selected one's comestibles at the grocer's that modestly proclaims itself to be "the world's most exclusive department store", and disported oneself in one of the royal parks for a picnic.
Why bother? As the sun goes down the bar staff will — ever so genteelly — insinuate that you don't really want a mere G&T. Rather, there's a Gin Experience, four tasting menus crafted around selected gins, ranging from citrus to floral and savoury to spiced, accompanied by a range of tonic waters and botanicals. Or, if it's more to your taste, the Whisky Experience. More tea, vicar?
The morning after Fabrizio's sword thing, and the night in the suite that you really need to see the pictures of, but a gentleman ..., my suitcase and I trundled our way through Hyde Park and Oxford St to our next and last bed and breakfast, the Montague on the Gardens.
As with the Chesterfield, some smart architect had the idea of leaving the facades of nine frightfully posh Regency townhouse untouched, while knocking down the internal walls and joining up almost a city block into one seamless entity.
I've seen this done before. I think it was in Help! Or was it A Hard Day's Night?
The Montague is in Bloomsbury — right next to the British Museum and the ever-so-sweet gardens of Russell Square. It is so quiet and quintessentially London that it is almost impossible to believe it's only a hundred metres or so from the frantic, frenetic frenzy of Oxford St.
They showed me to my room.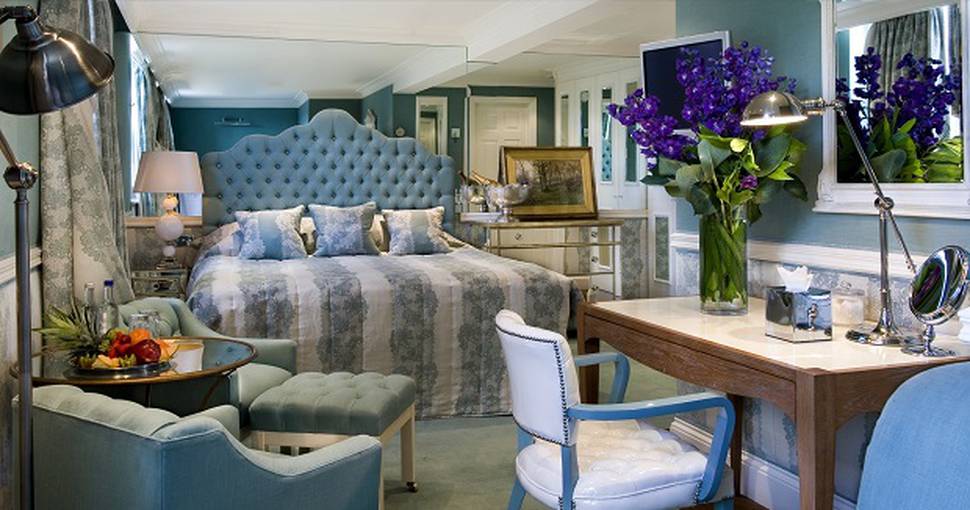 The sign on the door read, Virginia Woolf Suite. Hey, I'm a writer of sorts. I'm in Bloomsbury. I sent a photo to a friend.
"One has a room of one's own," I texted.
"One would have to be feeling rather chipper before one entered there," she texted back.
I rolled my suitcase over the last two metres of its journey across London. I can't speak for it, but it may have felt out of place. It came from the Warehouse. It was sitting in the corner of a suite, all muted beiges and plush furnishings, all thick pile carpet and cool, enveloping Egyptian cotton sheets, of one of the world's best hotels.
Don't take my word for it: the Condé Nast "Best Hotels in the World" ratings came out that same week and there it was, No 33.
Well, I wasn't murdered in the conservatory by Commendatore Russo with the sabre, so I kicked back in the Milestone's house bar with the remains of the bottle of champagne. The bar manager approached, rather deferentially.
"I shall serve you the Gentlemanly Afternoon Tea, sir," he informed me.
Sure. Bring it on. I was sinking into the depth and comfort of the green leather sofas, and sinking into the depth and comfort of champagne on a warm summer afternoon in London.
Four tiers of sweet and savoury offerings approached.
"Do I start at the top or bottom?" I inquired, which is possibly a question that no English gentleman would ask another.
"It's really your choice," was the reply, which is quite possibly another answer that we shouldn't pursue too deeply, especially where the English aristocracy is concerned.
So I began with the warm savouries and nibbled my way past the neatly-cut sandwiches to the sweet offerings.
The bar manager returned with the gin cocktail to accompany my afternoon tea. It was mixed and muddled and emerged, smoky and spicy and citrusy, from under one of those vast glass bowls that usually cover tiny cakes that come with tea at a ladies' afternoon-tea party.
A few club sandwiches and mini-quiches later, Fabrizio came by with my souvenir: the cork, with its perfectly severed glass neck, nestling in a velvet bag. I felt I'd been
presented with the head of an unrepentant aristocrat.
We chatted about the art of sabrage. He told me some of the secrets, which I'd love to share with you, but I promised I wouldn't. And I've made it a rule in life never to ...
CONCIERGE TIPS
The Chesterfield
Two steps around the corner, Shepherd Market is a charming little square of boutique shops, restaurants and Victorian pubs. A hidden gem known for its wonderful, relaxed, village-like atmosphere. You're probably just a little late to be there when Liz Hurley turns on the Christmas lights.
Camden, London's funkiest markets, are a decent walk or shortish bus/taxi ride from the hotel. Crafts, clothing, bric-a-brac, ethnic food, fantastic music and memorabilia shops crammed cheek-by-jowl in old stables and warehouses. Great food area built around the still-working canal locks. Amy Winehouse statue, too.
To the left, Kensington High St and some of the most expensive shopping in London, which is saying something. Straight ahead, the Princess Diana children's garden. In the evening, stroll just a few yards further on to the pubs and cafes and restaurants of gentrified Notting Hill. Don't expect to meet Hugh Grant, but you'll have more fun.
SOMETHING DIFFERENT
The Milestone
Take one's seat in the wrought-iron, glass-canopied conservatory and choose from a vast selection of single-estate teas, finger sandwiches, scones with clotted cream, home-made preserves and pastries. Engage in polite conversation with the Kensington ladies as to whether it's pronounced "sconn", "scone" or "scoon".
The Chesterfield
It does sound a little bit A.A. Milne, but you really must have honey on your breakfast toast. For the Chesterfield has four hives on the roof, each housing about 120,000 bees, who gather pollen from Buckingham Palace, Clarence House, St James's Park and Hyde Park. In other words, royal jelly.
Montague on the Gardens
The front door is a rather spiffing London street, all smart black front doors and wrought-iron fence and brickwork and white-painted windowsills. The Montague's real treasure is at the back, in the conservatory: an immaculate, green, quiet, oasis of a garden just yards from Oxford St.
CHECKLIST
Getting there:
flies from Auckland to London, via Dubai.
Staying there: Red Carnation has six 4- and 5-star hotels in London, as well as properties in Ireland, Guernsey, Dorset, Geneva, South Africa and Florida.