White-sand beaches, good food and warm weather do wonders in winter, writes Cassie Roma
Escaping winter is in my DNA. As a Southern Californian, born and raised, I grew up a child of sunshine, beaches, and salt-water sports. Having spent the past 15 years in New Zealand, however, I've become accustomed to changing seasons, chillier days. I've also become fairly good at finding ways to inject them with warmth — usually flying to the Northern Hemisphere for a good, mid-winter injection of Vitamin D.
It's with all of this in mind, that I headed to Great Keppel Island in search of warmer climes closer to home.
I intentionally didn't research anything about Keppel or the surrounding area before leaving because this time I simply wanted to be surprised while travelling. These days we get so deep into planning mode that we know everything about where we're heading on holiday, from what we'll eat, to the thread count of the sheets on a hotel bed. It's almost pre-vacation overkill. And although it can be comforting for planners like me, it also takes some sheen from actual discovery and adventure.
Flying from Auckland to Brisbane, then transferring on a quick domestic plane ride, I arrived in Rockhampton — a fun, thriving little town with a great downtown area for modern dining, and streets lined with fake bulls. Which, coming from a cattle town, made me feel weirdly, happily at home.
As we drove out towards our overnight accommodation in seaside Yeppoon, I could feel the sunlight on my face through the car window — winter, be gone! Tomorrow we'd be on island time. And, I couldn't wait to throw on a T-shirt, don my Jandals, and subject the locals to some very (VERY) pale tourist skin.
It's a quick 20-minute drive from Yeppoon to Keppel Bay Marina — with Great Keppel Island a mere 30-minute ferry ride away.
Our ride over was an adventure in itself. With higher-than-normal winds, most people stayed inside the boat but I couldn't resist the sea spray and sunshine. If there's one surefire way to shake out the cobwebs from city living and desk jobs, it's feeling nature all around you and letting it get right up in your face.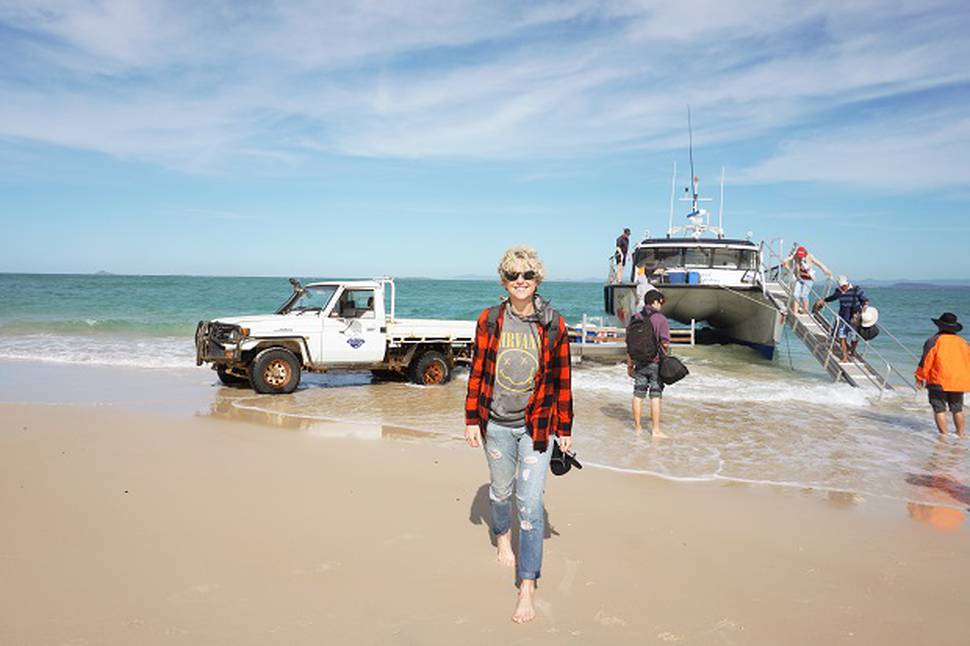 As Great Keppel Island came into view, my heart did a little jump. White-sand beaches lay ahead of us, and all we needed do to get to them was gently approach through the turquoise waters. LAX and LHR had nothing on this beachside arrivals and departures lounge. People in utes pulled up to greet residents of the island and a few other guests and, when the boat dropped its ramp directly on to the sand, we all basically skipped down, excited to feel the warm water and beautiful, soft sand underfoot.
The next 36 hours were some of the best I've known — summertime personified. Our hosts at Great Keppel Island Hideaway, Brett and Amie, know the island like the back of their hands. They live and breathe the island, which meant there were no better hosts to take us adventuring.
Our accommodation, comfortable small cabins suitable for families, couples, or singles, has everything you need to make one heck of a great vacation happen. As I opened the sliding door of my room, I was floored. The view ahead of me was one worth writing home about.
Heading straight outside, I walked a few kilometres on a beach that looked untouched by human feet so far that day. What an absolute pleasure to connect with nature in such a pristine, unblemished place. It was almost as if we'd stepped back in time.
After breathing in the calmness of the island, it was time for some adventure, our first stop a grunty 4X4 ride. Our vehicle, aptly named The Mule, climbed us up to one of the best lookouts on the island. By foot, we could've done the walk in about an hour round trip, but we were keen to pack as much as we could into the day. Brett and Amie had us sussed and sent us into a big-kids' playground of water activities, where we had our pick of kayaking, snorkelling, stand-up paddle boarding, and swimming in warm waters near a beautiful coral reef. Ah, summer!
Just before sunset and right at high tide, Brett had a plan in mind to really show off his home — a plan that involved the sea, high-speed and history. We were off jet skiing, a first for me, but with a twist. Because the tide was just right, we weren't just going for a hoon out in open water; Brett took us around the island to a place that he personally loves — out of the open water, up a creek, through mangroves and into a quiet, almost sacred area steeped in history and storytelling.
Along the way, Brett pointed out structures built by Aborigines when they inhabited the island. He also told us more about the people on the island in recent history — specifically about the Leeke Family, who set up a homestead on the island in the 1920s. We made it far enough up the creek to get to the original shearing shed before we turned back to beat the setting sun.
On land, we shared a few beers and glasses of bubbles while the sky melted from clear blue to orange, and then into a canvas of dripping pink and purple pastels. After an Argentinean Parilla dinner at the Hideaway, we headed back to our lodgings with bellies and souls full from the day.
Waking before dawn, I went for a jog on the beach to watch the sun come up. It wasn't until I'd already been back to my room, showered, and headed to the beach again that I saw another person out and about. Talk about bliss!
We spent the morning sipping coffee, walking, sitting in the sun, and catching up with our new friends from the evening, before heading out for a glass-bottom boat excursion around Monkey Bay. Our captain on the boat, a young lad named Anthony, had a perfect mix of cheek and knowledge and made the hour-long trip a fun one. He took us over, around and through some beautiful coral reefs and the children squealed with delight when brightly coloured fish and sting ray would dart into view.
There was time for one more small adventure before catching our ferry back to the mainland. We went over hill and down dale to find ourselves at the Leeke homestead — not far from the shearing shed we'd jet skied to the previous evening. The main keeper of the property, Lizzie Leeke, had worked the land and the farm often on her own while her husband was away. A woman made of harder and more industrious things than me, I'm certain.
It was humbling taking another step back in time. With a nod to Lizzie and the other Great Keppel Islanders who came before us, we headed back to the beach and our waiting ferry. As we climbed slowly back up the ramp from the beach, we felt we'd had a proper break from winter, and from reality.
IF YOU GO
Getting there: Air New Zealand and partner airline Virgin Australia fly from Auckland to Rockhampton, via Brisbane.
WHILE YOU'RE THERE
Land: The island is covered in walking and running trails. Be sure to pack your sturdy shoes, there's a lot to explore by foot on Great Keppel Island.
Sea: If you're at home in the ocean, there's no better place than an island to get back to basics. Rent a jet ski and get moving at speed or choose a bit of calm with a glass-bottom boat. Either way, you'll get your fill of salt water and sunlight.
Beach: A sunbather's dream, lounging on the beach is the most obvious way to while away a day on Great Keppel Island. Throw in some kayaking, snorkelling and stand-up paddle boarding, and you've got a can't-beat-treat.
Further information: See queensland.com